The 'Definitive' Pound to Dollar Forecasts for 1, 3, 6 Months Through to 2017
While the US dollar is likely to extend its dominance over pound sterling in coming months the biggest poll of the world's leading forecasters confirms declines are likely to moderate.
The pound is in decline against the dollar: the average GBP to USD exchange rate was at 1.4415 in January 2016, 1.4313 in February and 1.4249 in March.
At the time of writing the pair is quoted at 1.4186.
The trend is clearly down and the pair is forecast to fall to a low of 1.4116 in a month's time according to a survey of the world's leading financial analyst institutions conducted by Reuters.
Back in March we reported that the same Reuters poll of leading analysts showed the lower limit for sterling weakness against the Greenback would be 1.40.
The view that the currency pair may be finding a floor is further reinforced by our observations of the technical market where we note traders are struggling to price sterling below this threshold.
The evidence held in the latest Reuters poll results confirms forecasters expect current levels to hold.
Of course it depends who you listen to.
"Predicting currency movements is not an exact science. Forecasts from major financial institutions for the GBP/USD rate vary dramatically, with a predicted median of £1/$1.4750 in twelve months' time. There is also a marked difference between the minimum rate of £1/$1.2300 and maximum rate of £1/$1.6300 listed by the banks," say Smart Currency Business in response to the latest polling data.
That is why the Reuters Smart Estimate is so useful - the estimate takes into account all the results but places greater weight on the forecasts provided by those who have proven most accurate in the past.
Indeed, some are better than others at this game!
Latest Pound / US Dollar Exchange Rates
* Bank rates according to latest IMTI data.
** RationalFX dealing desk quotation.
What we see looking ahead is a rising GBP/USD with the Smart Estimate rising to 1.4204 in three month's time, 1.4495 in 6 months and 1.4497 in a year's time.
The median estimates of the poll are slightly different, but nevertheless confirm the trend presented by the Smart Estimate: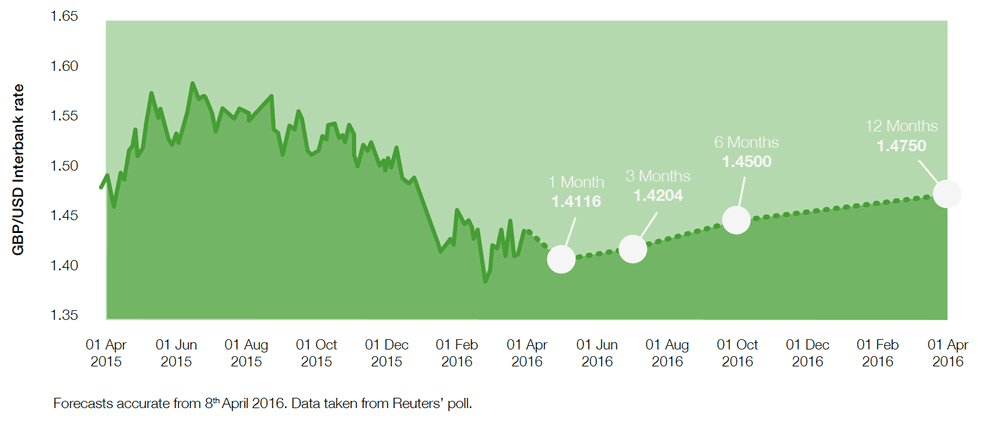 To compare, the January Reuters Smart Estimate forecast suggested a GBP/USD rate of £1/$1.4900 in three months' time, around the end of March. The GBP/USD mid-market rate on 31st March 2016 was £1/$1.4380.
This means a variance of nearly £25,000 for every $1 million changed to sterling and reflects how analysts have been struggling to price the 'Brexit premium'.
Forecasts are useful tools for providing an estimate of where exchange rates might end up, all else being equal.
"In reality, however, forecasts can vary among financial institutions, and new and existing external events have the power to change the course of a currency's performance," point out Smart Currency Business.
Hence why it is crucial that you have a suitable hedging strategy in place in order to minimise your losses on fluctuating currency exchange rates.
Matters to Consider on Pound / Dollar Over Coming Weeks and Months
Sentiment surrounding the UK's referendum on whether to stay or leave the EU will have an impact on the UK economy
Investors will still be interested in tracking the progress of the Monetary Policy Committee (MPC)'s sentiments surrounding the health of the UK economy, as this could offer clues on the MPC's views of an interest rate hike in the long run.
The US Federal Reserve last raised interest rates in December 2015, after around a decade without a rate hike. At this time, investors predicted four further rate increases
in 2016, alongside US economic growth. However, global economic risks have impinged upon US economic health; as such, central bank policymakers are less certain of an imminent rate rise.
Investors will need to keep an eye on China, as its slowdown or any further depreciation of the yuan could affect the US dollar and, consequently, the US economy