Pound to Dollar Forecast @ 1.22 in 2016 as Handelsbanken See USD Surging Ahead
Handelsbanken Capital Markets have an important warning for those watching the GBP/USD exchange rate in 2016.
Of all the institutional researchers we follow, Sweden's Handelsbanken is now the most pessimistic in their projections for the British pound against the dollar in 2016.
Handelsbanken are forecasting an exchange rate of 1.22 to be achieved by the end of 2016.
This is well below the consensus of the forecasts we hold at Pound Sterling Live where our polling shows an average level of 1.4808 being expected at the end of the year by the world's top 13 institutions.
By March 2016 an exchange rate of 1.43 is seen by the Swedish bank while a fall to 1.37 is expected by mid year and 1.30 by September.
Speaking exclusively to Pound Sterling Live, Helena Trygg, Senior Economist at Handeslsbanken Capital Markets says:
"Our GBP forecast vs the USD is more or less driven by the strengthening of the USD as the Fed continues to
tighten monetary policy while the ECB will have to do more. This will cause the GBP/USD to reach 1.22 towards the end of this year, if we are right."
Handelsbanken Capital Markets are particularly aggressive in their negative GBP-USD forecast, joining a notably pessimistic ABN Amro who see a low of 1.25 being achieved over the coming year.
ABN Amro have based their negative call on sterling-dollar on the likelihood of significant volatility surrounding the referendum on Britain's continued membership of the European Union.
However, for Trygg and her team, it appears that GBP to USD weakness is more of a function of US dollar strength than a paritcularly poor showing by the pound.
As such, the euro/dollar rate is also expected to suffer, "Are main scenario for the EUR/USD is that the USD will strengthen and reach below parity at the end of 2016 to 0.90. With that in mind, and that we see GBP/EUR to move more or less sideways during this year."
If you are looking to make payments in the pound / dollar pairing it is worth talking to a strategist about securing the best possible exchange rate on this pair as more and more analysts price in a weaker sterling.
Your bank is unlikely to allow you to manage your currency risk with the flexibility you would typically require, however an independent provider will offer a suite of personalised transfer tools. For instance, you could set a minimum buy level to protect against major declines. You can also set your ideal buying levels so you don't miss out on beneficial movements. Find out more.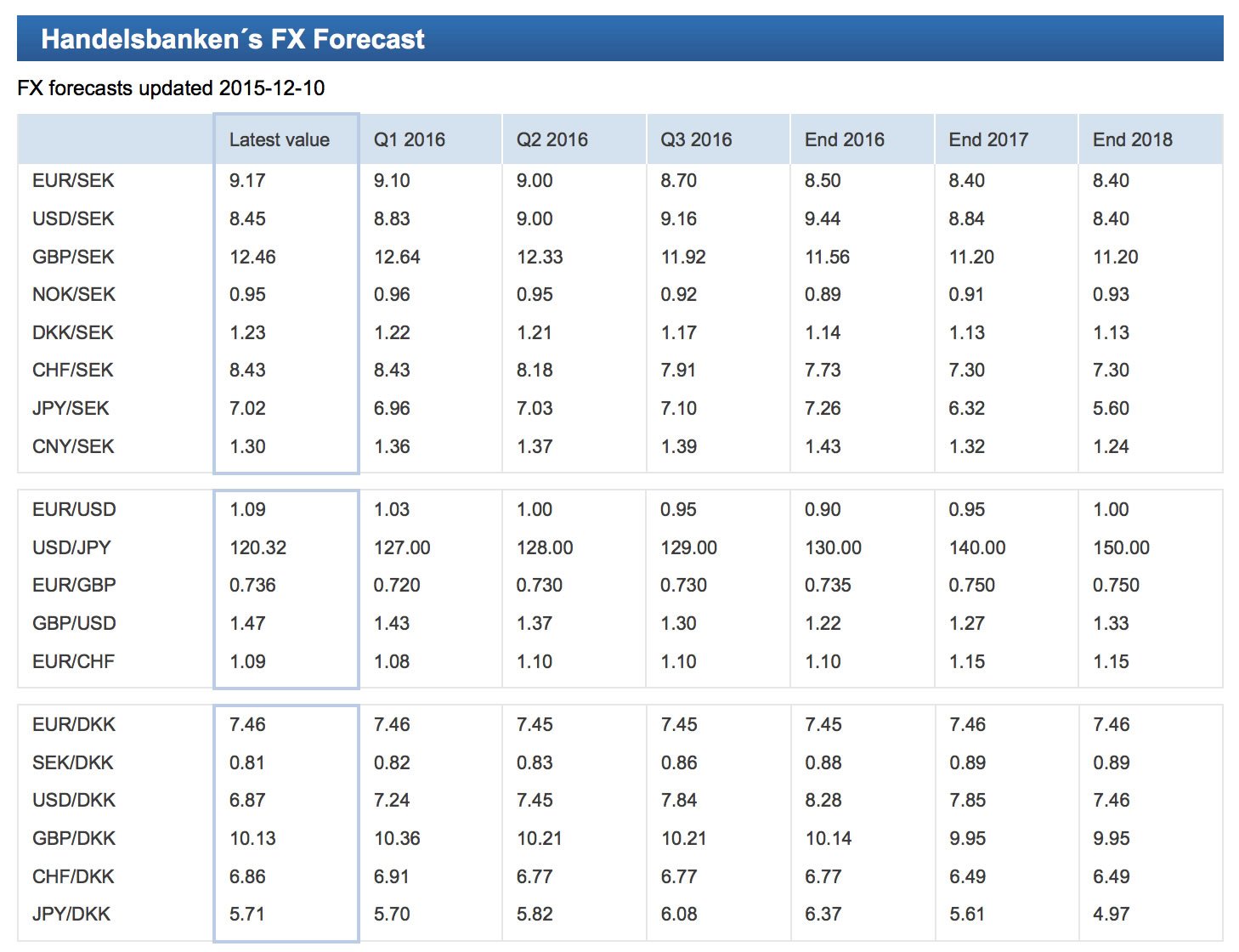 If we are to observe the direction of the euro/dollar pair we get the sense that analysts at the bank are holding a notably pro-USD stance.
Backing a continuation of the long-term dollar rally sets the bank apart from those researchers, such as at HSBC, who argue that the dollar will see its best levels towards the beginning of 2016.
The argument put forward by this camp is that markets will soon become disappointed with subsequent US Federal Reserve interest rate hikes which could be less frequent than a strengthening dollar requires.
Historical observations of GBP/USD price action in fact show that the exchange rate rarely spends much time below the 1.40 level leaving us to believe that any deep declines will be retraced swiftly.