Pound Forecast to Hit its Best Exchange Rate Against the Euro in March 2016
The top in the pound to euro exchange rate is seen a little higher than current levels according to Lloyds Bank.
According to the latest foreign exchange and financial forecasts issued by Lloyds Bank, the GBP should benefit as money markets bring forward their expectations for the timing of the first interest rate rise at the Bank of England.
Previously Lloyds had forecast the first rise to take place in February.
The pound to euro exchange rate has risen from a recent low just below 1.35 to a monthly best at 1.43.
"The catalyst for the latest move has been shifting perceptions about the relative policy outlooks," argue Lloyds.
In the euro area, signs of recovery have been more lacklustre of late, with the ECB providing a strong hint that it will sanction more QE (and/or a possible rate cut) at its next Council meeting on 3rd December.
We have argued here that for the euro's downtrend to stay in place an interest rate cut must be delivered at the very least.
Latest Pound/Euro Exchange Rates
* Bank rates according to latest IMTI data.
** RationalFX dealing desk quotation.
The Bank of England has not sounded particularly aggressive on raising rates in recent months, but we get the sense Threadneedle Street will follow the US Federal Reserve's lead and raise interest rates in coming months.
This week we got some hawkish signals from BoE member Ben Broadbent who hinted that money markets were being too relaxed in their timing of a 2016 rate rise.
"Looking ahead, we believe the prospect of further ECB stimulus leaves scope for GBP/EUR to rise further over the coming months. We target a move up to 1.45," say Lloyds.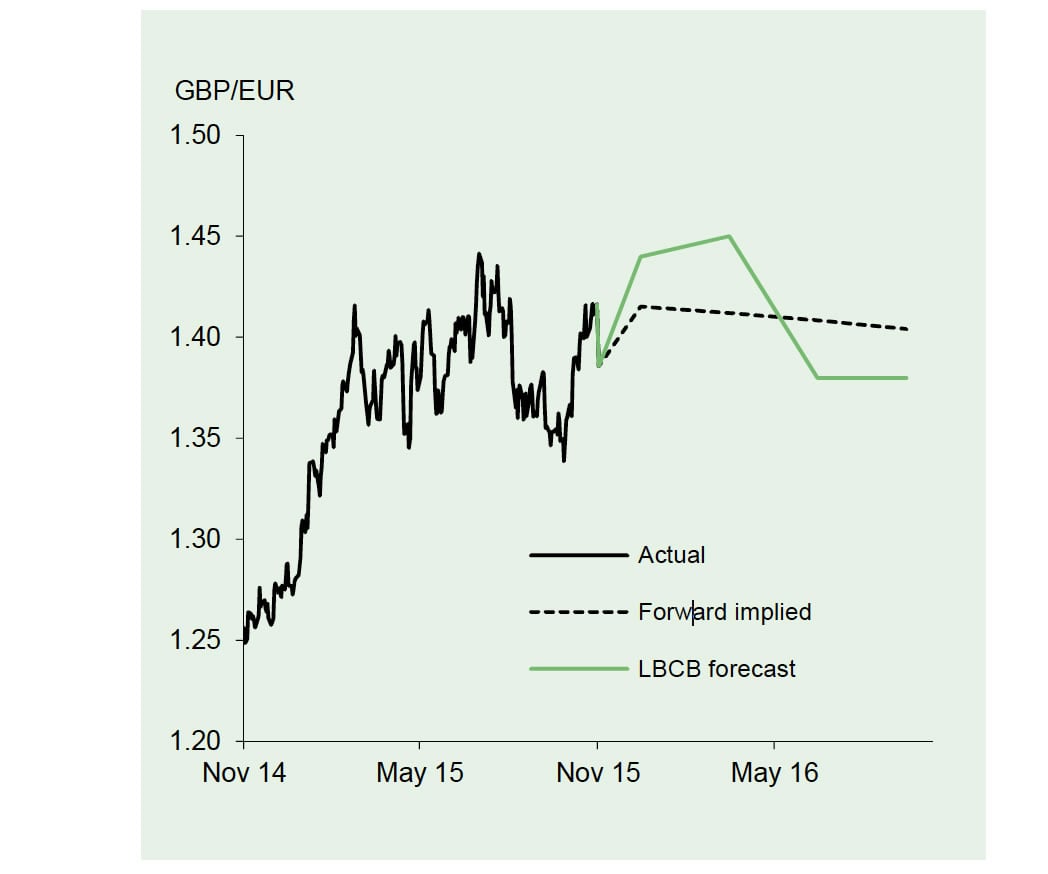 As the above projections show, it looks as though 1.45 could well represent the maximum for the exchange rate though.
From here Lloyds forecast the pound to fall back against the euro, with potential EU referendum risk, fiscal austerity and the UK's sizeable current account deficit expected to leave the pound vulnerable.
In addition, the prospect of further stimulus strengthens the possibility of a relative upside surprise to euro area growth next year.
"We target a move back to 1.36 by end 2016," say Lloyds.
Praet, Draghi Signals ECB Action - Disappointment is Key Risk to Outlook
As mentioned, a central driver to a weaker euro will be an active European Central Bank.
ECB chief economist Praet indicated that the ECB will announce more measures at its next meeting in early December by highlighting that "the transmission of financial conditions to inflation has taken longer than we anticipated".
Therefore, "monetary policy needs to remain sufficiently accommodative to offset any headwinds". In addition, Praet emphasised that there is a risk of inflation expectations becoming "unanchored"
Without mentioning a possible depo rate cut explicitly, ECB president Draghi stressed that while QE is a "particularly powerful and flexible instrument", "other instruments could also be activated to strengthen the impact of the purchase programme if necessary.
If the ECB does deliver some strong action in December the target set out at 1.45 by Lloyds will come into view a lot faster than anticipated.
However, an underwhelming stance could well see the pound to euro exchange rate make a hasty retreat.