Pound-Canadian Dollar Week Ahead: Rally Stalls with Sterling as Loonie Plays Catch Up
- GBP/CAD risks correction lower after strongest week since March.
- As GBP/USD threatened by virus concerns as CAD plays catch up.
- GBP may see 1.7727 but risks sharp correction as far as 1.7025.
Image © Adobe Images
Achieve up to 3-5% more currency for your money transfers. Beat your bank's rate by using a specialist FX provider: find out how.
The Pound-to-Canadian Dollar rate closed its best week since March Friday and may have further to climb but increasingly the risk is that the rally is undermined, leading Sterling to hand back a substantial part of its recent gain.
Pound Sterling was the best performing major currency last week after months of underperformance conspired with a reappraisal of UK economic progress to enable the British currency to belatedly benefit from a U.S. Dollar exodus.
The Pound-to-Dollar rate advanced 2.27%, the strongest performance of any major currency which lifted the Sterling against all major counterparts including the Canadian Dollar.
The Pound-to-Canadian Dollar rate rose 2.27% last week, matching exactly the increase seen in GBP/USD, with gains augmented by the fact that USD/CAD went almost nowhere for the period. USD/CAD and GBP/USD are the mechanical components of GBP/CAD but the latter is seen as likely to consolidate, if not correct lower in the week ahead, which is a headwind for GBP/CAD that leaves the onus on USD/CAD to avert a correction for Sterling.
"The CAD decline on the crosses is starting to look quite stretched; our Fair Value models have struggled mightily to stay on track amid all the volatility seen recently but they do suggest the likes of the EUR, GBP and AUD are all running well ahead of fundamental equilibrium at the moment; we estimate FV of near 1.45 for EURCAD, 1.60 for GBPCAD and 0.93 for AUDCAD," says Shaun Osborne, chief FX strategist at Scotiabank. "CAD is getting tarred with the same brush as the USD it seems but that looks a little unfair...Our week-ahead model suggests flat trading for USDCAD next week, within a 1.3215-1.3585 range."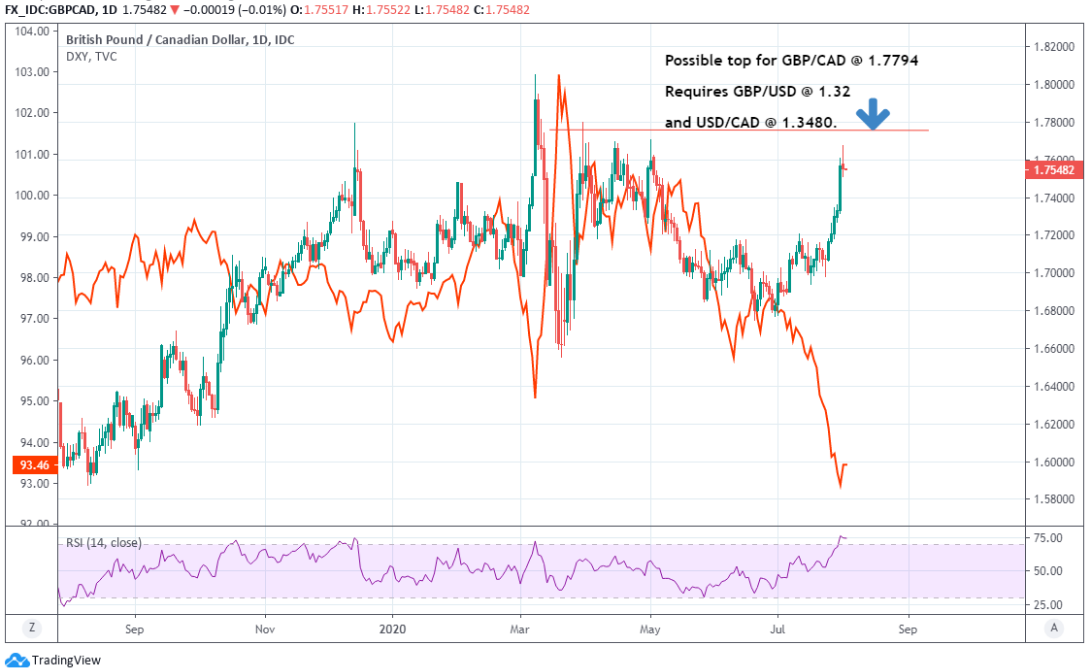 Above: Pound-to-Canadian Dollar rate shown at daily intervals with Dollar Index (orange line, left axis) and relative strength index measure of momentum that suggests GBP/CAD is now more overbought than in the March liquidity crisis rally.
If Sterling retests last week's high near 1.32 against the U.S. Dollar this week then the Pound-to-Canadian Dollar rate may yet see the 1.7689-to-1.7794 range that appeared likely after last week's range breakout to the upside.
However, GBP/CAD would be unlikely to hold those levels for long given the evolving outlook for GBP/USD, the prospect of a Dollar Index correction and fact that such a thing would likely have implications for USD/CAD.
"Our rotating financial factor model for USDCAD has entered a new short-USDCAD signal on today's close (spot reference 1.3423). This is the sixth short since the model starting reading the trend in fair value as downward sloping on April 22," says Greg Anderson CFA, global head of FX strategy at BMO Capital Markets. "The DXY index remains the model's highest weight factor and it took another tumble today....Although we expect the pace of generalized USD weakness to ease up at some stage before the year's end, we expect USDCAD to continue to steadily grind lower."
USD/CAD has ground steadily lower in recent months but not enough to offset gains of other major currencies over the greenback, which many attribute to its close economic links with the U.S. But the greenback's losses have taken the Dollar Index deep into oversold territory and investors' perceptions of a seemingly superior containment of the coronavirus will be challenged this week and could give rise to profit taking on bearish wagers against the Dollar.
Paradoxically, this might facilitate USD/CAD declines that enable the Loonie to catch up with many of its major counterparts, which would be bearish for the Pound-to-Canadian Dollar rate.
Above: USD/CAD at daily intervals with Dollar Index (orange line, left axis) and relative strength index measure of momentum that suggests USD/CAD is not nearly as oversold as the USD or as overbought as other majors relative to the greenback.
A USD/CAD rate that finds it way down to 1.33 at the same time as GBP/USD corrects back toward technical support at 1.28 would be nothing short of disasterous for the Pound-to-Canadian Dollar rate because that combination implies that Sterling would fall back to 1.7025 against the Loonie.
This would lead to a GBP/CAD fall of -2.9% and be enough to more than unwind last week's gains over the Canadian currency.
Pound Sterling would need to return to last week's highs against the greenback near 1.32 at the same time as USD/CAD falls to 1.33 in order to avert losses against the Canadian Dollar this week. Such a scenario would see GBP/CAD trading just north of its Sunday opening level of 1.7557. However, and on the other hand, a repeat of last week's performance whereby GBP/USD eyes 1.32 and USD/CAD continues to trade around 1.34 would lift GBP/CAD to 1.7727.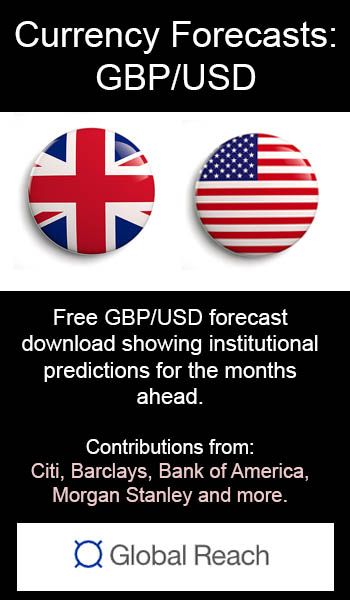 In sum, most of the likely scenarios for USD/CAD and GBP/USD imply that at the very least the Pound-to-Canadian Dollar rate rally will stall this week, with signficant risks of a correction lower. The main uncertainty is how far that correction extends, which will be playing out amid the August Bank of England (BoE) meeting and July jobs reports from Canada and the U.S. not to mention a host of other American economic figures.
"In the US, our overall take on a data packed week will be to expect some disappointments as we move into July readings. The highlight will be the payrolls report on Friday, where we are below consensus," says Avery Shenfeld, chief economist at CIBC Capital Markets. "In Canada, a holiday shortened week will highlight the June employment picture, where we're due to see another solid step forward in what will still be a long road back to preCovid levels. That will capture the next leg of economic reopening in some sectors and provinces."
Above: Pound-to-Canadian Dollar rate at weekly intervals alongside 21, 55 (red) and 200-week (green) moving-averages.
---
Achieve 3-5% More Currency: The Global Reach Best Exchange Rate Guarantee maximises your currency purchasing power. Find out more.
Brexit Helpline: Free one-on-one financial, currency, pension and legal guidance and preparations for 2021.
Find out more

Invest in Spanish Property. A selection of discounted properties due to the covid-19 crisis, online viewings and transactions possible. Download the guide. Download the Guide
Featured Content
Mortgage Direct - a Spanish mortgage broker specialising in the provision of mortgages for expats - have confirmed they have secured their Spanish license.