Pound-Canadian Dollar Rate Breakout in Progress as Loonie Sags amid USD Correction 
- GBP/CAD breaking higher but requires daily close above 1.7220.
- Inverted head & shoulders chart pattern points GBP/CAD at 1.77.
- Brexit progress, economic data may be needed to sustain to rally.
Image © Adobe Stock
The Pound-to-Canadian Dollar exchange rate was breaking higher from a narrow and weeks-long trading range Tuesday in moves that could lift it back to levels not seen since early May over the coming days and weeks.
Sterling ceded ground to only the safe-haven currencies in Europe Tuesday as the U.S. Dollar rebounded and Canada's Loonie was found trading near to the bottom of the major currency bucket.
The result was a quarter percent Pound-to-Canadian Dollar rate gain that follows a larger increase from Monday, both of which have enabled Sterling to establish a foothold above 1.7220.
This is a trigger for a potential 500 point gain that would follow a confirmed breakout from an inverse head-and-shoulders pattern that July's range has formed on the charts, technical analysts say.
"GBPCAD is on the cusp of a more sustained move higher after a period of sideways range trading. Price action through June/July has formed a bullish, inverse Head & Shoulders pattern and the GBP is testing the neckline break out at 1.7223 at writing. The formation implies upside potential of around 5 big figures," says Juan Manuel Herrera, a strategist at Scotiabank. "We note that trend signals here too are aligned bullishly for the GBP across the short, medium and long term oscillators which strongly support the idea that the GBP will continue to grind higher in the immediate future."
Above: Pound-to-Canadian Dollar rate shown at daily intervals.
Herrera says the Pound-to-Canadian Dollar rate could target 1.77 if it overcomes the 1.7220 level on daily closing basis. It didn't quite do this on Monday but was trading above that threshold on Tuesday, which makes the session's New York close key to the outlook. Technical support is now seen between 1.7150 and 1.7160.
However, much also depends on relative price action in USD/CAD and GBP/USD. The latter has broken to new multi-month highs early in the new week, testing the 1.29 handle, although the move has not been reciprocated with new lows for USD/CAD and so explains the upside breakout in the Pound-to-Canadian Dollar rate.
"The DXY has staged a modest rebound after a seven-day losing streak. Risk reduction ahead of the FOMC and some likely disappointment about the latest US fiscal measures have weighed on sentiment. The recovery remains shallow, however, as we suspect this bounce may be broadly seen as an opportunity to sell," says Mark McCormick, global head of FX strategy at TD Securities.
USD/CAD found support at 1.3350 Monday after the Canadian Dollar lagged in an early riposte against the U.S. Dollar, which was correcting higher in the European morning Tuesday. Europeans have bid the Dollar higher of late only for Americans to sell it when U.S. and Canadian markets open.
Above: USD/CAD rate shown at daily intervals alongside Dollar Index (orange line).
"USD/CAD likely will remain within the 1.3350-1.3650 level over the coming weeks. We are mindful that – should the USD weaken due to a worsening of the virus – CAD will likely underperform AUD or NZD, given the reliance of our economy on the US," says Sarah Ying, a strategist at CIBC Capital Markets.
A USD/CAD rate that's unable to make it below 1.3350 in a risk happy market is a bullish development for Pound Sterling, especially if GBP/USD does as Scotiabank, CIBC and others think it will do by recovering the 1.29 level this week and then pushing higher.
Scotiabank says 1.30 is a possibility for GBP/USD over the coming days while Commerzbank says 1.3186 would be feasible following a close above the 200-week moving-average at 1.2905.
"GBP/USD has reached the 1.2905 200 week ma, it is possible that this will hold the initial test. Above here lies the 1.3186 the 2015-2020 downtrend," says Karen Jones, head of technical analysis for currencies, commodities and bonds at Commerzbank. "Initial support is the 200 day ma at 1.2698."
Above: CAD/USD rate shown at daily intervals alongside GBP/USD (orange line).
Such levels of GBP/USD would see the Pound-to-Canadian Dollar rate trading between 1.7222 and 1.7604 if USD/CAD held around support at 1.3350, but GBP/USD has outpaced the Loonie over the last month so might have further to fall in the event of a further comeback by the U.S. currency. July's 2.5% increase has reduced GBP/CAD's three-month loss to less than 1% and lifted it back into the black for 2020, with a 0.07% gain by Tuesday.
However, the Pound might need to progress in the Brexit negotiations and continued weakness in the U.S. Dollar to sustain its advance on the Canadian Loonie. Brexit negotiators hold informal talks this week ahead of the next round of formal talks that gets underway on August 17.
That and a possible restatement of the UK's position in the major economy league table could aid GBP/CAD's breakout.
This is after UK PMI surveys pulled ahead of their Eurozone and U.S. counterparts in July, challenging the popular perception of an economy that's lagging behind all of its peers. If this dynamic is confirmed by other data then Sterling may find itself with the upper hand over the Loonie, although many economists suspect the PMI surveys are unreliable for the time being.
"This is inconsistent with the message from the hard data. In May, the UK composite PMI stood at 30, implying a steep monthly fall in GDP was likely. But the official GDP data eventually showed the UK economy registered one of the largest monthly expansions on record. Meanwhile, the UK industrial production and retail sales data did indicate that a turning point had been reached in May. But the May rises dramatically overstated the scale of the GDP rebound," says Ben May, director of global macro research at Oxford Economics. "It will remain important to monitor a wide breadth of data and not to assume that the normal rules of thumb will inevitably hold in the short term."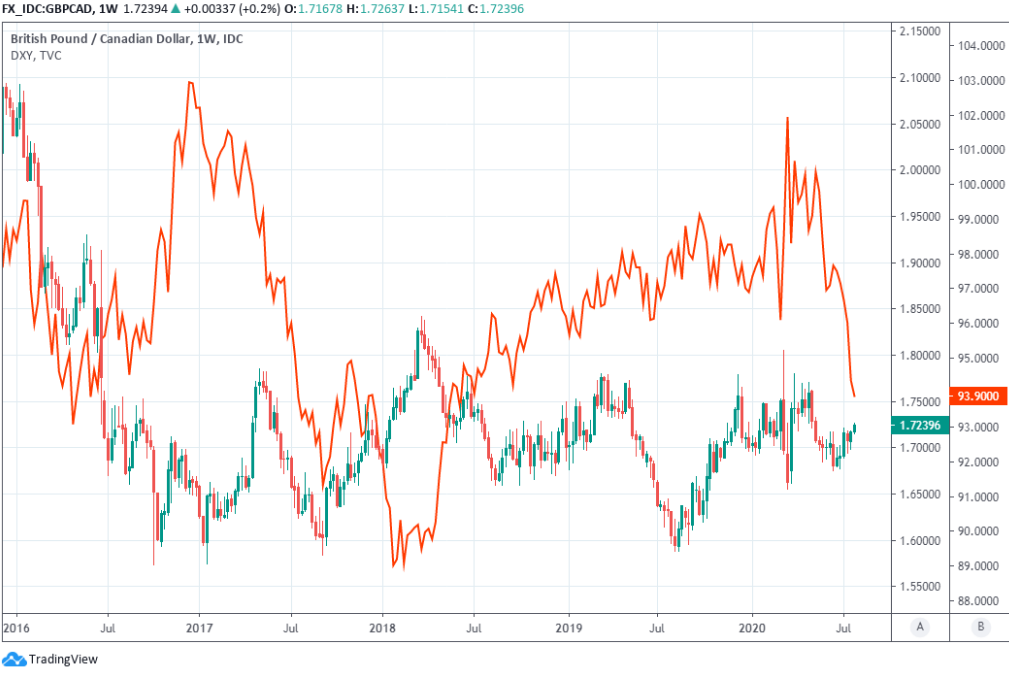 Above: GBP/CAD rate shown at weekly intervals alongside Dollar Index (orange line). Relationship varies over time.
Featured Content
Mortgage Direct - a Spanish mortgage broker specialising in the provision of mortgages for expats - have confirmed they have secured their Spanish license.