Pound Registers Gains Aided by Strong PMI Rebound
- GBP vies with EUR for 3rd spot among majors after data surprises.
- PMI indices rise above Eurozone counterparts, retail sales surge.
- Gains come as stock markets tumble amid U.S.-China fisticuffs.
- And as Brexit talks head toward a 'no deal,' drawing BDI warning.
© IRStone, Adobe Stock
Achieve up to 3-5% more currency for your money transfers. Beat your bank's rate by using a specialist FX provider: find out how.
The Pound was vying with the Euro in a kneck-and-kneck race for third place in the week's major currency league table Friday after economic data challenged the popular perception of a UK economy lagging behind continental peers.
The Pound has been pummelled in recent months and one of the reasons why was rooted in fears about the toll that a comparatively larger coronavirus outbreak might exact from the UK's services-heavy economy, with a 'lockdown' that spilled into the summer months having fomented perceptions of a country that was being left behind in the race out of the coronavirus trough.
IHS Markit surveys challenged those perceptions on Friday when they left both manufacturing and services industries sitting on higher PMI indices than the Eurozone for July, while also either besting or broadly matching those of France and Germany. It's not clear if this dynamic will be confirmed by official data much less what such a thing would mean for Sterling beyond Friday, although it certainly has contradicted the popular perception.
"June means that retail sales have almost returned to pre-pandemic levels," says Andrew Goodwin chief UK economist at Oxford Economics. "The strength of June's retail sales outturn offers some upside risk to Q2 GDP, though there was a marked divergence between the retail sales and GDP data in May. We think the rebound in GDP will be more evenly spread across June and July, echoing the gradual relaxation of lockdown restrictions."
PMI surveys came after the Office for National Statistics (ONS) reported a 13.9% surge in retail sales for June, building on a 12.3% gain from May and backfilling much of the -23.1% fall seen in March and April.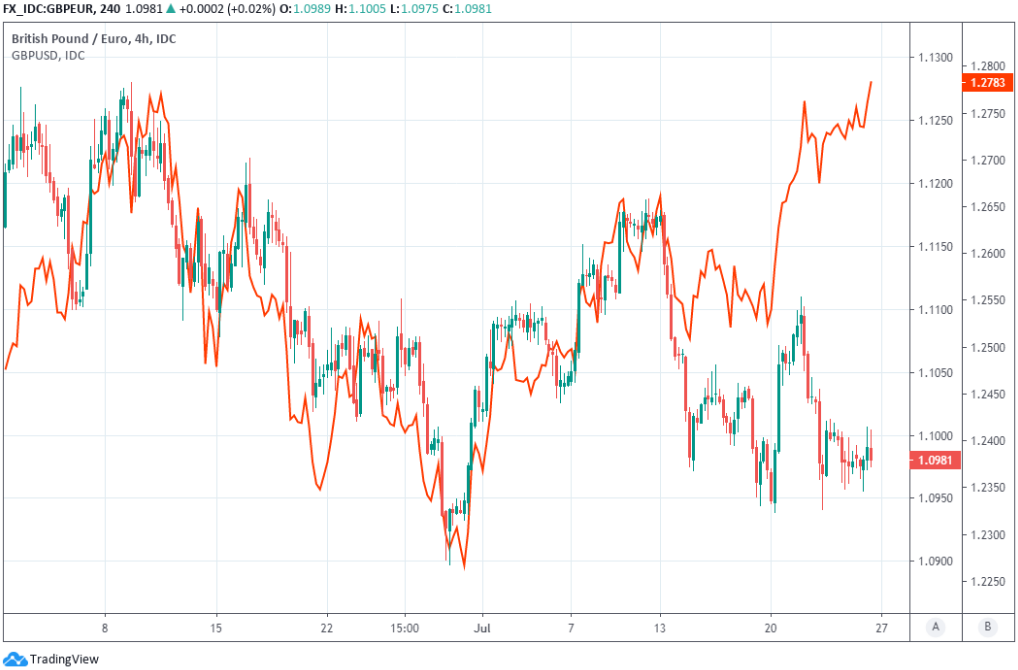 Above: Pound-to-Euro rate rate shown at 4-hour intervals alongside Pound-to-Dollar (orange line).
Sterling was higher against all major currencies other than the safe-haven Japenese Yen ahead of the weekend but the Pound-to-Euro rate gain of 0.16% had lifted the British currency to 1.0995 and into third spot among major currencies for the week, before it ebbed back to breakeven for the session.
"EUR/GBP's outlook remains positive while we trade above the 55 day ma and the 5 month uptrend at .8985/86 and attention is on the June peak at .9178 and Fibo at .9184," says Karen Jones, head of technical analysis for currencies, commodities and bonds at Commerzbank.
The Pound-to-Dollar rate was near the 1.28 handle after reclaiming its 200-day moving-average at 1.27, leaving it near to the 78.6% Fibonacci retracement of its March fall and the early June high just beneath.
"A close above its 100-week MA (1.2746) for the first time since early-March would signal a willingness for Cable to make a solid push through 1.28 and a test of the 1.30 mark thereafter. Support is 1.2675/700," says Juan Manuel Herrera, a strategist at Scotiabank.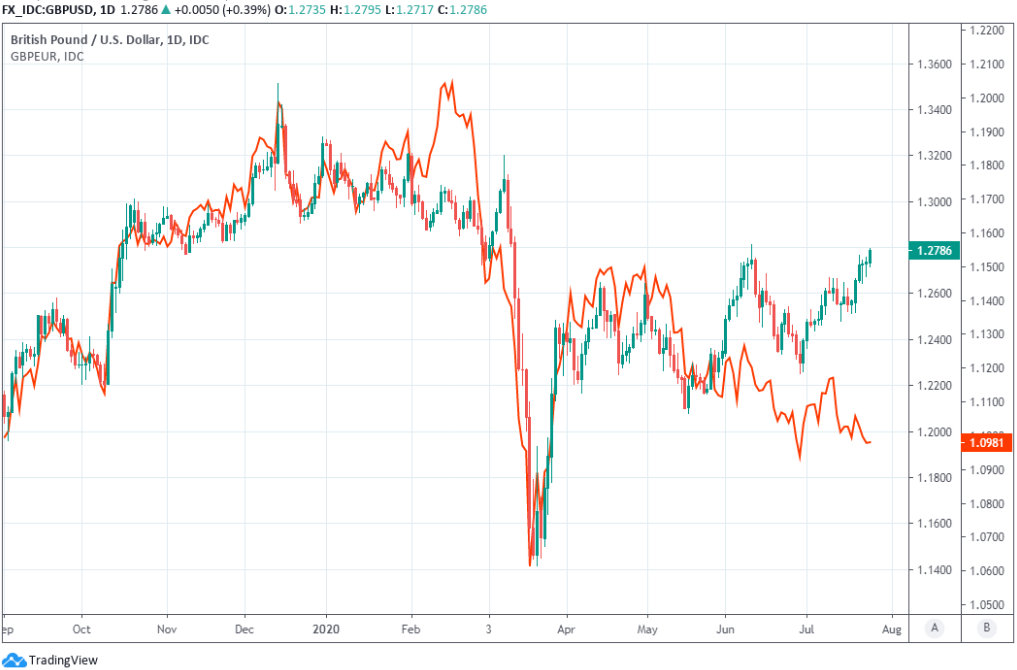 Above: Pound-to-Dollar rate shown at daily intervals alongside Pound-to-Euro rate (orange line).
Sterling's Friday performance was incongruous with the general mood among currency traders and in other markets, not to mention with incoming updates on the Brexit process. The Dollar gained over typically riskier currencies like Aussie, Kiwi and Canadian Dollars while retreating from small and large European currencies as well as the Japanese Yen. The Pound has spent more time in the former camp of late than it has the latter of late.
Stock markets and commodities tumbled, taking risk currencies with them after the U.S. and China exchanged tit-for-tat closures of consulates in each other's countries over U.S. allegations of spying and intellectual property theft.
"When you see what the Chinese Communist Party has done to our country and to the world with their failure to live up to another set of promises they made to the world about their responsibility if a pandemic began to break out in their country, the coverup that took place, you can absolutely understand why a trade deal like the phase one trade deal no longer ranks first of all the various issues we have," says Secretary of State Mike Pompeo in an interview with Fox News. "Label it what you must, but President Trump understands that the previous administrations, both Republican and Democrat alike, turned the other cheek for an awfully long time and resulted in a real imbalance in the relationship between the United States and China. We aim to fix it."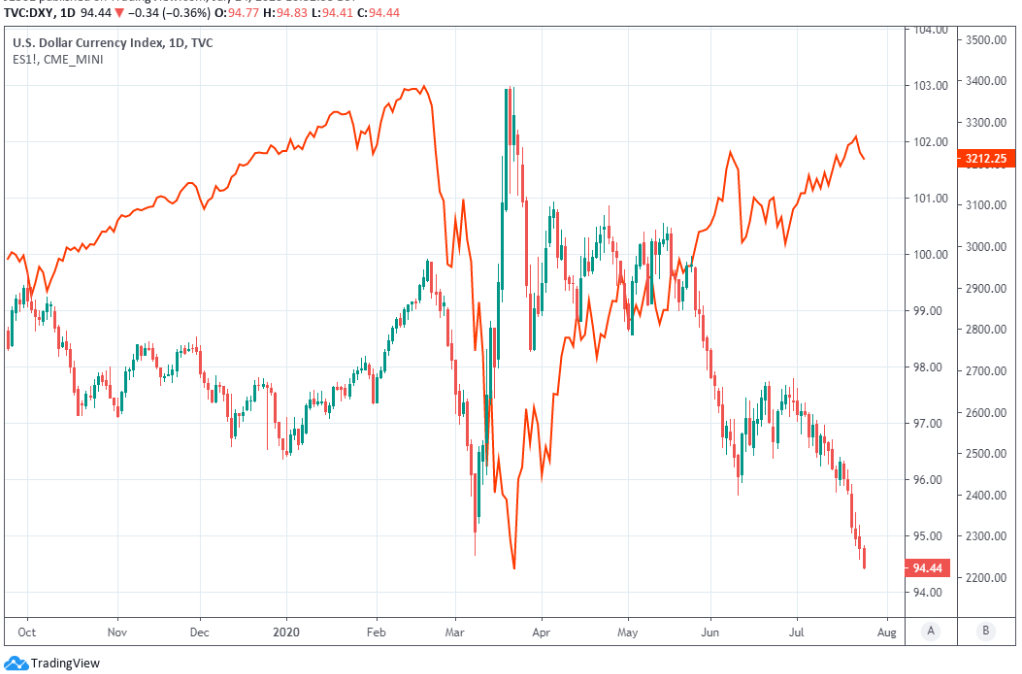 Above: Dollar Index shown at daily intervals alongside S&P 500 index futures (orange line).
The Pound was lifted Friday, adding to late Thursday gains and enough so to make it the third best performer of the week, thanks in part to wobbling stock markets that encouraged corrections in the commodity currencies and which favoured only the larger units and safe-haven currencies. But little has emerged from the pipeline to alter the outlook for Sterling. If anything, that's worsened.
The Federation of German Business Industries (BDI), which says it speaks for 40 trade associations and more than 100k businesses, said Friday that a collapse in the Brexit trade negotiations is all but inevitable after updates from David Frost and Michel Barnier confirmed that little progress has been made thus far, with both sides doubling down behind red lines in the final round of accelerated talks this week. Informal talks take place next week ahead of another negotiating round on August 17.
"Too many political and technical issues remain unsettled for them to be solved in time. The imperative of the hour for the German government and the EU is to bundle all their forces and to focus all their attention on the essential emergency measures. Also business on both sides of the Channel must now prepare itself for bilateral trade without an agreement," says Joachim Lang, director general of the BDI. "Industry does not believe that the United Kingdom will complete the public infrastructure for cross-border goods traffic in time. The latest plans on the part of the British are incomplete. This means that companies are faced with new customs duties, additional bureaucracy and an economic disaster."
Lang and the BDI spoke out after European Commission negotiator Michel Barnier was reported to have told national ambassadors to the EU that the UK has lowered its ambition in the trade talks in order to improve the odds of a deal being struck. The FT quoted an unnamed official saying that Downing Street will now pursue a "low quality, low profile agreement."
Meanwhile, The Express reported the UK is no longer interested in "common defence and foreign policy ties." Both sides spoke of an increased prospect of a 'no deal' Brexit Thursday, with Barnier saying such an outcome would be better than a "bad deal," almost echoing former Prime Minister Theresa May.
---
Achieve 3-5% More Currency: The Global Reach Best Exchange Rate Guarantee maximises your currency purchasing power. Find out more.
Invest in Spanish Property. A selection of discounted properties due to the covid-19 crisis, online viewings and transactions possible. Download the Guide
Invest in Portuguese Property. A selection of discounted properties, online viewings and transactions possible. Download the Guide
Featured Content
Mortgage Direct - a Spanish mortgage broker specialising in the provision of mortgages for expats - have confirmed they have secured their Spanish license.