Pound to South African Rand @ 24.00, ABSA Downgrade Forecasts
The British pound has forced itself through a key resistance level against the SA rand, inviting further advances. ABSA meanwhile slash their ZAR forecasts.
"The quick sell-off, in our view, is a sign that that markets are initially interpreting the cabinet reshuffle as a blow to the institutional credibility of the National Treasury." - Peter Worthington, ABSA.
The pound to Rand exchange rate has hit the 24.00 level - unimaginable to us just a few days ago.
In fact we had assumed that buying interest in GBPZAR would fade having observed the position being wildly overbought.
Charts are showing the Relative Strength Index on the pair reading at 84.2 - anything over 70 is considered while 50 is seen as the long-term average to which the RSI must deviate. Therefore, we would expect the buying interest to fade.
The problem is that the exchange rate is in unchartered waters and as such there are no option structures set by the speculative markets lying ahead that could stop the fall in the rand. We suspect we are witnessing 'real money' exiting the country.
RMB: The Rand Could Get Weaker
In nominal terms, the rand is clearly at its worst ever — USD/ZAR long ago having broken the 13.84 hit very briefly back in December 2011.
"However, it is worth pointing out that in real inflation-adjusted terms, that 2001 level now equates to 20.50! This analysis always leaves us with the unhelpful conclusion that the rand is extremely weak but has been much-much weaker before," points out John Cairns at RMB.
Flows have been mixed says the RMB analyst.
"Foreigners were net neutral in the bond market, although with unusually high turnover. Locals were panicking, with your friendly currency analyst inundated with calls on whether to switch savings offshore. All we can do is point out that you would be moving cash offshore at an exceptionally weak exchange rate," says Cairns.
Rand transfers? Get up to 5% more currency than your bank would offer by using an independent provider who is tighter on spreads. You will also benefit from having the steady hand of an FCA regulated specialist executing your order at the best possible rates. Find out more.
Barclays Lower Forecasts
Barclay's ABSA unit has meanwhile lowered their projections for ZAR on the back of recent developments.
Analysts at the bank believe the ZAR has become even more vulnerable to external funding requirements, terms of trade developments and an increased country risk premium.
This has, "prompted us to become even more bearish about the ZAR outlook over the coming quarters," says a note from ABSA.
USDZAR is forecast at 16.40 in March 2016, 16.75 in June and 17.50 at the end of the year.
Why the Rand is in Freefall
In an example of catastrophic mismanagement South Africa's President Zuma announced that Finance Minister Nhlanhla Nene will be removed from his post and be redeployed to another 'strategic position.'
Nene, who had built up a solid reputation in his short stint in charge, will be replaced by David Van Rooyen — an unknown figure in financial markets to be appointed from outside National Treasury and SARS.
Van Rooyen served as a member of Parliament, a whip of the Standing Committee on Finance and whip of the Economic Transformation Cluster.
"Beyond that, very little is known about Mr Van Rooyen, except that he is a former executive mayor of Merafong Municipality and a former North West provincial chairperson on the South African Local Government Association," says Isaah Mhlanga at Rand Merchant Bank in Johanessburg.
Analyst Peter Worthington at ABSA says the quick sell-off is a sign that that markets are initially interpreting the cabinet reshuffle as a blow to the institutional credibility of the National Treasury.
"This is a big negative development with regard to local and foreign investor sentiment," says RMB's Mhlanga.
The rand plunged to a record-low of USD/ZAR 15.38 and EUR/ZAR 16.06 just moments after the announcement, before receding to 15.03 and 16.52 respectively this morning.
The pound to Rand exchange rate meanwhile smashed through resistance at 22.00 to record an eye-watering 23.60.
The pair has since consolidated but what we have witnessed is a potential game-changer in that further upside has been invited.
Those transferring money to South Africa could be doing so from an exchange rate of 22.20 when using their bank. However, independent providers such as RationalFX are seen quoting closer to the market towards 22.60 - a substantially better rate.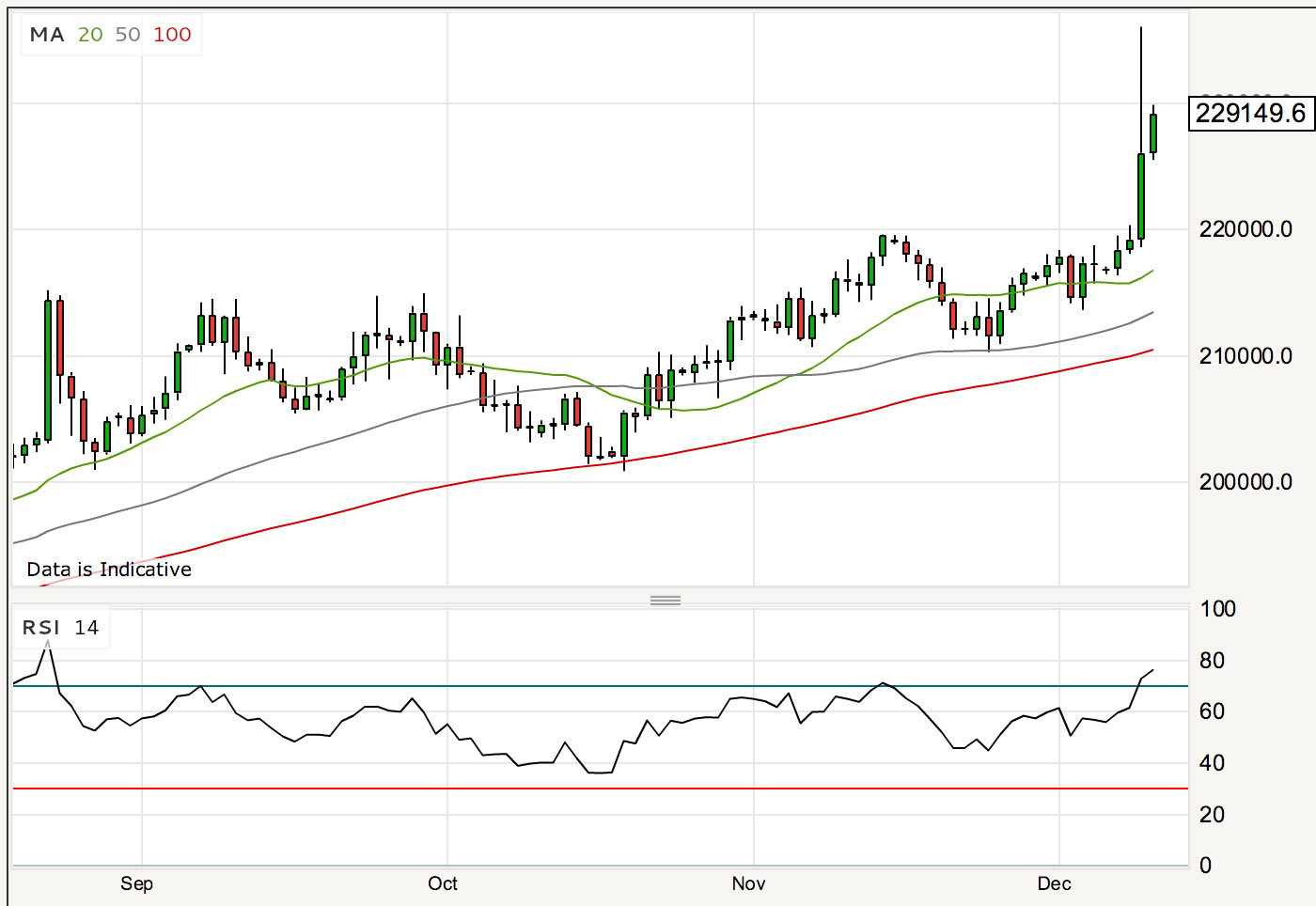 The GBP to ZAR pair remains bullishly aligned on the charts and because we are in unchartered waters there will likely be little build up of exit orders in the market.
In short, there is no obvious structure to the market that would arrest any advances.
"We expect the rand, bond yields and CDS to reactive very negatively as local markets try to make sense of this news, which will exacerbate the potential negative impact from a Fed hike," says Mhlanga.
Featured Content
Mortgage Direct - a Spanish mortgage broker specialising in the provision of mortgages for expats - have confirmed they have secured their Spanish license.