South African Rand Consolidation Range Takes Shape on Charts amid Dollar Pains
- ZAR outperforms as depreciation trend shows signs of slowing.
- But sustained recovery unlikely as narrow ranges set to prevail.
- 17.0 seen exerting gravitational pull, keeping ZAR range-bound.
Image © Adobe Images
GBP/ZAR spot rate at time of writing: 22.59
Bank transfer rate (indicative guide): 21.80-21.95
FX specialist providers (indicative guide): 22.25-22.38
More information on FX specialist rates here
The Rand advanced against a vast majority of major developed and emerging market rivals Wednesday after a sustained period of underperformance, leaving behind it on the charts the appearance of a narrow USD/ZAR range that Rand Merchant Bank suggests will govern the South African unit into year-end.
South Africa's Rand advanced against all major currencies as well as all large emerging market currencies except the Indian Rupee Wednesday as a more-than month-long run of depreciation appeared to near its end. The Rand has fallen against all major currencies in the last month and every one of its large emerging market rivals except for the Russian Rouble and Turkish Lira.
Wednesday's Gains came amid more broad based weakness in the Dollar and upbeat sentiment among investors that helped lift stock markets in Europe following what had been a wobbly Asia session.
USD/ZAR was turning lower having hit 17.50 previously and in turn GBP/ZAR was retreating from its recent high of 22.75.
"The local currency continues to follow the week's weakening trend, but there are some signs early in the day that this could be slowing down. South Africa's RESI10 should see positive movements today in the wake of gold's strength, which could keep the domestic equity market's performance for the week in the green," says Siobhan Redford, an economist at Rand Merchant Bank. "The real economy, however, continues to show weakness."
Above: USD/ZAR rate shown at daily intervals.
Redford notes a decision by Consol to suspend investment in South Africa due to a national ban on the sale of alcohol as a negative omen for the economy. Consol is the latest in a growing line of multinational firms to pull investment from or reconsider involvement in the country over the ban, which has been highly controversial among South Africans, at a time when the continent's now-second largest economy needs every penny of investment it can get.
South Africa and many other emerging markets were already on shaky foundations even before the coronavirus escaped China's borders but the pandemic has stoked further economic challenges and financial hardship, partly explaining why so many developing world currencies have depreciated in recent months even with the U.S. Dollar unravelling at a rate of knots.
"Emerging market financial conditions bottomed out in May, but many EMs still have some ground to cover. China is doing well, but others are struggling," says Tamara Basic Vasiljev, a senior economist at Oxford Economics. "Recent dollar weakening has bypassed EMs completely, with all their currencies depreciating significantly against the dollar. This can pose a problem for those that are heavily exposed to cross-border and domestic FX-denominated debt."
Flows resulting from the nascent Dollar exodus have bypassed emerging markets and mainly benefitted European currencies but with the latter now at two or even three-year highs and investors still out of love with the greenback, further emerging market currency depreciation might be unlikely.
But with the global economy still dogged by fears of a second wave as outbreaks continue to grow in developing countries, a sustained recovery may also be unlikely in the short-term.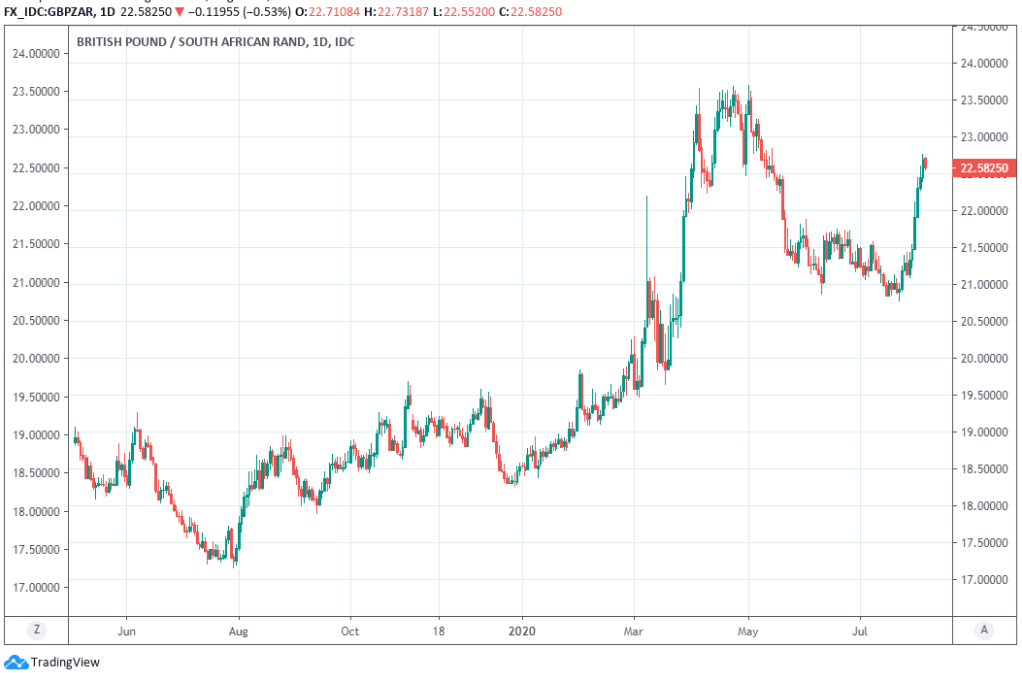 Above: Pound-to-Rand rate shown at daily intervals.
This argues for range-bound emerging market exchange rates, which is exactly what was envisaged for the South African currency in Rand Merchant Bank's latest quarterly review of forecasts. RMB forecasts a narrow 16.50-to-17.50 range for USD/ZAR into year-end, which would also confine the Pound-to-Rand rate to a similarly narrow range in the absence of outperformance by Sterling in the major currency sphere. Others are also looking for 17.0 to exert a gravitational pull on the South African unit.
"The domestic currency is in a consolidation phase currently, after running into overbought territory in recent weeks, with the rand expected to average R17.00/USD this quarter," says Annebel Bishop, chief economist at Investec. "The global economic recovery is not firmly underway, and will not be linear nor synchronised. Instead the global economy will see some individual economies lead in their recovery from the Covid-19 lockdowns and resultant economic slumps, while other economies will lag...The uneven nature of the recovery will continue to trip up market sentiment, and so cause EM currency volatility."
Investec forecasts a USD/ZAR rate of 17 by the end of September and a Pound-to-Rand rate of 20.70, implying a modest recovery in the coming weeks, with both numbers falling to 16.50 and 20.44 respectively by year-end.
The bank says risk appetite will be key for the Rand, with the mood among investors likely to be heavily influenced in the short-term by whether U.S. lawmakers agree an extension of enhanced welfare benefits for the unemployed and beyond there, tensions between the U.S. and China.
---
Achieve 3-5% More Currency: The Global Reach Best Exchange Rate Guarantee maximises your currency purchasing power. Find out more.
Brexit Helpline: Free one-on-one financial, currency, pension and legal guidance and preparations for 2021.
Find out more

Invest in Spanish Property. A selection of discounted properties due to the covid-19 crisis, online viewings and transactions possible. Download the guide. Download the Guide
Featured Content
Mortgage Direct - a Spanish mortgage broker specialising in the provision of mortgages for expats - have confirmed they have secured their Spanish license.