Pound Sterling Sent Heavenwards after Survey Shows Manufacturing Purchasing Managers Much More Optimistic About Future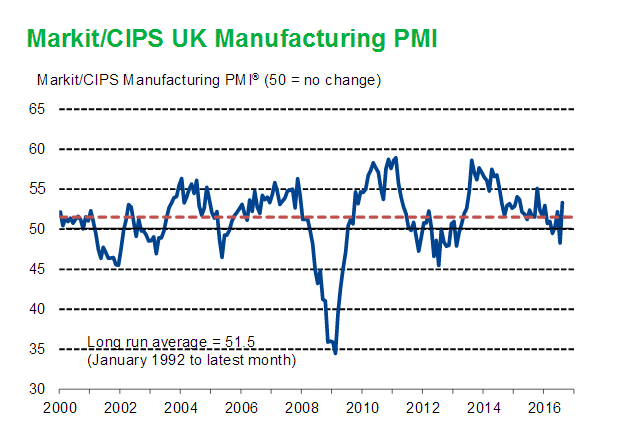 The pound surged on Thursday after Manufacturing PMI came out well above expectations in August, easily beating the 49.0 forecast, and revealing yet more underlying resilience in the UK economy post-Brexit.
After July's pessimistic PMI all eyes were trained on August's data to see if it would continue the down-trend or start to show a recovery in the outlook.
Whilst some analysts expected more of the same, others were hopeful that factors such as sterling's weakness - in which it has lost over 10% of its value after the referendum - would make manufacturers more optimistic about the future, given a weak pound aids the promotion of their goods overseas.
In the end the data surprised to the upside coming out at 53.3 from the 48.3 of July, a truly remarkable recovery by any standards, and the joint fastest in the history of the metric.
The pound rose as a result of the news, dismissing fears it might be about to reversal and start falling, with GBP/EUR increasing to 1.1856 immediately after the release and GBP/USD rising to 1.3246 – an increase of 0.83%.
Eurozone PMI's released at the same time were decidedly lacklustre compared to the UK, after they came out below 50 and not higher than forecast, no doubt adding to the chagrin already being felt in Brussels at Britain's continued resilience in the face of Brexit, an event expected to handicap the economy for years to come.
Despite the short-term robustness concerns linger that the effect may be harder to quantify in the short-term and be a slow-burn long-term affair due to extended uncertainty.
The report said that the boost to PMI had been led by a rise in production, new orders and employment.
Production rose to its highest level for seven months and employment rose for the first time in in the year to date, "albeit moderately."
Publishers of the survey, Markit's Senior Economist Rob Dobson, commented that:
"The August PMI data indicate a solid rebound in the performance of the UK manufacturing sector from the steep downturn that followed the EU referendum. Companies reported that work that had been postponed during July had now been restarted, as manufacturers and their clients started to regain a sense of returning to business as usual."
He further went on to add that sterling's depreciation had increase new orders:
"The recent depreciation of sterling drove higher inflows of new business from the USA, Europe, Scandinavia, Middle East and Asia."
Save