Pound Sterling Claims Fresh Highs on Report Brexit Could be Delayed by up to Two Years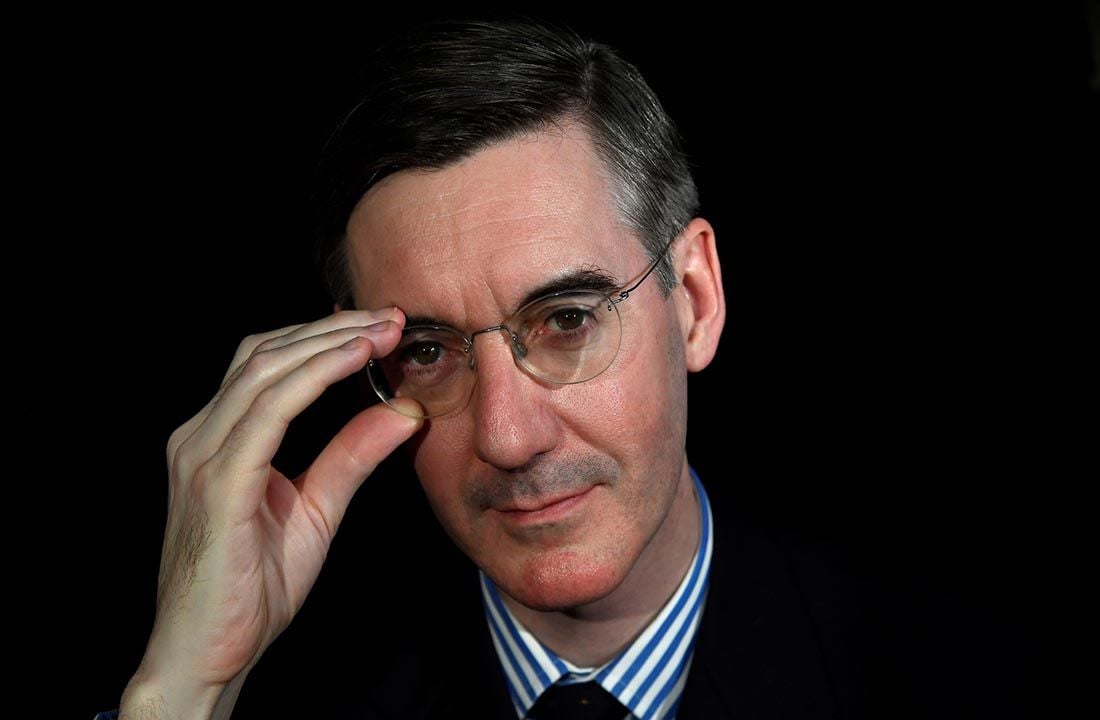 Above: British Conservative Party politician Jacob Rees-Mogg poses for a photograph during an interview with Reuters at his offices in the Houses of Parliament in London. File photograph. REUTERS/Toby Melville
- Prospect of lengthy Brexit delay offers Sterling certainty
- Rees-Mogg appears to soften conditions to backing Brexit deal

- Some analysts ask whether the Pound has now peaked
Pound Sterling rallied to fresh multi-month highs against both the U.S. Dollar and Euro on the back of reports Brexit could be delayed by up to two years.
According to a report carried in the Evening Standard, UK ministers believe a "short, limited extension" of Article 50, as suggested by Theresa May in the House of Commons on Tuesday, would not be permitted by Brussels in the event of no deal being agreed by the UK parliament, instead the EU would likely opt for a longer extension.
The news was snatched upon by traders who bid Sterling higher: the Pound-to-Euro exchange rate rallied to a record a fresh two-year high at 1.1727 on Wednesday, before fading those gains to quote at 1.1681 at the present time. The Pound-to-Dollar exchange rate rallied to record its highest level since July 2018 at 1.3348, before paring gains to trade at 1.3298.
The European Union's 27 member states will all have to agree to offer the UK an extension to Brexit, and presumably they will dictate the terms.
"Ministers closely involved in Brexit preparations believe the EU would probably demand an extension until December 2020, effectively replacing the planned transition period with continued EU membership," says Joe Murphy at the Evening Standard.
During this time, no talks on the UK's future relationship with the EU would be able to start until the start of 2021.
This suggests to us that the pressure on Brexiteers to accept May's Brexit deal is rising as they would likely consider any delay to ultimately be a sizeable step towards a complete cancellation of Brexit.
The Pound, a stickler for continuity, welcomed the move by extending its recent rally.
"The Pound is trading higher again & there is more to come," says Neil Jones, a foreign exchange dealer with Mizuho Bank in London. "Whilst a delay is factored into the price, the question of how long remains a variable. I sense the market is starting to trade higher on the basis the delay could well be longer than the default 3 months."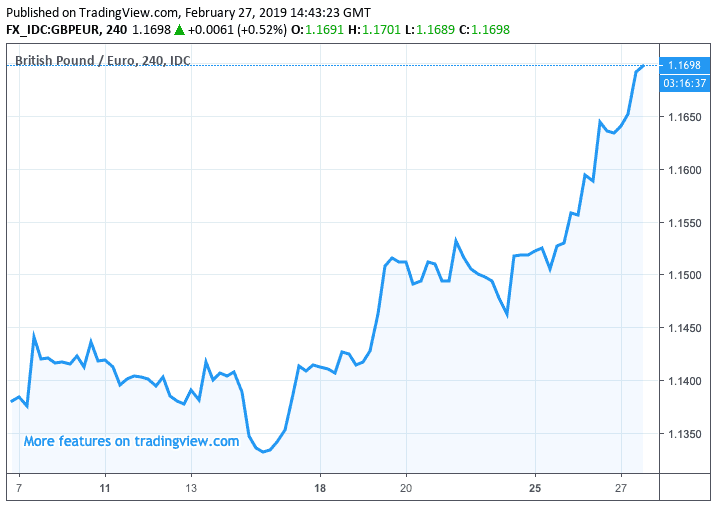 "If it becomes a 20-month or two-year kind of deal people start thinking this is a gentle way of easing through the status-quo and that we may end up with some very soft version of Brexit the longer it is delayed, the longer it gets delayed the more bullish it becomes for Sterling," says Mark McCormick, Director and North American Head of FX Strategy for TD Securities in Toronto.
Prime Minister Theresa May on Tuesday announcemed if parliament fails to approve her Brexit deal they will then be asked to vote on whether or not to accept a 'no deal' Brexit, and if this is rejected they can then vote on extending the Article 50 process and delaying Brexit. She said any extension would be a short one, and it would not take a 'no deal' Brexit off the table.
May has however apparently failed to grasp that the decision on any delay resides exclusively with the EU.
Indeed, it is reported by Murphy that Defence Secretary Gavin Williamson raised this very issue in Tuesday's Cabinet meeting, warning colleagues that if Britain asks for an extension it will be entirely in the gift of the EU to decide how long it is for.
Time to move your money? Get 3-5% more currency than your bank would offer by using the services of foreign exchange specialists at RationalFX. A specialist broker can deliver you an exchange rate closer to the real market rate, thereby saving you substantial quantities of currency. Find out more here.

* Advertisement
Aiding positive sentiment midweek are reports that the influential European Research Group (ERG) of Conservative MPs might be softening their opposition to Prime Minister Theresa May's Brexit deal.
Jacob Rees-Mogg, the head of the ERG, has apparently softened his opposition to Theresa May's Brexit deal, amid rising hopes in Downing Street that the prime minister might win approval for a revised Brexit deal next month. Such an outcome is positive for Sterling we believe as it immediately takes a 'no deal' off the table on a permanent basis and ensures a huge dose of uncertainty facing businesses is removed as the EU and UK will trade on current terms for at least two years.
May appears to have pincered the ERG into supporting her deal after yesterday telling parliament that if her deal is not approved they will vote on a 'no deal' Brexit, and if this fails, a delay to Brexit.
Rees-Mogg and other Brexiteers who would prefer a 'no deal' Brexit know they will not win a vote in favour of pursuing no deal, and therefore the spectre of lengthy delays to Brexit with the real prospect of a softer Brexit, or no Brexit at all, becomes highly likely.
Rees-Mogg, told the Financial Times he was no longer insisting that the contentious "Irish backstop" be scrapped as a condition for his support for Mrs May's deal and was prepared to consider other legal fixes to ensure it did not become permanent.
"I think people are rather struck by her doggedness and don't want to stand up and take a potshot at her," he said.
The votes of the ERG are key as they are perhaps the most vocal opponents of May's current deal that contains a backstop clause that would see the UK tied into a EU customs union on an indefinite basis should no solution to the Irish border be found in the future. The ERG accounts for as many as 90 Conservative MPs.
The next vote on the Brexit deal is due on March 12.
"With ERG head Rees-Mogg sounding more conciliatory in an interview overnight, defeat of May's bill in the meaningful vote is not inevitable," says Adam Cole, a foreign exchange strategist with RBC Capital Markets.
According to Esther Maria Reichelt, an analyst with Commerzbank in Frankfurt, "a strong Pound is justified," on the basis of Rees-Mong's comments, "even though I would never exclude a surprise turn of events in the current Brexit process".
However, in a briefing to clients, Reichelt does caution clients against being overly optimistic on Sterling at this juncture, saying the downside reaction to any negative surprises in the Brexit story could be substantial.
"In view of the currently prevalent optimism the GBP reaction to an unexpected rekindling of 'no deal' risks would be even more pronounced. Anyone who would consider this to constitute an existential risk is therefore urgently advised to maintain sufficient levels of hedging," says the analyst.
The Sun's Brussels correspondent Nick Gutteridge is reporting Brussels is to offer the UK a 'get out of jail card' linked to the backstop review clause to help May's deal pass Parliament.
An EU source says to Gutteridge: "you'd need to do it [leave] through a process but, nevertheless, it'd make it clear there's a destiny beyond the backstop."
What will matter going forward is the interpretation by the Attorney General Geoffrey Cox as to whether whatever is finally offered by Brussels would give the ERG and other Brexiteer opponents to the deal what they want.
We know Cox is heavily involved in current discussions, therefore his verdict on the final outcome will be absolutely critical. It was the Cox's legal advice on the Brexit deal made in November, which the government was forced to publish, that largely motivated parliament to reject the Brexit deal in January. The government is now hoping negotiations will yield a deal that will allow Cox will change his opinion and help her win over enough votes to pass the deal next month.
Failing that, the fate of Brexit would likely to slip out of the government's hands.
Time to move your money? Get 3-5% more currency than your bank would offer by using the services of foreign exchange specialists at RationalFX. A specialist broker can deliver you an exchange rate closer to the real market rate, thereby saving you substantial quantities of currency. Find out more here.

* Advertisement
Has the Pound Peaked?
While Sterling is the best performing major currency of 2019, there are questions as to whether the rally might be due a pullback.
Sterling has come off its recent highs at the time of writing on Thursday, with GBP/EUR back below 1.17 and the GBP/USD pair threatening to fall below 1.33.
Chris Turner, a strategist with ING suggests "all the good news" might already be priced into Sterling's current valuations.
"There's certainly a lot of momentum behind GBP at the moment," notes Turner, but while the market is still short Sterling, "those short positions have been halved since last September. There is therefore a chance that 1.3300 does prove a top for Cable".
"We caution against chasing that rally, as downside risks for the British pound remain in place," says Daniel Trum, a strategist with UBS, "hedging those over the coming weeks and months should still be preferred. Sterling's moves still wholly depend on political news, while economic fundamentals remain on the back burner."
We are also wary that the Pound could come under pressure at month-end which is typically a time of 'strange' movements in the global financial market place as fund managers rebalance the currency exposure of their invevstment portfolios.
Time to move your money? Get 3-5% more currency than your bank would offer by using the services of foreign exchange specialists at RationalFX. A specialist broker can deliver you an exchange rate closer to the real market rate, thereby saving you substantial quantities of currency. Find out more here.

* Advertisement