The Pound a Buy on Dips says Leading City Strategist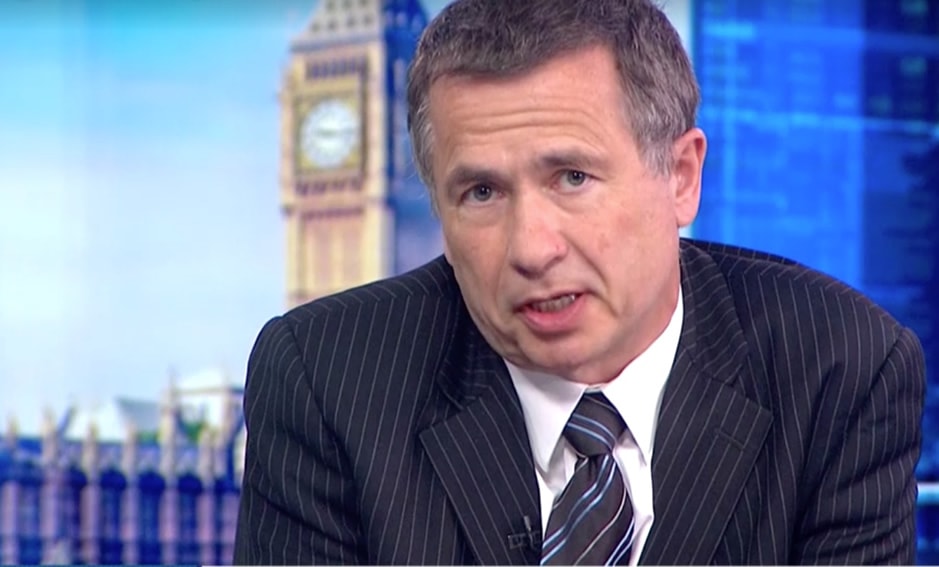 Above: File image of Hans Redeker, Strategist at Morgan Stanley. Image (C) Pound Sterling Live, Bloomberg.
- Sterling and UK stocks are cheap say Morgan Stanley

- But, Nordea Markets advocate selling Sterling

- Pound-to-Euro exchange rate @ 1.1455 today
- Pound-to-Dollar exchange rate @ 1.3099 today
Pound Sterling is seen consolidating against the Euro and U.S. Dollar ahead of the weekend, while the strong rally seen over recent weeks might have paused this week, we are told by one prominent City analyst the outlook remains constructive and the UK currency should be seen as a 'buy on dips' prospect.
The call by Hans Redeker, foreign exchange strategist with Morgan Stanley in London, comes despite Brexit politics entering a final 'end game' state.
"The Brexit process will continue as PM May goes back to the EU to seek concessions over the Irish backstop. Uncertainty will remain in GBP markets for the next two weeks as this process is played out," says Redeker in a note to clients.
This week has seen UK Prime Minister secure the backing of parliament to return to Brussels to request the reopening of the Brexit deal to seek changes to the Irish border backstop, a requisite if her party and DUP partners are to unite behind the deal and secure its ratification. The reaction by European leaders to the prospect of further negotiations has been cool, with heads of state and the heads of European institutions saying the Irish backstop will remain a feature of any deal that is ultimately ratified.
However, the door to May is open and we stand by our long-term view that the European Union will ultimately offer a codicil - a legal guarantee attached to the agreement - that might go some way in helping the Prime Minister. "Now, the markets will watch for any signs from EU country leaders that they could provide the UK with concessions," says Redeker.
May is to return to the UK parliament on February 13 and put down another amendable motion, and in a repeat of what we saw on Tuesday, January 29 we would expect parliamentarians to once again bring a number of motions in an attempt to steer the direction of travel. Therefore, parliament could yet secure the power to delay Brexit.
The increased uncertainty has lead some market commentators to turn more cautious on Sterling; yesterday we heard Oliver Harvey at Deutsche Bank say he is exiting a short EUR/GBP trade on the view Sterling's recent run of good fortunes might be ending.
However, Morgan Stanley see any weakness in the Pound as being an opportunity to buy on the view that a solution to the ongoing Brexit impasse is possible.
"As with any negotiation, it is hard for either side to back down until they need to. As of yesterday, markets had already placed a low probability on a no-deal Brexit so the ability for GBP to rally purely on that is limited," says Redeker, yet, "the probability of a no-deal Brexit remains small."
Looking at the Pound-Dollar exchange rate, Redeker notes the exchange rate has remained within an upward sloping channel since the start of the year, suggesting to him strong support around 1.30.
"Any retracement back to 1.2850/1.2900 are buying opportunities," says Redeker.
The Euro-Pound exchange rate has bounced from the bottom end of the range, suggesting the exchange rate should be sold around 0.8800/0.8850.
This equates to Pound-Euro exchange rate levels of 1.1364/1.13.
"We see a limited retracement as market positioning is around neutral so not as prone to large swings on headlines," says Redeker.
Furthermore, Morgan Stanley view UK assets including equities and the Pound as being cheap at current valuations.
"Return on assets proxied by equity dividend yield and nominal bond yield suggesting GBPUSD should be trading closer to 1.45. This is also evidenced in the limited fall in GBP on the back of the votes overnight, suggesting pullbacks in GBP offer buying opportunities," says Redeker.
Time to move your money? Get 3-5% more currency than your bank would offer by using the services of foreign exchange specialists at RationalFX. A specialist broker can deliver you an exchange rate closer to the real market rate, thereby saving you substantial quantities of currency. Find out more here.

* Advertisement
Sell the Pound: Nordea Markets
While Morgan Stanley advocate buying the Pound on dips, the binary 'deal' or 'no deal' approach to the currency's outlook have other strategists advocating clients sell the currency.
Andreas Steno Larsen with Nordea Markets - the Scandinavian lender and investment bank - says 'no deal' risks are "too complacently priced by markets and the GBP may suffer consequently over the coming weeks".
Larsen sees little exit from the current Brexit impasse as the EU is not willing to renegotiate, "while May still don't know what to ask for".
As is the case in negotiations, it is in the negotiator's best interest to keep intentions secret until both sides are at the negotiating table, we therefore don't share this assessment and would expect the UK to have specific requests.
UK Foreign Secretary Jeremy Hunt told BBC radio on Thursday the government will take a few days to formulate proposals to put to the European Union in an attempt to resolve the issue of the Irish backstop.
"We will put those proposals together. It is going to take a few days to do that," says Hunt. "I happen to believe there is potential along all the different routes that have been discussed. But we need to put those together, make sure they meet the concerns the EU has expressed and then I think, we will have a proper discussion".
Regardless, Nordea assess the UK to be closer to a "managed 'no deal' exit", adding, "Theresa May will travel to Brussel to ask for a unicorn and will return empty-handed."
Larsen says he finds it hard to justify the current Brexit optimism and would put a larger subjective probability on the 'no deal' risk than markets do.
"Therefore, we suggest being long EUR/GBP accordingly, targeting levels of at least 0.8950," says Larsen.
A EUR/GBP target at 0.8950 equates with a Pound-Euro exchange rate target at 1.1173.
UK Negotiation Team Announced, May to Discuss Malthouse Compromise
The UK will send three senior politicians to negotiate with Brussels on the issue of the Irish backstop.
That three politicians have been selected suggest negotiations won't be headed by a civil servant; previously civil servant Ollie Robbins lead the technical negotiations, taking direction from the Prime Minister.
According to a report in the Times, David Lidington, the prime minister's de facto deputy, and a former Europe minister "who is widely respected in Brussels" is expected to lead the talks. He will be supported by Stephen Barclay, the Brexit secretary, and Geoffrey Cox, the attorney-general.
Ollie Robbins, May's chief Europe adviser who led the detailed negotiations on the withdrawal agreement, would have a less prominent role.
This shake up will likely please Brexiteers who have been highly critical of Robbins and argue a more robust political figure should be representing the UK's position at the negotiating table.
In other reports, May will meet the group of lawmakers behind an alternative Brexit proposal later on Thursday, her spokesman said.
May will be meeting with MPs behind the so-called 'Malthouse Compromise' plan. The plan, named after Kit Malthouse, appeals to 'Brexiteers' through a promise to ditch the unpopular Irish border policy in favour of an alternative.
It meanwhile appeals to 'Remainers' by pledging safeguards against the risk of disruption if no exit deal can be agreed with Brussels.
What is the Malthouse Compromise?
The following explainer of the Malthouse plan comes courtesy of William James at Reuters:
Plan A
The group backs an alternative withdrawal agreement, which is closely modelled on the existing agreement, but includes a different backstop arrangement.
The new backstop would be based around a zero-tariff free trade agreement rather than its current basis of a shared customs area between Britain and the EU. It relies on technological solutions to move checks on goods away from the border. This proposal was first announced in December.
Plan B
If negotiations with Brussels fail, the government should seek a basic transition agreement involving an offer to keep paying into the EU and guaranteeing the rights of EU citizens living in Britain.
In return, Britain wants to extend current trading terms beyond the end of the 'implementation' period - utilising a clause in international trade law - if a permanent trade arrangement has not been agreed by then. May's rejected divorce deal envisages a transition, or implementation, period till the end of 2020 during which trade would continue on current terms.
Time to move your money? Get 3-5% more currency than your bank would offer by using the services of foreign exchange specialists at RationalFX. A specialist broker can deliver you an exchange rate closer to the real market rate, thereby saving you substantial quantities of currency. Find out more here.

* Advertisement
Featured Content
Mortgage Direct - a Spanish mortgage broker specialising in the provision of mortgages for expats - have confirmed they have secured their Spanish license.