Pound Shaken by Cooper Amendmant Loss but Steadies after May Notches up a Crucial Win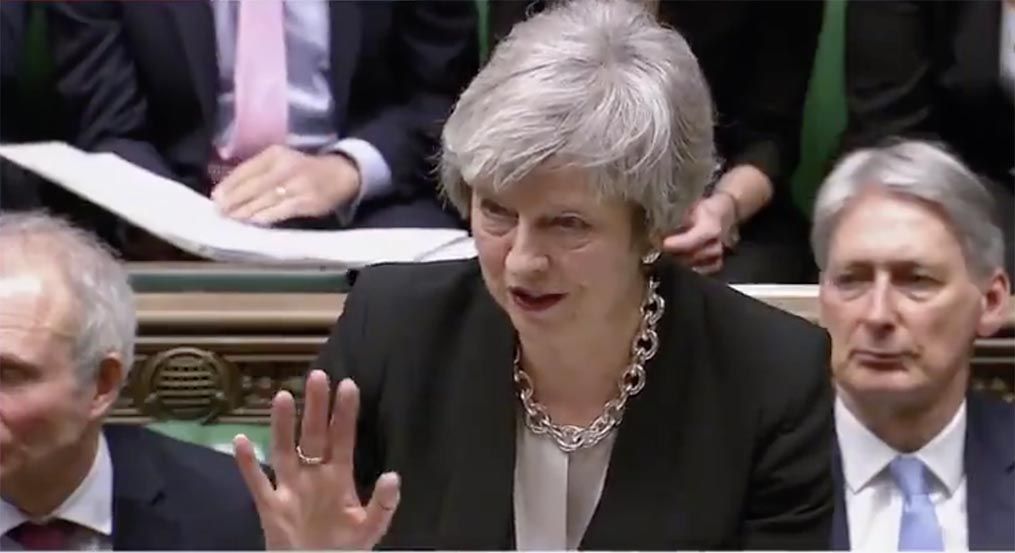 Image © Pound Sterling Live.
- Surprise as Cooper amendment fails
- UK to ask for renegotiation of Irish backstop

- EU's Tusk says backstop not open for renegotiation

- Corbyn, May set to meet on Wednesday afternoon

Pound Sterling suffered a sharp fall after an amendment that would have provided an insurance policy against a 'no deal' Brexit failed to pass through parliament, but the currency ultimately steadied on what proved to be a good night for Prime Minister Theresa May's government which has earned the mandate of parliament to pursue changes to the Irish backstop clause contained in the Brexit deal.
If the EU listen to the message from Westminster and offer concessions there is a strong possibility the Brexit deal is ratified by the UK before March 29.
Sterling fell sharply but then ultimately stabilised with the Pound-to-Euro exchange rate quoted at 1.1438 at the time of writing, having been as low as 1.1422 last night and the Pound-to-Dollar exchange rate quoted at 1.3090, having been as low as 1.3057.
Markets had expected an amendment proposed by Labour Party MP Yvette Cooper to pass and in doing so provide an insurance policy against a 'no deal' Brexit. The amendment sought to give parliament the power to instruct the government to request an extension to Article 50 from the EU, which if granted would have effectively delay Brexit.
The amendment failed by 321 votes to 298, a margin that surprised commentators and currency markets alike.
However, Pound Sterling Live has been warning over the course of the past 24 hours that markets were being unrealistic in placing such confidence on Cooper's motion passing and we warned that the Pound was therefore at risk.
This warning has come to pass and we saw the Pound move lower in response.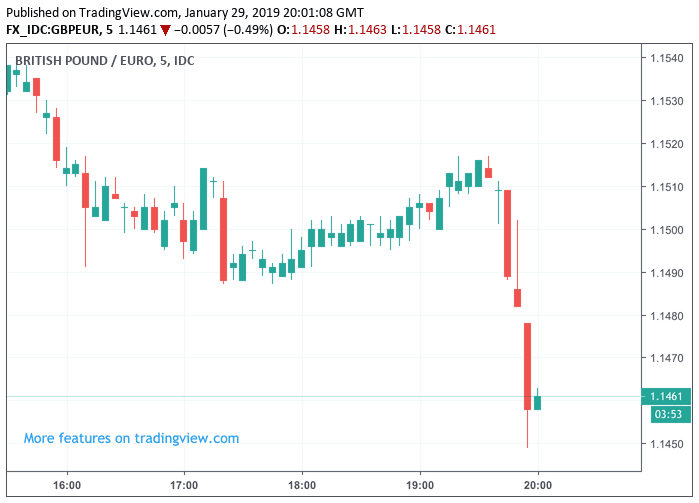 Above: Sterling-Euro is down on news the Cooper amendment has failed.
The failure of the Cooper bill largely comes down to a rebelion on the Labour party benches where MPs from leave voting constituencies simply could not risk being seen as backing any attempt to thwart Brexit. Market confidence rose earlier in the day when Labour Party leader Jeremey Corbyn confirmed his party would be backing the amendment, however we warned that this directive would be problematic as it certainly comes from the party's membership structure; the membership is heavily in favour of the UK remaining in the EU, while Labour voters, particularly in the party's northern heartlands, voted overwhelmingly for Brexit.
We could see expectations for a 'no deal' Brexit increase again following recent events, and this will weigh on the Pound; recall the Pound has risen through the course of 2019 as markets steadily priced out the prospect of a 'no deal' happening on March 29.
"Sterling fell sharply as MPs rounded on amendments designed to prevent a no-deal exit. The government appeared resolute as it carried the day on a couple of key amendments, effectively leaving the Brexit process where it was," says Neil Wilson, foreign exchange analyst with Markets.com. "All told, the Pound fell because tonight's vote leaves a no-deal Brexit on the table, but it has not collapsed into oblivion because at present there is no alternative to May's deal and we are not yet at the no-deal do-or-die moment. Could she really get it through at the last? It would be a remarkable coup."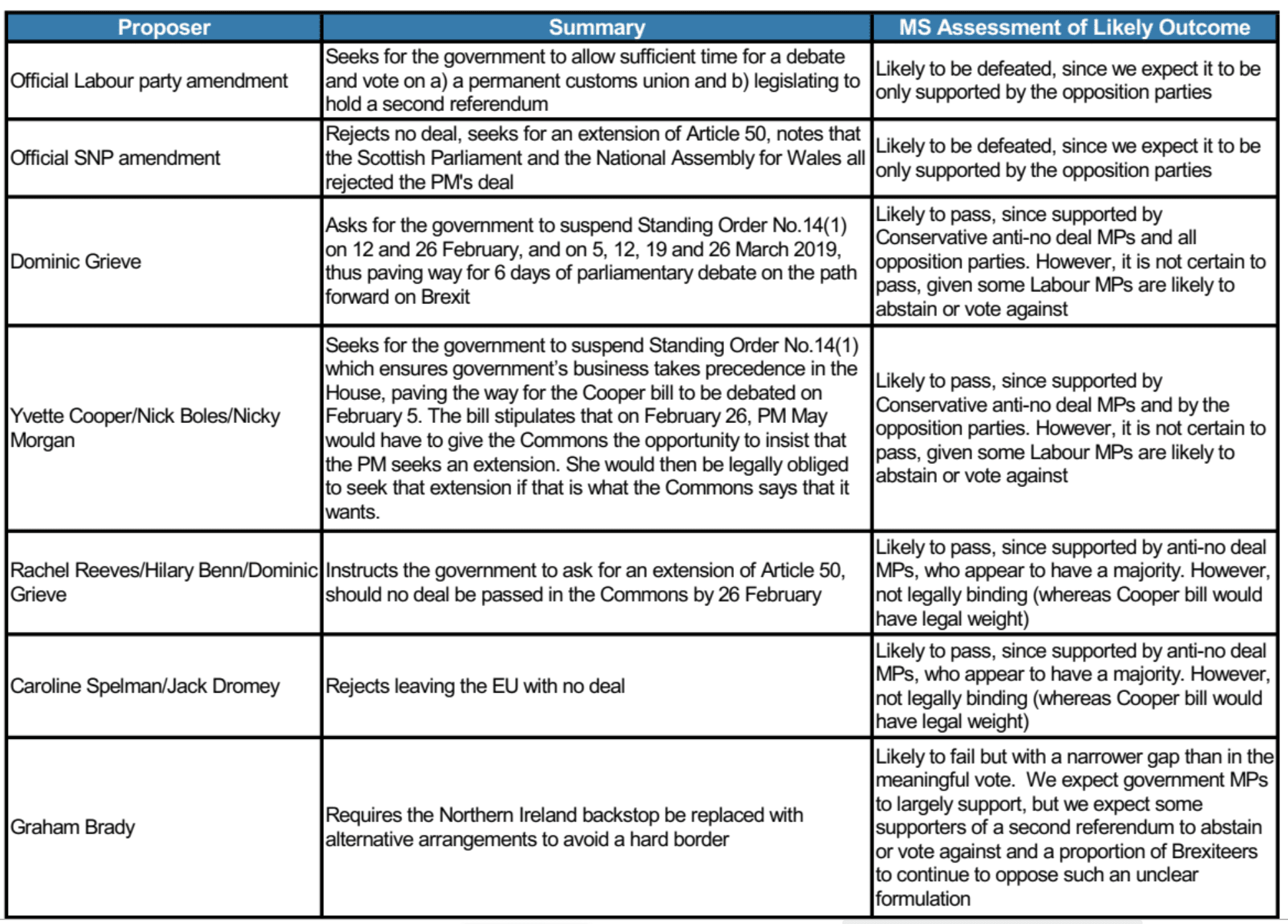 Above image courtesy of Morgan Stanley.
A further amendment from Rachel Reeves which effectively rejects the desire for a 'no deal' has passed by 381 - 310. This amendment is however not binding on the government in the same manner the Cooper amendment was, and therefore lacks legislative 'teeth'. It does however signal that there is a majority in parliament against a 'no deal' Brexit, but this is something we have known for some time and we still don't know how this objective can be achieved.
In what amounts to a good night for Prime Minister Theresa May, the amendment put forward by Sir Graham Brady, which asks the government to go back to Brussels and renegotiate the Northern Irish backstop, passed.
May requested MPs vote for this amendment as it signals to Brussels she has the mandate of parliament to pursue the changes to the Withdrawal Agreement she intends to secure. "Support for Brady's Brexit amendment in the House of Commons this evening is good result for Theresa May but is arguably not the best news for the near-term outlook for the economy and the pound as it probably increases the chances of a no deal. This explains why the Pound slipped," says Ruth Gregory, Senior UK Economist at Capital Economics.
The amendment passed 317 - 301, which amounts to a comfortable win for the government.
"My colleagues and I will talk to the EU" says May, even though "there is limited appetite" on the EU's side to renegotiate a deal.
"A remit to renegotiate is unlikely to be viewed particularly positively, given the EU's stance. In this case, a subsequent deal to delay Brexit may still be needed if a 'no deal' is to be avoided," says a note from ANZ Research.
Interestingly, and this should help protect the Pound from significant downside, Labour leader Jeremy Corbyn has accepted May's invitation to discuss the Brexit deal; this suggests to us a hint that the Labour party could ultimately back a deal and prevent a 'no deal' Brexit. The two party leaders are scheduled to meet on Wednesday afternoon following Prime Minister's Questions.
Following the news the UK parliament has requested the government to seek a change on the Irish backstop, European Council President Donald Tusk says, "the Withdrawal agreement is and remains the best and only way to ensure an orderly withdrawal of the United Kingdom from the European Union. The backstop is part of the Withdrawal Agreement, and the Withdrawal Agreement is not open for renegotiation."
The UK and EU are certainly now on a collision course.
Time to move your money? Get 3-5% more currency than your bank would offer by using the services of foreign exchange specialists at RationalFX. A specialist broker can deliver you an exchange rate closer to the real market rate, thereby saving you substantial quantities of currency. Find out more here.

* Advertisement
May to go Back to Europe
Prime Minister Theresa May has on Tuesday told the UK parliament she will head back to Europe and ask that the Brexit Withdrawal Agreement struck with EU partners be reopened with the view to reworking the Northern Ireland backstop.
"The world knows what this house does not want - today we need to send an emphatic message about what it does want," says May as she opened up the parliamentary debate ahead of the series of key votes.
May has commited to seeking a "significant and legally binding change" to the EU withdrawal agreement over Northern Ireland backstop, and "the only way to avoid no deal is to agree a deal," as she asks MPs to send the "clearest message" to Brussels about what kind of Brexit deal the UK wants.
May conceded there is "limited appetite" among European partners for reopening the Withdrawal Agreement, but she suggests Brussels will back a deal if parliament makes it clear what it wants.
We believe May has entered a high-stakes strategy with the EU which poses notable risks to Pound Sterling markets as any rejection of May's advance by the EU would rapidly increase the prospect of a 'no deal' Brexit.
According to Peter Schaffrik at RBC Capital Markets, May's plan "has a very low probability of being acceptable to the EU and isn't really designed to achieve any tangible new result with the EU in the first place, it will also now eat up more time in a likely futile attempt to negotiate the 'backstop' and thus bring us closer to the Article 50 deadline without any tangible agreement."
It appears by running down the clock the UK parliament will be left with a binary choice between May's deal and a 'no deal', which she should ultimately win.
Various senior figures in European Union structures, as well as European leaders, have stressed the Withdrawal Agreement is not open for negotiation.
We heard from French President Emmanuel Macron following May's address to parliament who told reporters in Cyprus that the existing deal is "one of the best" and won't be reopened.
"We need to have a majority that doesn't just get agreement over hurdle of a meaningful vote by a narrow majority but we need to have a stable majority to ensure the ratification. That's quite a big challenge. There's no negotiation between the UK and EU – that's finished," said Sabine Weyand, the EU's deputy Brexit negotiator a mere 24 hours earlier.
However, looking at the currency markets, we see Sterling moving higher with the Pound-to-Euro exchange rate quoted at 1.1541, having been as low as 1.1479 earlier in the day. The Pound-to-Dollar exchange rate is quoted at 1.3171, having been as low as 1.3130. Markets are apparently quite sanguine about the prospects of May failing, perhaps because they feel the crucial Cooper amendement, due to be voted on later today, will pass and provide an insurance policy against a 'no deal' Brexit from taking place on March 29, regardless of May's fortunes in Europe.
Whatever else happens today, it is a very big deal that the PM will say, rather than just hint or nudge, she is going to try to reopen the divorce deal, the withdrawal agreement that took her and her officials, and the EU more than 2 years to put together

— Laura Kuenssberg (@bbclaurak) January 29, 2019
For Sterling, ratification of the Brexit deal is critical: we have seen the currency rise through the course of 2019 as markets saw a way forward for a deal to ultimately be passed. Part of the Pound's advance also rests with the view that a disruptive 'no deal' Brexit will be avoided, therefore should May's quest fall flat we could see a fresh injection of uncertainty into the Pound Sterling complex.
But, May has reckoned she has little choice but to renegotiate the Brexit deal as without doing so she simply won't have the numbers to push the Brexit deal across the line. Members of the European Research Group (ERG) - which represent Brexiteers in the Conservative parliamentary party - have said reopening the Withdrawal Agreement must be done to gain their support.
Time to move your money? Get 3-5% more currency than your bank would offer by using the services of foreign exchange specialists at RationalFX. A specialist broker can deliver you an exchange rate closer to the real market rate, thereby saving you substantial quantities of currency. Find out more here.

* Advertisement