EUR/USD Now Eyeing 1.0860 Threshold as Eurozone Breakup Risk Threatens to Scupper ECB Timetable
-EUR/USD touches intraday low of 1.1515 breakup fears renew.
-Italy headed back to polls, uncertainty threatens ECB timetable.
-Strategists warn of possible 25% loss and are eyeing 1.0860 level.
© Goroden Kkoff, Adobe Stock
The Euro-to-Dollar rate extended losses Tuesday as fears over the Euro's survival ratcheted higher in response to the latest developments in Italian politics which, according to strategists, now threaten to push the single currency back to levels not seen since the French presidential election of April 2017.
Italy's two largest political parties, M5S and League, are this week calling for another election after President Sergio Mattarella vetoed their preferred candidate, Paolo Savona, for the position of economy minister citing the likely signal it will have sent to markets about the new government's intentions.
Savona has a history of criticising the Euro and has in the past advocated that Italy abandon the single currency on a number of occassions.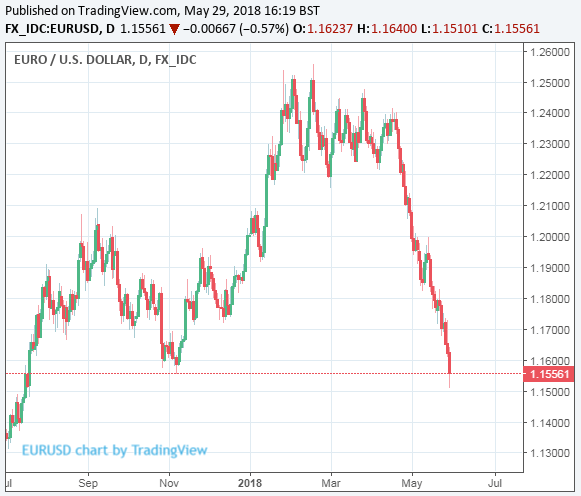 Above: Euro-to-Dollar rate shown at daily intervals.
The nomination and subsequent veto led members of the former ruling Democratic Party, which suffered a punishing defeat at the hands of M5S and League in the March election, to claim the would-be coalition government was planning an exit from the Euro all along.
It also drew angry remarks from Germany's European budget commissioner Günther Oettinger, who is reported to have said "the markets will teach Italians to vote". This prompted a stern rebuke from Italy's foreign affairs ministry.
La grande bugia di Salvini e Di Maio@marattin pic.twitter.com/6CrgboR7MZ

— Partito Democratico (@pdnetwork) May 29, 2018
"President Mattarella has called on Carlo Cottarelli to form an interim administration. His chances of succeeding are slim and elections are likely in September. Which leaves us 3-4 months of uncertainty ahead of a vote that may be seen as a referendum on Euro-membership," says Kit Juckes, chief foreign exchange strategist at Societe Generale.
The upshot of recent events in Italian politics is that markets are betting on another election taking place within months and with Italy's president having all but elbowed aside the victors in the March election, before nominating a former International Monetary Fund official as interim Prime Minister, it is not yet clear on whose side public opinion will fall.
What is clear however, is the Euro now faces several months with an Italy-sized sword of Damocles hanging over its head, which might now also have implications for the European Central Bank and its monetary policy.
"The threat of further rating downgrades hangs over the BTP market (and is largely priced-in), and the ECB's plans for providing forward guidance on policy normalisation are up in the air. Which means that the risk of EUR/USD reaching 1.10 by the end of the summer is significantly higher than the possibility of a recovery to 1.20," Juckes adds.
Above: Euro-to-Dollar rate shown at weekly intervals.
Markets had been looking to the September month for an ECB announcement that it will shutter its quantitative easing bond buying programme before the end of 2018, paving the way for a possible interest rate rise some time in 2019.
This had been the foundation stone of the Euro's 17% rally between April 2017 and April 2018. But a resurgence of so called Eurozone breakup has not only contributed to a 6.5% fall in the EUR/USD rate during the last eight weeks alone, it also now looks to have placed a question mark over the ECB policy outlook.
Juckes notes that both the 2010 and 2011-2012 Eurozone crises took the Euro-to-Dollar rate down by 20% and 25% before the currency eventually recovered its losses, before suggesting the single currency could see a similar correction this summer.
"EUR/USD 1.1550 is the next key psychological level but I can't see it holding. 1.0860, the springboard from which the euro rallied after the French election, should hold," Juckes concludes.
The Euro-to-Dollar rate was quoted 0.65% lower at 1.1550 during noon trading in London Tuesday. It is now down -3.69% for the year to date after having reversed what was once a 4% gain.
Most currency analysts had forecast the exchange rate would close the 2018 year around 1.28, although these forecasts are also now in doubt.
Advertisement




Get up to 5% more foreign exchange by using a specialist provider to get closer to the real market rate and avoid the gaping spreads charged by your bank when providing currency. Learn more

here