Euro-Dollar Outlook: Analysts Increasingly Bearish
- The ECB has renewed its dovish tones and economic momentum is waning.
- EUR/USD is locked in a range and the narrative for a break higher is absent.
- EUR/USD is at 1.23 and headed to 1.2155, the bottom of its two month range.
© European Central Bank
The Euro-to-Dollar exchange rate is headed back to the bottom of its two month trading range over coming days if commentaries from foreign exchange strategists at some of Europe's leading trading firms are anything to go by.
Europe's common currency has been bludgeoned by a perfect storm of bearish factors in the last week that have scuppered what looked set to be a third attempt at a new three year high, which would come with a break above the 1.2555 level.
European Central Bank chief Mario Draghi was the catalyst behind the latest leg lower in the exchange rate, after he reiterated the ECB's earlier concerns about sub-par Eurozone inflation at a conference Wednesday.
This is important for the Euro because markets can only firm up their expectations for the ECB to shutter its quantitative easing program, and eventually raise interest rates upward from their deeply negative levels, when inflation makes a sustainable return back toward its 2% target.
"The concerted effort by ECB officials indicates the realisation by policymakers that the persistently high exchange rate for the currency is having deflationary impact on price levels. And while ECB officials are not considering any overt intervention measures, the form of soft jawboning is clearly an attempt to slow down the rise of the Euro and keep it below the 1.2500 mark," says Boris Schlossberg, a managing director of FX strategy at BK Asset Management.
Many fear the strength of the Euro can only make the central bank's task of coaxing consumer price growth back to 2% more difficult, given that it makes imported goods cheaper to buy.
In reality, the story is more nuanced than that because, despite the EUR/USD rate being up by 16% over the last 12 months, the rise in the trade weighted Euro has been a much lesser 10%.
The gulf between the rise in the EUR/USD rate and the Euro TWI highlights just how much the former has been driven by US Dollar weakness rather than the Eurozone recovery.
Nonetheless, Draghi & Co have made their sentiments clear and the Euro reacted accordingly in recent days. Although this isn't the only factor weighing on the common currency at present.
Above: Euro-to-Dollar rate shown at hourly intervals.
"Looking at Citigroup's economic surprise index, the US data surprises are less positive than they were (at around +40 versus a cycle peak back in late December at a multi-year high above +80) but they are still quite strong. EU data surprises, meanwhile, have deteriorated sharply, plunging from an amazing +90 spike last November to -31 at present," says John Hardy, chief FX strategist at Saxo Bank.
Hardy flags that, in an environment where key members of the ECB governing council making a concerted effort to sound dovish, it will be hard for the market to continue to create a positive Euro scenario that is linked to monetary policy normalisation.
And with momentum behind the Eurozone's economic recovery now waning, albeit still at healthy levels, the economic growth story is also being downgraded as a source of support for the EUR/USD exchange rate.
"EUR/USD tested 1.2450 and then fell just below 1.23 during Mario Draghi's ECB press conference a week ago. It's not really moved out of that range since. Softer US yields don't help much when Bund yields are falling too," says Kit Juckes, chief foreign exchange strategist at Societe Generale.
"Neither the long-term story (ECB heading towards policy normalisation, EUR/USD heading to 1.30) or the short-term story (a tired rally) seems set to change."
Juckes characterises the Euro's rally as "tired" and argued Thursday morning the EUR/USD rate will remain trapped in the 1.23 to 1.25 range for the time being, before eventually breaking higher or lower from this proverbial cage.
The exchange rate reached the lower bound of this range, at 1.2315, during late noon trading in London Thursday.
"EUR/USD continues to be range bound within its February and early March boundaries at 1.2556/1.2155," chimed Karen Jones, a technical analyst at Commerzbank, in her morning note.
"The two month resistance line at 1.2407 provoked failure with the 55 day moving average at 1.2275 thus being targeted. Below it lies the 1.2165/55 area, made up of the mid-January and current March lows."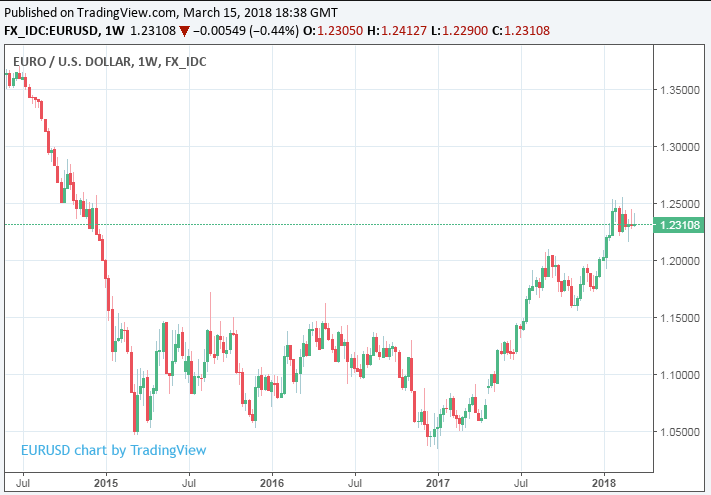 Above: Euro-to-Dollar rate shown at weekly intervals.
Another factor that could add further pressure to the Euro-to-Dollar rate in coming days is any escalation of tensions over international trade practices between Europe and the US.
President Donald Trump announced new tariffs of 15% and 25% respectively on American imports of aluminium and steel, which the White House says are intended to protect American steel producers, and jobs, from state-subsidised foreign producers.
However, they will be applied to imports across the board, from all countries other than those who have secured an exemption, which leaves the move looking like a tactic for renegotiating trade relationships more than anything else.
They followed a January decision to impose tariffs on washing machines and solar panels, but came ahead of a Reuters report that suggested Wednesday, the President is about to impose a wave of tariffs against imported consumer goods from China.
Fears are that so called protectionist tariffs will draw retaliation from other countries, raising the spectre of a so called trade war. Indeed, the European Union and China have already warned of a likely response given that they have been impacted by the levies.
In response, the White House then threatened to impose tariffs on European carmakers' imports into the US if the EU retaliates against its steel and aluminium levies.
Advertisement




Get up to 5% more foreign exchange by using a specialist provider to get closer to the real market rate and avoid the gaping spreads charged by your bank when providing currency. Learn more

here

.