Euro Struggles as Draghi Doubles-Down on Call for Gradual End to Q.E.
© European Central Bank, reproduced under CC licensing
The Euro dipped during mid-week trade after European Central Bank president Mario Draghi confirmed he was in no rush to change policy, providing further frustration for Euro bulls.
Mid-week sees Draghi and other key ECB policy-setters appear at the The ECB and Its Watchers XIX Conference and currency traders will be looking for fresh clues as to future monetary policy.
Draghi delivered the opening address and ECB Chief Economist Praet and Vice-President Constancio will also appear later on in the day.
In short, Draghi notes:
- Eurozone Inflation is on track to move higher in line with expectations
- Asset purchases (quantitative easing) remains necessary
- Inflation adjustment would end quantitative easing
- Markets must be patient on policy
There is nothing there for the Euro to move higher on, in fact its quite the opposite. The reaction by the Euro was notable, with the Euro-to-Dollar exchange rate dipping on the release of Draghi's speech: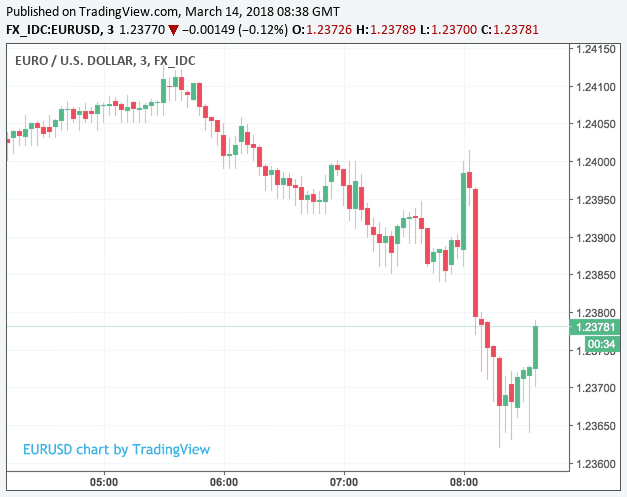 Above: The Euro fell against the US Dollar as the contents of Draghi's speech were released.
The Euro has been bid higher against a host of major currencies over recent months in anticipation of the ECB ending its quantitative easing programme and gearing up for interest rate rises.
However, the March policy meeting held last week and today's comments at the "watchers" conference confirm there is not going to be a rush to the exit, thereby depriving the Euro of fuel to rise higher.
Draghi's assessment of the economy in his speech was indeed positive and it is certainly headed in the right direction and he credit's the ECB's actions with much of the improvement:
"Our non-standard monetary policy measures have had a decisive influence on credit aggregates, as well as on bank-based transmission more broadly. We estimate that the growth rate of bank lending to euro area firms would be roughly half as strong today without our measures. Bank lending rates to firms would be almost 50% higher."
And it's because the ECB is doing so much heavy lifting that policy makers are understandably coy to withdraw their multi-billion Euro stimulus.
Of note, Draghi is confident employment in the Eurozone will continue to grow at a strong pace, but is cautious that there would not necessarily be the resultant rise in wages that would typically be expected to occur when it the labour pool diminishes under such conditions.
The ECB President notes labour market dynamics in the Eurozone are changing with three-quarters of employment growth over the recovery has come from older workers and more than half from women; something that was not seen in previous recoveries.
"This is in part because past labour market reforms have encouraged both groups to enter the workforce in response to higher growth. If substantially more workers can be drawn into the labour force, it would be possible for the labour market to strengthen further without generating wage pressures," says Draghi.
"In this environment, policymakers have to be more cautious than in the past about the assumptions that underpin our forecasts – and simple policy rules based around estimates of the output gap are no longer a useful guide for our actions," adds Draghi.
The equation for currency markets on the above is this: If wage pressures are to remain subdued then upward pressures on inflation will remain subdued = no need to end quantitative easing and push up rates = no boost for the Euro.
The ECB President also questioned how quickly the Eurozone's wage growth can feed through into inflation, saying recent wage growth "might be temporary" and "to build confidence that inflation dynamics are on track, we will need to see the actual data improving over time, which means stronger evidence of both strengthening wage growth and wage growth translating into ULC growth."
Draghi warned the ECB will therefore maintain the sequencing that is currently set out in our forward guidance, i.e. the pledge to keep key interest rates at their current levels "well past" the end of net purchases.
"But we still need to see further evidence that inflation dynamics are moving in the right direction. So monetary policy will remain patient, persistent and prudent," says Draghi.
The ECB President also added that the Euro's strength could weigh on inflation, which implies that the further the euro rises, the less inclined the ECB will be to end its quantitative easing programme.
Advertisement


Get up to 5% more foreign exchange by using a specialist provider to get closer to the real market rate and avoid the gaping spreads charged by your bank when providing currency. Learn more here.