Euro Strength Risks Drawing ECB Ire
© European Central Bank, reproduced under CC licensing
The Euro-to-Dollar rate recovered its footing Wednesday before attempting to best Tuesday's highs but the rally is increasingly at risk of being called to a halt by the European Central Bank (ECB) over concerns about the economic cost of rising exchange rates, according to Societe Generale.
Europe's single currency has risen more than 9% against the Dollar from 1.08 in late May, which marks the floor of its 2020 range if volatility during the March liquidity crisis is overlooked, although as analysts set their sights on the big round number that is 1.20 the threat of ECB pushback is growing.
"EUR/USD gives a misleading impression of the Euro's overall cheapness and therefore, can probably only go up when the general tide is for other currencies to appreciate against the dollar too," says Societe Generale's chief FX strategist Kit Juckes. "The euro is already within 1% of the average 2010-2014 level in real effective terms, even while it's 12% below the average EUR/USD rate.
Above: Euro-to-Dollar rate shown at weekly intervals with Fibonacci retracements of 2018 downtrend.
Achieve up to 3-5% more currency for your money transfers. Beat your bank's rate by using a specialist FX provider: find out how.
Euros have been bought hand over fist by a range of market participants in recent months as some expressed improved sentiments about the outlook for the Eurozone in the wake of July's landmark deal over the EU recovery fund, while others have sought refuge from an unravelling Dollar.
The rally has been impressive by many accounts but while the Euro-to-Dollar rate has merely risen back to levels that last prevailed in early 2018, various trade-weighted measures show the single currency having surpassed even the peaks seen in prior 2017 rally.
Juckes cites Bank of International Settlements (BIS) measures of nominal and real effective exchange rates, which track the single currency against its trading partners, for thinking the continent's unified unit isn't as cheap as Euro-to-Dollar rate history would have observers believe.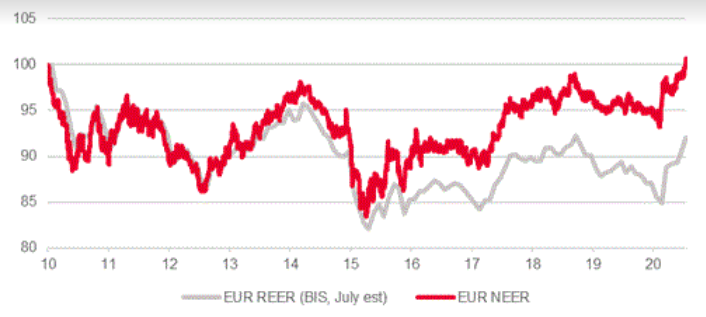 Above: Societe General graph showing BIS estimates of nominal and real effective exchange rates for the Euro.
Achieve up to 3-5% more currency for your money transfers. Beat your bank's rate by using a specialist FX provider: find out how.
"Europe is an open and reasonably exchange-rate sensitive economy which, at the moment, is in a nasty recession, suffering a major hit to its export performance and facing more disinflationary than inflationary forces. None of which makes a much stronger currency desirable," Juckes says.
Rising effective exchange rates are negative headwinds for export oriented economies at the best of times and are rarely welcomed by central banks, much more so in the middle of economic crises, and the Euro-to-Dollar rate has played a leading role in lifting those broader measures of the single currency.
Such exchange rates dynamics hamper export competitiveness while enhancing the purchasing power of the domestic economy, reducing import and often consumer prices as a result. The ECB is obliged to deliver inflation of "close to, but below 2%" annually but has rarely been able to in the post-crisis years so tends not to welcome disinflationary forces and would be doubly unlikely to do so in the middle of another global economic catastrophe.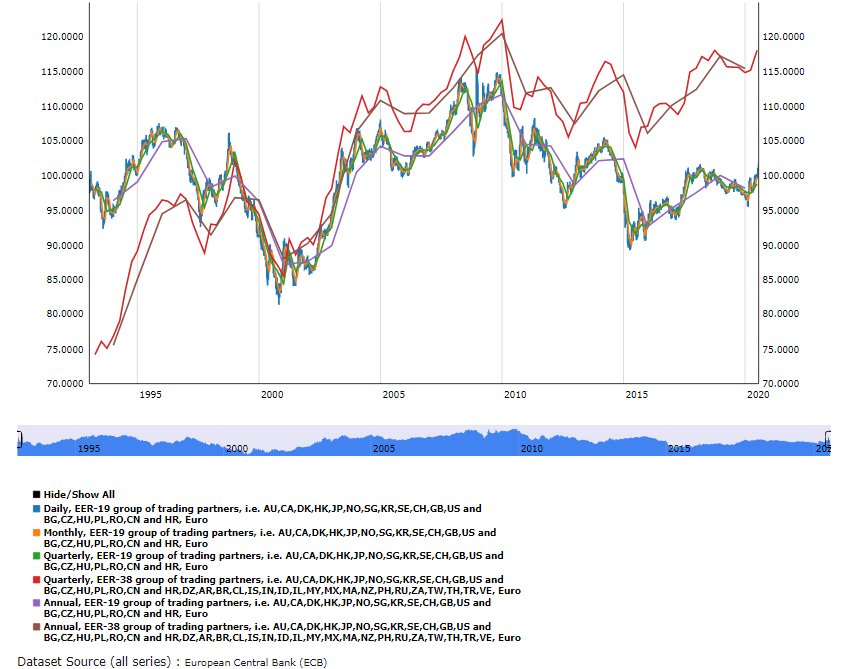 Above: ECB estimates of Euro relative to 19 largest Euro area trading partners and 38 largest trading partners. Blue and yellow lines show higher frequency estimates testing 2017 highs while brown and purple lines show lower frequency measures rising back to pre-ECB quantitative easing highs. Estimates dated July 01, 2020.
"My grandfather used to tell me that life isn't supposed to be fair, when I was complaining about some injustice or another. The ECB may soon get an unfair EUR/USD rate, and toys may be thrown. I'll guess that EUR/USD getting to 1.20 would provoke a reaction," Juckes says.
The bigger rub for the Euro-to-Dollar rate may be that some of the European Central Bank's own estimates suggest the trade-weighted single currency has risen above the levels which last prevailed before January 2015, which saw the launch of its maiden quantitative easing programme and initial foray into the realm of negative interest rates.
It's not clear what exactly the ECB could and would actually do in order to talk down the Euro-to-Dollar rate, especially in a market where investors are increasingly reluctant to hold onto the greenback. But the above could make it likely that the bank at least attempts to do something in the near future.
The bank's next decision is due on September 10 although policymakers regularly speak on a range of subjects both with the press and before private audiences. The Euro-to-Dollar rate was 0.45% higher at 1.1768 Wednesday, having risen 4.9% thus far in 2020.
---
Achieve 3-5% More Currency: The Global Reach Best Exchange Rate Guarantee maximises your currency purchasing power. Find out more.
Brexit Helpline: Free one-on-one financial, currency, pension and legal guidance and preparations for 2021.
Find out more

Invest in Spanish Property. A selection of discounted properties due to the covid-19 crisis, online viewings and transactions possible. Download the guide. Download the Guide
Featured Content
Mortgage Direct - a Spanish mortgage broker specialising in the provision of mortgages for expats - have confirmed they have secured their Spanish license.