Pound Sterling Going Lower vs. Euro says World's Largest Investment Bank
Foreign exchange strategists with JP Morgan forecast the Pound-to-Euro exchange rate to head lower citing heightened risk of an imminent policy mistake at the Bank of England.
Strategists with JP Morgan say they have entered a trade that seeks to profit on the Euro's rise against a retreating British Pound.
The trade is conducted via options, and seeks to profit on the market's misplaced optimism in the Bank of England's willingness to raise interest rates.
"One trade we are adding this week is a short position in GBP vs EUR, once again in options. We have reserved our judgement on GBP ever since the BoE delivered yet another impressive flip flop and caused the market to build-in two additional rate hikes over a 2Y horizon," says analyst Paul Meggyesi at JP Morgan in London.
Meggyesi is concerned that the Bank of England can only deliver one interest rate rise rather than a series of successive rate rises - which is what would be required to push a more sustained advance in the currency.
The Bank of England is intent on raising interest rates to fight rising inflation but is at the same time constrained in adding further hikes to the calendar by an economy that is cooling.
"In our view this set-up injects a high degree of instability in both UK rate pricing and the exchange rate that requires a rather more considered reading of incoming information before deciding whether to position for the initial policy action or the potential policy mistake," says Meggyesi.
JP Morgan observe that recent data suggests that the economy is struggling to improve on a low one percent growth rate; "this in turn increases the risk that the BoE could deliver a rather underwhelming dovish hike in November and so suggests that GBP's interest rate support may well have peaked."
JP Morgan reckon going short on GBP is a trade that would profit from the possibility that the Bank of England is about to commit a policy mistake.
"UK rate expectations are appropriate from the perspective of inflation or the output gap, but conspicuously overblown when benchmarked to current UK growth," says Meggyesi.
JP Morgan argue the Bank has not been much help in coming to a strategy conclusion as the explanations it has offered for soon tightening policy are unconvincing and inconsistent (inflation risks are being simultaneously attributed to a strengthening in actual growth and a decline in potential growth).
"But with the UK curve pricing what is tantamount to a normal hiking cycle of approximately 100bp, and the economy showing no overall sign of accelerating from a 1.0-1.25% growth rate, we're inclined to believe that UK rate pricing has peaked for now, so too GBP," says Meggyesi.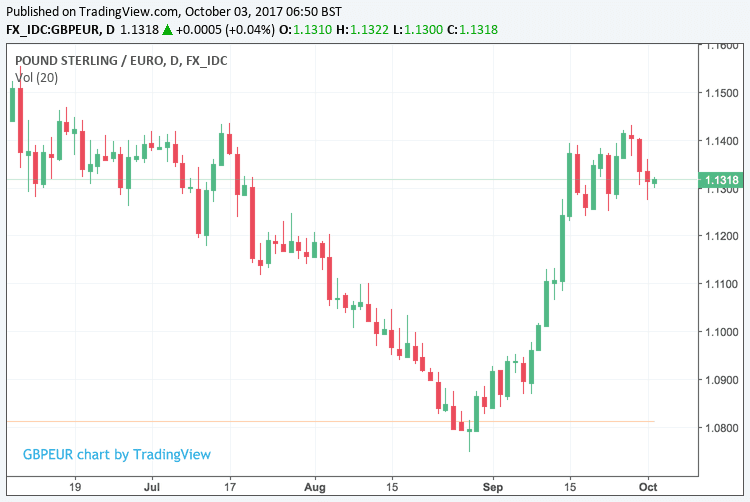 Above: The Pound's recent rally against the Euro has run into resistance prompting analysts to suggest a deeper pullback is in the offing.
Sell the Pound
The call to sell the British Pound against the Euro at JP Morgan is one shared elsewhere in the foreign exchange analysis community.
Foreign exchange strategists at CIBC Capital Markets are the latest to recommend clients sell Pound Sterling against the Euro arguing the recent bout of strength has completed.
CIBC believe the Pound has benefited in full from a shift in stance at the Bank of England where policy-makers surprised markets in September by saying an interest rate rise is necessary in the near-term.
Market pricing for a November interest rate rise is now above 70% having been around 10% ahead of September - the repricing helped the Pound-to-Euro exchange rate rally higher from levels sub-1.08 to highs at 1.14.
However, "a November BoE rate hike is now largely in the price for the GBP," says Bipan Rai, a strategist at CIBC.
A dying Bank of England story coincides with fresh buying interest for the Euro observed at current prices which represent a key technical juncture for the exchange rate.
Strategists say they believe the Euro is due "another leg upwards from the current thick support levels".
Rai is looking to buy EUR/GBP at around the market price of 0.8817, and target a rise to the 0.9200 level over the coming weeks. Rai has advocated traders place their stop loss anywhere below the 0.8600 pence level as a break below this level would suggest the Pound may gain further on the common currency and so the trade is not going to work.
This gives us a sell on GBP/EUR at 1.1341, targeting a decline to 1.0869 with a stop-loss at 1.1628.
Get up to 5% more foreign exchange by using a specialist provider by getting closer to the real market rate and avoid the gaping spreads charged by your bank for international payments. Learn more here.
Deutsche Bank Heads in the Opposite Direction
There are differing views on Sterling's outlook to consider though. While JP Morgan are anticipating Sterling weakness, strategists at Deutsche Bank reckon the Pound could go as high as 1.17 near-term.
The reason for the optimistic tone on Sterling rests with a different interpretation of Bank of England interest rate expectations.
"A BoE hike in November is now close to fully priced, but the bar for the MPC not to hike is very high as the data momentum keeps recovering from the summer lows," says Winkler setting out his stall.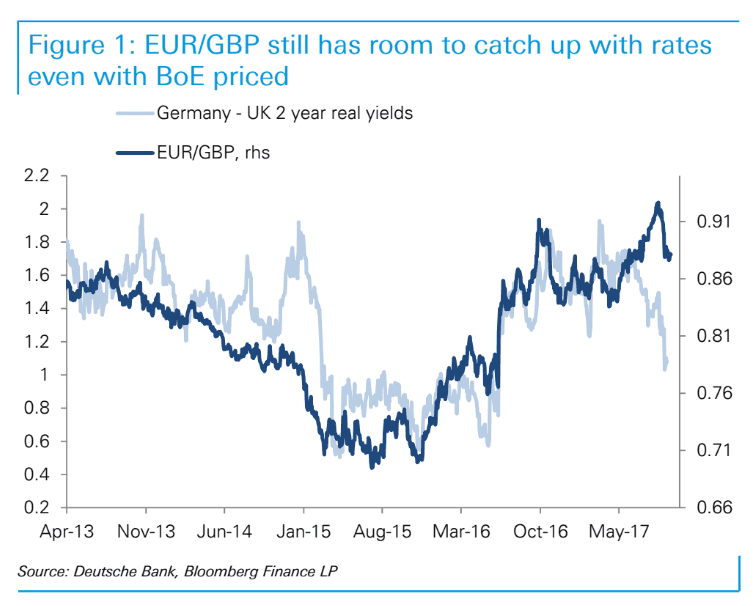 On the political front Winkler says there has been no deterioration on Brexit expectations with PM May's Florence speech and Barnier's response seen as positive, while negotiations last week confirmed a more constructive spirit.
"Once this week's Conservative Party conference is out of the way, we expect the government to use the political space to work towards a two-year EEA-based transition deal by year-end," says Winkler.
The Pound has fallen at the start of the new month with commentators suggesting in-fighting amongst the Conservative Party is to be blame. We disagree with this prognosis and agree with Winkler that markets are in danger of overplaying the theme that the UK government is terminally divided and believe Theresa May will come out of the Conservative's conference with a strengthened hand.
Winkler will be hoping the market picks up on this theme and reinvigorates Sterling to keep his trade idea alive.
Concerning market positioning, Deutsche Bank note while Sterling shorts have been covered, the more constructive outlook is not yet reflected in longs.
"The Euro by contrast should be more sensitive near term to a more hawkish Fed, greater hopes for US tax reform, and political noise in Germany and Catalonia," says Winkler.
The trade looks to short (sell) the EUR/GBP pair targeting 0.85, entry at 0.8810 and stop at 0.8895.
From a Pound-to-Euro perspective this gives us a target at 1.1760, entry at 1.1350 and stop at 1.1242.
The exchange rate has this week struck a low of 1.1255, which suggests the trade is alive, but only by a whisker.
Get up to 5% more foreign exchange by using a specialist provider by getting closer to the real market rate and avoid the gaping spreads charged by your bank for international payments. Learn more here.