Deutsche Bank "Like Selling" British Pound Against Euro and Swiss Franc
Quotes:
Pound to Euro exchange rate: 1 GBP = 1.1454 EUR
Euro to Pound Sterling exchange rate: 1 EUR = 0.8731 GBP
Pound to Swiss Franc exchange rate: 1 GBP = 1.2471 CHF
Strategists with Deutsche Bank have told clients it could be time to start betting against the Pound again with the outcome of the upcoming General Election likely to prove disappointing for Sterling.
We reported just last week that Deutsche Bank have joined a growing list of foreign exchange strategists saying there could be profit to be made in a bet on further rises in the value of the Euro against the Pound.
It appears that the recent slide in fortunes for the Conservative party in the polls have seen strategists double-down on their expectations for a weaker Pound to Euro exchange rate.
"A market-friendly UK election outcome already appears priced and the risks are now skewed to a disappointment," says George Saravelos, Strategist with Deutsche Bank in London.
The Pound's fall in reaction to the recent tightening of polls could however be the start of that process of disappointment mentioned by Saravelos with polls now point to the prospect of a hung parliament.
If these polls are correct the likelihood of Theresa May being Prime Minister in a little over a week's time are greatly reduced.
Importantly for the Pound it also means the UK would have to appear at Brexit talks, which start 11 days after the General Election, with a new negotiating team which will almost certainly be unprepared.
Uncertainty has risen substantially and with it the outlook for Pound Sterling deteriorates.
The Conservatives have seen their projected majority slide from Blairesque levels above 150 to sub-100 in the matter of weeks with the UK public increasingly willing to take a punt on the Labour party's promised spending-spree.
Foreign exchange markets prefer the idea of a convincing Conservative majority to a small majority because of the flexibility it grants the UK in upcoming Brexit negotiations.
But the outlook for Sterling is more than just a function of the election's outcome.
"We believe a strong conservative majority is a necessary but not sufficient condition for a 'smooth' Brexit," says Saravelos.
The analyst warns that initial talks with the EU will be fraught with difficulty and the European stance is hardening.
Meanwhile, GBP positioning is much lighter, which means the potential to move a great deal either up or down has grown.
And on the economic front, the evidence for a consumer-led slowdown continues to build ensuring the Bank of England is likely to stay firmly on hold through the remainder of the year.
"All this leaves inflows into the UK highly vulnerable to a rapid slowdown. We like selling GBP both against EUR and CHF," says Saravelos.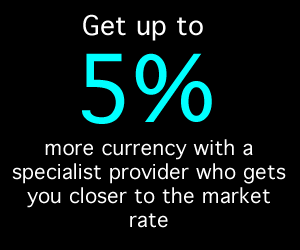 But it's not just the politics that have Deutsche Bank seeing Sterling as being prone to weakness.
Sterling continues to be vulnerable to policy divergence - this refers to a scenario where one central bank is raising interest rates and the other is cutting rates or keeping them unchanged.
Capital will tend to flow to the jurisdiction where rates are rising, creating upward pressure on the currency.
Deutsche Bank say they had expected the Bank of England to sound more hawkish at the May Quarterly Inflation Report "but instead it made no attempt to increase risk premia at the front-end."
i.e there was no desire by the Bank to prompt expectations for higher interest rates.
Meanwhile, on the data front, the evidence for a consumer-led slowdown continues to build.
Retail sales numbers bounced back in April, but new car registrations (typically a good indicator of overall consumption growth) fell to their lowest level since 2008.
"The most important data point for the MPC remains wages. If these improve it would help offset higher inflation on the growth side. But ex-bonus earnings growth fell to 2.1% in March, lower than pre-referendum levels," says Saravelos.
Conservative Comeback Could Help Sterling
Deutsche Bank's negative view on Sterling covers a multi-week timeframe and therefore we would see it as no contradiction were the currency to rebound short-term.
Markets are clearly favouring a Conservative win and should polls start to show the party's wobble is coming to an end we would expect the Pound to rally in relief.
"We expect the Conservative Party may win overwhelming election victory, which will likely support GBP," say Citi in a briefing to clients dated May 30. "We expect the Conservative Party would win 104~190 seats in the coming election. Overwhelming victory would help anti-Euro group to fight for more advantageous treaties in the negotiation with Europe Union."
This, "may smooth Brexit process and underpin GBP. For the coming 0-3 months, GBP may rise to 1.33," say Citi in reference to potential direction in GBP/USD.
If Citi are correct then we would expect a temporary floor to be put under the GBP/EUR exchange rate too.
However Theresa May desperately needs to pull back her support and on the shift of momentum the markets will be relieved if she simply stays in power.
Market attention will rapidly shift on to the start of Brexit talks which are due a mere eleven days later and it is the evolution of this process that really matters for Sterling over the longer-term.