British Pound to Euro Exchange Rate Well en Route to UBS' Parity Forecast thanks to Overnight Flash Crash in Sterling
Pound Sterling experienced a 'flash crash' on the morning of the 7th October which saw the GBP to EUR exchange rate at one stage almost touch parity ensuring one of the more agressive forecasts on the pair almost came fruition nearly a year ahead of time.
Pound to Euro exchange rate today: 1.1204, week's best: 1.1524, week's low: 1.1018 (This was an earlier quote provided by IG, by 10:30 B.S.T it has been manually altered to show the low as being at 1.06).
Euro to Pound Sterling exchange rate today: 0.8928, week's best: 0.9960, (adjusted high quoted by IG at 0.9435) week's low: 0.8676
Sterling tumbled in dramatic form at the Asian open on 7th October.
The pair nearly reached parity against the Euro and broke towards 1.12 against the US Dollar in what appears to be a 'flash crash' for the currency.
This is when a trade is placed in thin market conditions and the resultant move is excessive.
Such a move is however usually shown to be the result of some failing in the market, exchange system or institution that initiated the move, manually or algorithimacally .
"Ostensibly triggered by harsh comments on UK exit terms from French PM Hollande, GBP collapsed around the Asian open, with trades apparently going through below 1.15. The move happened right at the point of thinnest liquidity and on a day (payrolls Friday) when volumes would have been unusually thin anyway," says Adam Cole at RBC Capital.
Sterling has since 'recovered' but understandably it remains under significant pressure as moves like this dent sentiment significantly.
"To adjust for the recent move in the GBP and uncertainty unleashed by this flash crash, we adjust our GBP forecasts lower," says Aurelija Augulyte at Nordea Markets - just one of many institutionals who have had to change course on Sterling's outlook.
Expect GBP to continue its journey lower on the back of renewed negative sentiment, but the downtrend should exert in a more stable fashion going forward.
Latest Pound/Euro Exchange Rates
* Bank rates according to latest IMTI data.
** RationalFX dealing desk quotation.
Parity Ahead say UBS
Analyst John Wraith at UBS is a noted Sterling bear and has for some time now maintained the view that the Euro and Pound were on track to equalise.
Wraith notes that when the global financial crisis entered its acute phase, Sterling resumed its rapid decline, falling a further 20% by the end of 2008.
"Although different in its underlying causes, a similar pattern of decline, pause, and fresh falls may be unfolding now," says Wraith.
The focus on the parity call for EUR/GBP has always been the UK's large currenct account deficit; the result of the country's reliance on imports over exports combined with the country being a net debtor to the rest of the world.
While the current account deficit has improved slightly, "it is still unsustainably large," argues Wraith.
Helped by the decline in sterling since last November, the UK current account deficit has improved from -7.0% of GDP in Q4 15 to -5.9% in Q2 16.
"We believe it will need to become significantly smaller during the period of high vulnerability that will persist at least for the two-year period between the triggering of Article 50 of the Lisbon Treaty and the UK's formal exit from the EU. Further currency weakness would be the most benign driver of further declines in this deficit," says Wraith.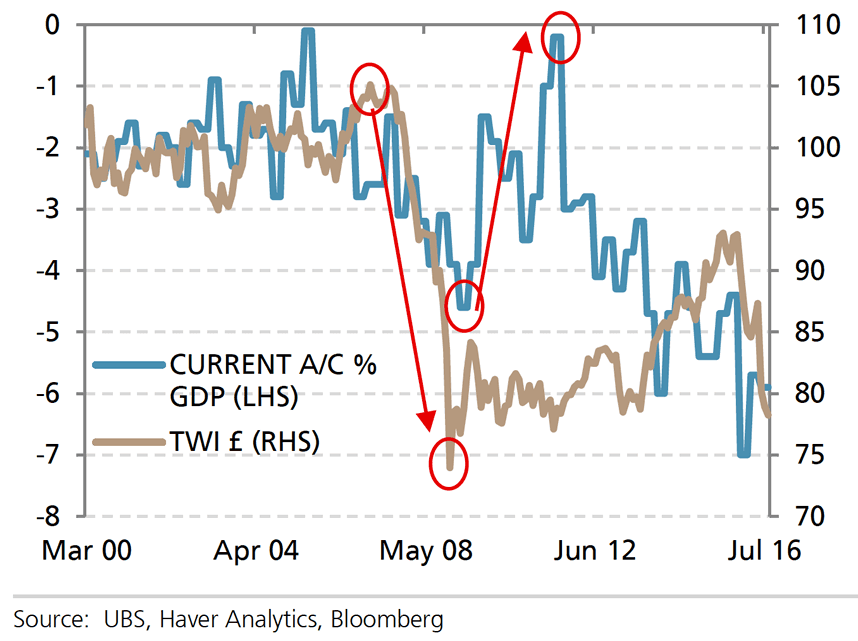 Above: Material sterling weakness can help the necessary reduction of the current account deficit.
As well as economic headwinds, UBS believe political risks are expected to intensify.
This is important for a currency that appears to be increasingly sentiment, rather than economic data driven.
The Prime Minister has confirmed that the formal process of the UK's exit from the EU will begin by the end of the first quarter of 2017 with the triggering of Article 50.
"As happened in the case of the referendum itself, the transformation of anticipated risk events from a high probability to a certainty, and from an unknown date to a confirmed one, can be a powerful catalyst for currency weakness," says Wraith.

Above: For six months after the Conservatives won the May 2015 General Election, sterling was unaffected by the knowledge a referendum on EU membership would be held before the end of 2017, as the exact timing was uncertain. In November, it became clear the referendum would be in June 2016 and Sterling started to fall sharply.
UBS reiterate our forecasts for the end of 2017 of $1.20 for GBP/USD (currently 1.288), and 1.00 for EUR/GBP (currently 0.874).
Should Sterling par the Euro on the spot inter-bank market then those with currency payments and purchases can expect notably lower rates once spreads have been subtracted.
For instance, we did see some airport bureaux offering €0.9915 per £1.00 in August when the spot rate was as high as £1.15.
We believe media publicity has ensured that with the latest round of devaluations they have opted to keep retail rates above parity.
But, there can be no doubt rates being offered will be well below €1.00 when the spot market hits parity.