Pound Sterling in Largest Daily Jump against Euro since March on Revived Brexit Deal Hopes
Image courtesy of Gov.UK | Prime Minister's Office
- Sterling advances on renewed Brexit optimism
- However, markets tipped to remain cautious
- "We believe it will be difficult for GBP to hold onto the recent appreciation" - CBA's Kim Mundy
The Pound looked set to enjoy its best weekly performance in two years against the Euro thanks to a second day of strong gains as markets moved to rapidly price in the prospect of a Brexit deal being struck ahead of the October 31 Brexit deadline.
The Pound-to-Euro exchange rate was quoted at 1.1471 ahead of the Friday market close, having been as low as 1.1086 earlier in the week after "the mood music around Brexit negotiations improved significantly," says George Brown, an analyst with Investec in London.
"So far, no detail has emerged about what movement has been made by either side on the Irish protocol, but the rapid progress of talks has served to reassure investors that a deal is not as elusive as previously thought. Sterling has resultantly surged," says Brown.
It appears a solution to the question of the post-Brexit border on the island of Ireland is being hammered out between negotiators. Speaking to the media on Friday, Prime Minister Boris Johnson said he did not want to give a running commentary on Brexit talks when asked whether Northern Ireland would be leaving the EU customs union.
"I think it would be wrong of me to give a running commentary on the negotiations," he said. "Look at everything I've said previously and you can draw your own conclusions from that."
"I can tell you that under no circumstances will we see anything that damages the ability of the whole of the United Kingdom to take full advantage of Brexit and that is what people would expect," said the Prime Minister.
Johnson added that while no deal was yet ready to be signed, there is nevertheless "a way forward".
We maintain that a Brexit deal is the best possible outcome from Sterling's perspective, as it settles the question of the referendum and produces much needed certainty for citizens, businesses and investors. A deal therefore unlocks the potential for Sterling to unwind the Brexit risk premium it has been carrying for years now, and settle at higher levels on global currency markets.
That Sterling is rallying is a sign that markets were potentially too pessimistic in their positioning ahead of next week's crucial meeting of EU leaders at the European Council summit, where the final details of a deal could be potentially hammered out. In short, traders do not want to be sitting on substantial bets against the currency when a deal is announced and they might therefore be unloading those bets, bidding Sterling higher in the process.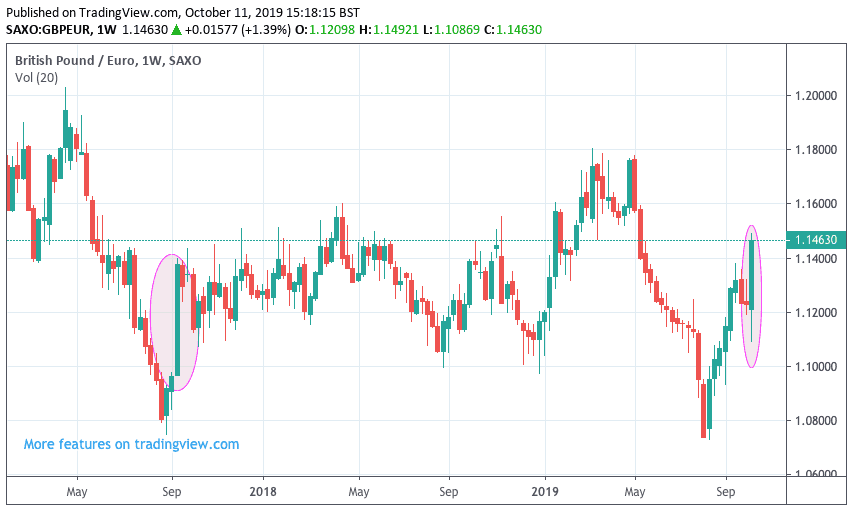 Time to move your money? Get 3-5% more currency than your bank would offer by using the services of a specialist foreign exchange specialist. A payments provider can deliver you an exchange rate closer to the real market rate than your bank would, thereby saving you substantial quantities of currency. Find out more here.

* Advertisement
Thursday saw the British Pound notch up its its largest one-day jump against the Euro since March, on the back of indications that the EU and UK could still snatch a Brexit deal ahead of the October 31 deadline. A meeting between the Prime Ministers of Ireland and the UK saw some progress towards common ground, to the extent that a previously cancelled meeting of the UK's Brexit Secretary with European negotiators scheduled for Friday was once again been reinstated.
Prime Minister Boris Johnson and Taoiseach Leo Varadkar said they can "see a pathway to a possible deal" following talks held near Liverpool on Thursday.
Varadkar told reporters the talks were at a "very sensitive stage" but were "very positive and very promising".
The gains in Sterling reflect the relief in a market that was growing increasingly sceptical that two sides would reach a new deal, following days of increasing acrimony and suggestions that talks were on the brink of failure.
Oliver Harvey, a currency analyst with Deutsche Bank, says the talks were a potentially pivotal moment. "At no stage up until now has the Irish government raised expectations about a deal to such an extent," says Harvey. "Should a deal be agreed, there is also a clear mechanism to secure ratification in parliament, namely the EU27 declining a further extension request."
Deutsche Bank have upgraded their strategic stance on Sterling to 'neutral' following the developments, however there remains a prevailing sense of caution on Sterling amongst the analyst community.
"The Pound was boosted by reports that a Brexit deal this month is looking more likely. Caution remains, however, as it is not yet a done deal and a lot of work still needs to be done. Brexit headlines will remain in focus today, as the EU's Barnier meets with Barclay and Varadkar," says Hann-Ju Ho, analyst with Lloyds Bank.
The Pound-to-Euro exchange rate advanced 1.62% to 1.1323 on Thursday, its highest level of the month; but we note that the currency is still trading at a sizeable discount to the year's highs located towrads 1.18. If the optimism on a deal extends, such levels would potentially be encountered once more.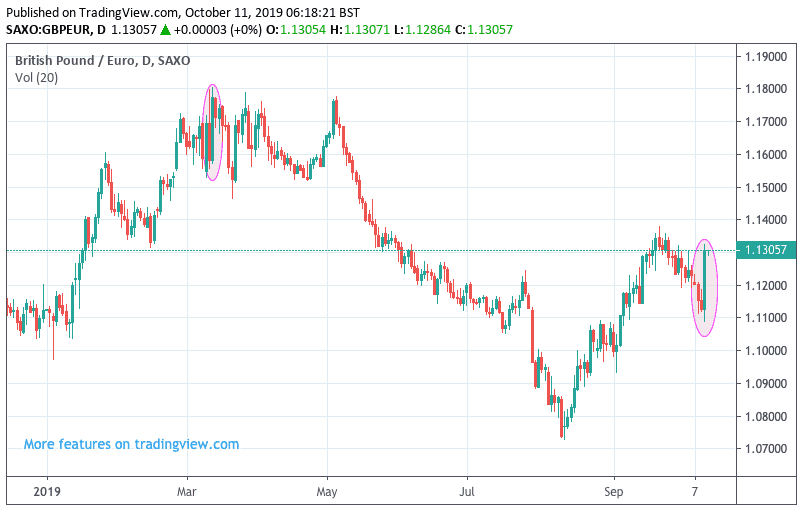 Above: The last time GBP/EUR jumped by over 1.6% was back in March when the previous Prime Minister looked to be nearing a Brexit deal.
The last time such a gain was recorded was back on March 13 when markets believed then-Prime Minister Theresa May would strike a deal with the EU that Parliament would pass. Of course, May's deal was rejected and Sterling embarked on a sustained sell-off, a turn of events that readers should probably bear in mind when considering the latest developments in this Brexit game of chess.
Negotiators from London and Brussels say they had a "constructive" meeting in which details of the UK's latest proposals for the Northern Irish border were discussed.
"The EU and the UK have agreed to intensify discussions over the coming days. The EU's position remains the same: there must be a legally operative solution in the Withdrawal Agreement that avoids a hard border on the island of Ireland, protects the all-island economy and the Good Friday (Belfast) Agreement in all its dimensions, and safeguards the integrity of the Single Market. The Commission will take stock with the European Parliament and Member States again on Monday," said a European Commision spokesperson.
Disagreement over how to honour the Good Friday Agreement while satisfying an EU demand that the 'integrity of the single market' not be threatened by a UK exit and also delivering the outcome of the June 2016 referendum has so far frustrated the UK's orderly departure from the bloc.
"After continued combative comment from Brussels earlier in the week, the complexities around the workability of the Ireland scenario took a major step in the right direction yesterday. Sterling was immediately bid up on this news, and as it was reported the Barclay/Barnier meeting took a positive step, sterling gained to hit three month highs," says Harry Adams, co-CEO of Argentex, an international payments specialist listed on the London Stock Exchange.
"We believe it will be difficult for GBP to hold onto the recent appreciation without more details on what the 'deal' might comprise," says Kim Mundy, foreign exchange strategist with CBA.
Those watching Sterling must remain vigilant of a reversal in fortunes of the currency if, after the EU and UK strike a deal, the UK Parliament opts to once again vote down an agreement.
"We are less certain as to whether a deal will be able to pass the House of Commons. For one, it will depend on whether the revised Irish protocol is satisfactory to the DUP, the government's confidence and supply partners. But even with its support, Mr Johnson is still 45 MPs short of a majority and therefore will be reliant on winning over a number of the former Tory 'rebel' MPs and sympathetic Labour MPs, while also limiting dissent from the hardline eurosceptic element of his party," says Investec's Brown.
If Johnson fails to muster the numbers behind his deal, we would expect all Sterling's recent gains to rapidly unravel.
Time to move your money? Get 3-5% more currency than your bank would offer by using the services of a specialist foreign exchange specialist. A payments provider can deliver you an exchange rate closer to the real market rate than your bank would, thereby saving you substantial quantities of currency. Find out more here.

* Advertisement