Canadian Dollar Spikes Higher Following "Hawkish" Bank of Canada Statement but Gains May be Short-lived
-CAD rises broadly following "hawkish" Bank of Canada statement.
-BoC holds rates at 1.25% but tees up markets for July rise to 1.5%.
-Analysts say expectations still too high, CAD gains to be short-lived.
© Bank of Canada
The Canadian Dollar spike higher during the London afternoon Wednesday after the Bank of Canada hinted it is on course to raise interest rates in July, but analyst commentary on the Loonie suggests these gains may prove short-lived.
The Bank of Canada held its cash rate steady at 1.25% for the month of June but tweaked the language of its statement enough to leave a hawkish taste in the mouth of the market, which prompted traders to bid the Loonie higher.
The words "cautious" and "over time" were removed from the sentences regarding future policy moves, while the word "gradual" was left in. Some observers took this to mean the governing council is growing more confident about raising rates in July but that a faster pace of rate hikes is still a way off.
"In stressing that future policy adjustments would come at a "gradual" pace, a July rate hike could be the final move for this year. Indeed, the statement underlined that the Bank won't be reacting to the slight overshoot in inflation," says Royce Mendes, an economist at CIBC Capital Markets.
A change of policy was never expected on Wednesday so the statement was always likely to garner most of the market's attention, particularly as traders are betting heavily that a rate hike will come at the subsequent July meeting.
The Bank of Canada has raised interest rates three times inside the last year and markets and during recent weeks markets have consistently implied a more than 50% probability the BoC will pull the trigger the next time around. Interest rate derivatives market pricing also implies a high probability of another two rate hikes before the end of March 2019.
"As the Bank contends with trade uncertainties, competitiveness issues, and a shaky housing market we're sticking to our forecast that Governor Poloz moves once more in July before taking an extended break. The Canadian dollar is stronger on the day, given the hints at a near-term hike which was only partially priced into markets," Mendes adds.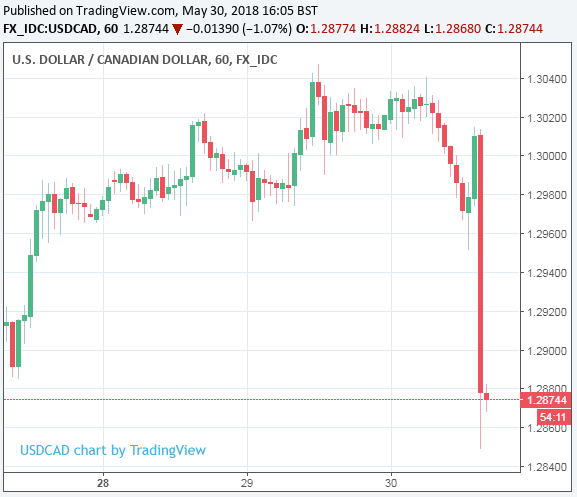 Above: USD/CAD rate shown at hourly intervals.
The USD/CAD rate was quoted 1.16% lower at 1.2875 following the announcement, after extending a 0.24% loss, while the Pound-to-Canadian-Dollar rate was 1% lower at 1.7094. The Canadian Dollar was quoted higher against all developed world currencies.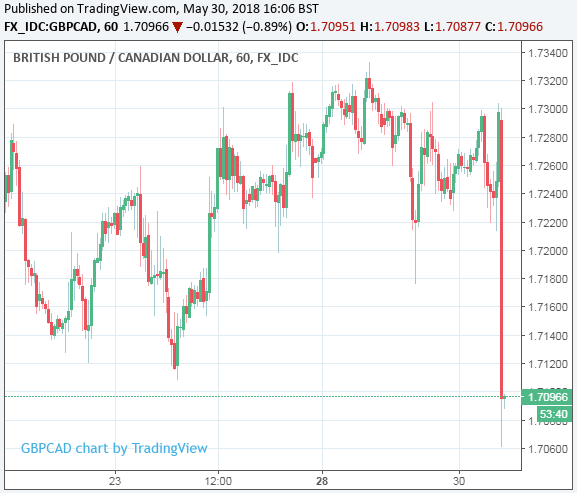 Above: Pound-to-Canadian-Dollar rate shown at hourly intervals.
"Our dashboard shows the market is leaning short CAD and USDCAD looks rich to our High Frequency Fair Value gauge. The risk is that the market clings on to any perceived hawkish undertones, but we are comfortable using USDCAD dips as buying opportunities. We prefer long exposure to NZDCAD in cash and look to buy USDCAD on dips toward 1.2850," says Mark McCormick, North American head of FX strategy at TD Securities.
The BoC also flagged that "trade risks" remain elevated and are having an adverse impact on business investment globally, which is a salient topic given talks to renegotiate the North American Free Trade Agreement are going nowhere fast and the central bank has previously identified NAFTA as a key risk to the Canadian interest rate outlook.
"We think we are on the cusp of an appreciable downleg. Our main gripe is that while the BoC remains data dependent, too much cumulative tightening is priced in. We also think near-term risk as it relates to trade is understated," says Mazen Issa, an FX strategist at TD Securities, in a separate note Tuesday.
NAFTA risks are seen as having risen during recent weeks because of renewed bellicose rhetoric from the White House and considering that President Donald Trump, under electoral pressure ahead of the November midterm elections, could be incentivised to announce a US withdrawal from the pact the more that time goes on without progress.
A withdrawal notification would set the clock ticking on a six month termination period during which the deal could still be renegotiated, although under an increased level of pressure. Analysts have previously estimated a US withdrawal could hit the Canadian economy and see its currency fall by as much as 20%.
A potential NAFTA withdrawal has been in the cards ever since the election of President Trump, who once described it as "the worst deal in history", pledged to tear it up if Canada and Mexico wouldn't agree to a new deal with more palatable terms. However, the risk of an actual withdrawal has been rising in recent months and is expected to rise further still during the weeks ahead.
This is not least given Mexico's July 01 election threatens to seat frontrunner Andres Manuel Lopez Obrador, who has accused the incumbent President of "selling out the country" due to his soft stance in the talks, at the negotiating table. But also because President Trump promised on the campaign trail he would renegotiate NAFTA or withdraw from it and the looming midterms may mean he is compelled to harden his stance during the months ahead.
Advertisement




Get up to 5% more foreign exchange by using a specialist provider to get closer to the real market rate and avoid the gaping spreads charged by your bank when providing currency. Learn more

here