Canadian Dollar Skids as White House Launches Trade Salvo at "Very Difficult" and "Very Spoiled" Canada
- CAD slumps after White House launches automotive tariff investigation.
- President Trump lashes out at Canada, Mexico, over NAFTA negotiations.
- Strategists say "stay defensive" on the CAD, look to buy NZD/CAD rate.
© The White House
The Canadian Dollar hit the skids Thursday, falling against all of its developed world rivals, after the latest trade salvo from the White House was seen further undermining the already-dim prospect of a deal to save the North American Free Trade Agreement being agreed any time soon.
The news has immediately lead currency strategists to adopt a cautious stance on the Canadian currency in anticipation of growing headwinds.
President Trump instructed commerce secretary Wilbur Ross to open an investigation into automotive imports, under Section 232 of the Trade Expansion Act of 1962, on Wednesday which has prompted fears of a more heavy handed approach by the US to the ongoing NAFTA negotiations as well as a possible Europe-facing front in the so called trade war.
"I think your autoworkers and your auto companies in this country are going to be very happy with what's going to happen. You'll be seeing very soon what I'm talking about," President Trump told the media Wednesday. "NAFTA is very difficult. Mexico has been very difficult to deal with. Canada has been very difficult to deal with. They have been taking advantage of the United States for a long time. I am not happy with their requests."
The section 232 investigation will seek to establish whether the current automotive trade landscape is a risk to US "national security" and could ultimately lead to the US imposing tariffs on imported cars and parts in an effort to protect domestic producers from foreign competition. It comes as progress in talks to save the NAFTA deal slowed due to disagreement over the rules around automotive exports and level of US-made content that must be included in exported cars.
"Recall that this was the same process that the US administration took before imposing tariffs on steel and aluminium imports in March this year – and while we may still be some way away from the idea of actual tariffs on US car imports (with initial reports floating a 25% tariff), this latest move by the administration is a pretty big escalation in the trade war narrative," says Viraj Patel, an FX strategist at ING Group.
The Canadian Dollar was quoted lower against all of its developed world rivals Thursday, with the USD/CAD rate 0.34% higher at 1.2884.
Above: USD/CAD rate shown at hourly intervals.
Both Canada and Mexico have seen car and truck production rise substantially throughout the life of the North American Free Trade Agreement, with many of the vehicles built being exported across borders into the United States. Mexico has proven particularly popular with car manufacturers, many from Europe and Japan but some from the US too, as lower Mexican labour costs have proven a boon for profit margins.
"The threat of higher tariffs is likely intended to impose more pressure on Canada and Mexico to agree to a more favourable renegotiation of NAFTA," says Lee Hardman, a currency analyst at MUFG. "The developments have highlighted that the risk of a global trade war remains real even if market participants remain optimistic that it is more likely to result in better trade deals. The yen remains a key barometer of global trade war risk."
There is widespread disagreement over the extent to which NAFTA has contributed to the 20% reduction in headcount at America's car manufacturers in the last two decades, with advocates of the NAFTA accord saying the fall in employment is the result of automation and efficiencies that have made car manufacturing less labour intensive, while opponents of the pact say that many jobs have simply been moved across the border to Mexico.
"I will tell you, in the end, we win. We will win, and we'll win big. We'll get along with Mexico; we'll get along with Canada. But I will tell you, they have been very difficult to deal with. They're very spoiled — because nobody has done this. But I will tell you that what they ask for is not fair," President Trump said, in a press conference Wednesday.
The Pound-to-Canadian-Dollar rate was quoted 0.54% higher at 1.7254 during the Thursday session.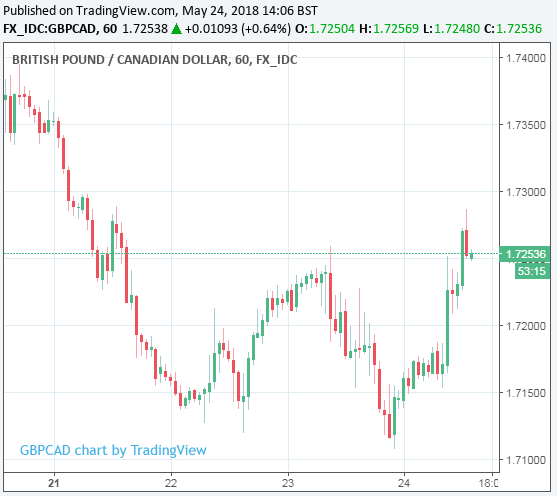 Above: Pound-to-Canadian-Dollar rate shown at hourly intervals.
There was more than six months between the launch of the Section 232 investigation into alluminium and steel exports and its conclusion, which paved the way for the metals tariffs announced by the White House back in March, so any new automotive tariffs are presumably still a long way off. But, nonetheless, the decision was obviously made with NAFTA in mind.
Seeing as all three countries must agree to any new deal, and considering tariffs targeting the auto industry would be economically damaging to Mexico, the investigation announced Wednesday was seen further undermining the prospect of an agreement being reached ahead of the July 01 Mexican presidential election.
A deal is important for the Loonie because analysts have previously estimated a withdrawal by the US could hit the Canadian economy and see the currency fall by as much as 20%. A potential withdrawal has been in the cards ever since the election of President Trump, who once described it as "the worst deal in history", pledged to tear it up if Canada and Mexico wouldn't agree to a new deal with more palatable terms.
"We have noted all week about NZDCAD topside and continue to like the risk/reward eyeing a move towards 0.92 especially now as trade rhetoric has heated up with Trump's latest proclamation of tariffs on imported cars. Though details are light, it could throw a monkey wrench into the NAFTA negotiations," says Mazen Issa, an FX strategist at TD Securities.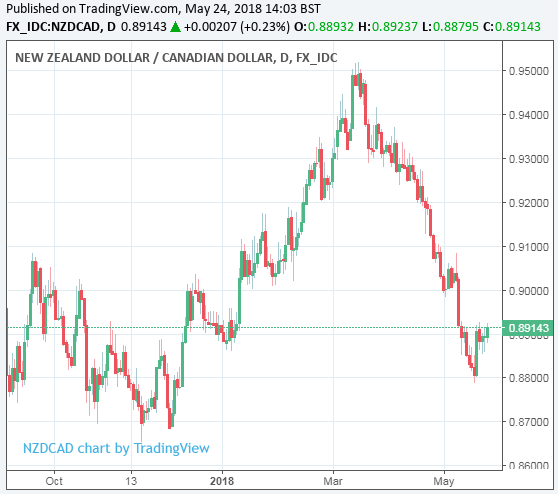 Above: NZD/CAD rate shown at daily intervals.
Securing a deal before July 01 is important for the Canadian Dollar because after this point both Mexican and US politics are likely to hinder progress toward a deal.
The July vote will see incumbent President Enrique Pena Nieto, who is prohibited by the Mexican constitution from running again, replaced with ruling Institutional Revolutionary Party (PRI) candidate Jose Antonio Meade or by opposition candidate Andres Manuel Lopez Obrador, who has campaigned heavily on an anti-corruption ticket and has a 20 point lead over his nearest rival in opinion polls.
Obrador has previously called for talks to be suspended until after the election because, according to a CBC report, the "weak" incumbent president is in danger of "selling out" the country. This suggests the Mexican stance toward President Trump's demands may harden in July if Obrador is succesful in his campaign for the presidency, which would increase the risk that President Trump simply withdraws from the pact.
Not only that, the path to a new deal could become further complicated next month by evolving electoral maths in the US. Congress needs at least six months to move the appropriate legislation through the House and Senate but, after June, the final vote on ratification would risk being pushed into January 2019.
If, as many expect, the November midterm elections see the Republican Party lose its narrow majority in either of the two chambers then securing the necessary votes to approve the new deal may be difficult for the White House.
"We are comfortable in remaining defensive on the CAD, especially as the market continues to price in an absurd amount of tightening for the next 9 months," Issa concludes.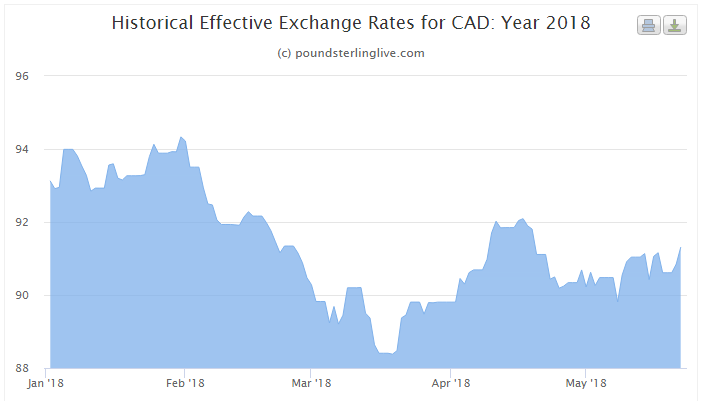 Above: Canadian Dollar index in 2018.
Advertisement




Get up to 5% more foreign exchange by using a specialist provider to get closer to the real market rate and avoid the gaping spreads charged by your bank when providing currency. Learn more

here