Pound-to-Australian Dollar Rate Looks to Hold 1.80
- GBP/AUD could benefit short-term
- But AUD tipped to outperform in 2020
- Aussie Covid-19 fears overdone says Morgan Stanley
Image © Adobe Stock
Having completed four successive days of gains, the Pound-Australian Dollar exchange rate is back above 1.80, a psychologically significant level it will look to hold in order to keep a short-term rebound alive.
Pound Sterling was the best performing major currency of the past 24 hours, advancing against all its G10 rivals amidst a combination of factors that include some better-than-expected domestic data and gradually improving expectations that a trade deal will be signed by the EU and UK by October. (More on this GBP view here).
Ultimately though, both Sterling and the Aussie Dollar appear to be taking a cue from broader trends: the Australian Dollar has lost upward momentum not just against the Pound but also the Euro and Dollar as the rally in global stock markets has faded over the course of the past week amidst an apparently relentless march of covid-19 across the globe.
The Pound has meanwhile advanced against a broadly weaker U.S. Dollar which has been hampered by a clear slowing in the U.S. economic recovery owing to a second spike in covid-19 cases. Furthermore, expectations of further support from the U.S. Federal Reserve are rising which should contribute to a generous supply of dollars into the global monetary system.
However, it remains the case that the Australian Dollar is the most sensitive to global investment sentiment of the world's ten major currencies and therefore the basic equation we maintain when looking at GBP/AUD is that strong stock market performances will be met by GBP/AUD downside, while sideways action and losses in the markets tend to favour GBP/AUD upside.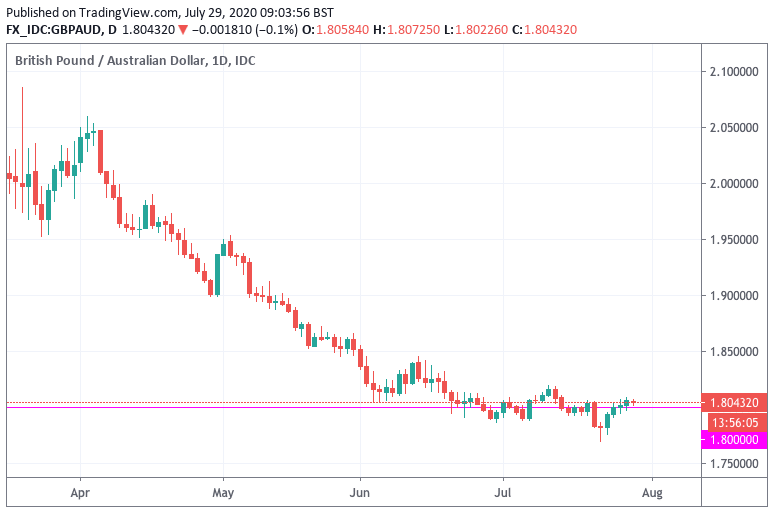 Secure a retail exchange rate that is between 3-5% stronger than offered by leading banks, learn more.
As we await the next big cues for the global picture we expect GBP/AUD to remain broadly supported, and the pair could even evolve higher, but there remains a sense that worst is behind us and that the recovery should be maintained over coming months. It therefore could be a case of short-term gains for GBP/AUD, but longer-term losses which should signal to those looking to sell Sterling and buy Aussies that windows such as that which we are currently seeing are likely to be fleeting.
"In our view, AUD/GBP will outperform over the remainder of 2020 because of solid Australian bulk commodity prices. Uncertainty about Brexit developments can support AUD/GBP in the near term. However, once Brexit uncertainty has passed, we expect some consolidation in AUD/GBP reflecting GBP's strong underlying fundamentals," says Joseph Capurso, Head of International Economics at CBA.
(Note that in the above quote the reference pair is AUD/GBP!).
Analysts at investment bank Morgan Stanley maintain a view that any setbacks to the Australian Dollar will however ultimately be temporary in nature, with the currency expected to be an outperformer in 2020.
"We think markets are overpricing the risks associated with the Victoria lockdowns. So far the growth impact is insufficient to break the narrative that Australian growth will top the G10 leaderboard in 2020," says David S. Adams, strategist at Morgan Stanley.
---
Exclusive Download: GBP/AUD Forecasts 2022
Highest, lowest and consensus forecasts from the world's biggest investment banks.

Includes point forecasts from Citi, JP Morgan, Nomura, Standard Chartered and more.
---
The domestic increase in covid-19 infections will unlikely have a negative bearing on AUD according to Adams, who notes the targeted local approach to the Victoria outbreak should ultimately prove successful and ensure a national lockdown remains unlikely.
"While the risk of a broad-based national lockdown remains a risk to watch, we think at this juncture the local theme of fiscal-monetary policy divergence (expansionary fiscal policy, austere monetary policy) and the global theme of risk-positivity should outweigh these concerns," says Adams. "In fact, if the regional lockdown proves successful at blunting the spread of the virus, we view this as a risk- and AUD-positive catalyst as it demonstrates that the risk of a full second wave may be overpriced."
A potential game-changer for the GBP/AUD exchange rate will of course be the signing of an EU-UK post-Brexit trade deal, which would deliver clarity to the UK's economic and political outlook. Analysts are largely in agreement that the Pound will struggle until such a deal is reached, but will likely rise thereafter.
Our reading remains that the ongoing contacts and negotiation rounds between the two sides are slowly closing the gap, and that a final push by EU leaders in the September-October leader will ultimately deliver the deal.
Such a development could mean GBP/AUD recovers much of its recent losses ahead of year-end, but until this point the AUD should tip the advantage.