South African Rand Hammered by Resurgent Dollar and Analysts Eye Further Losses
- Rand under pressure from resurgent Dollar and US yields.
- Public sector strike action and protests a challenge for Ramaphosa.
- More weakness in store as domestic and offshore environment sours.
© Natanael Ginting, Adobe Stock
The Rand fell deeper into the red mid-week as American bond yields continued their ascent higher, putting pressure on emerging market currencies right across the board.
The US Dollar reigns supreme over the entire global currency complex, leading some analysts to warn of further losses ahead.
Like all other emerging market currencies, South Africa's unit has a negative correlation with the Dollar and is especially sensitive to changes in American bond yields given the position of US Treasuries as the ultimate safe haven asset and their resulting influence over global funding costs.
This relationship has seen the Rand crushed under the weight of surging US treasury yields which, having risen to their highest level since the financial crisis so far into the new week, now trade above the crucial 3% threshold.
Markets fretting over an increase in the supply of US bonds, thanks to President Donald Trump's budget-busting tax reforms and other fiscal stimuli, and traders contemplating the possibility the Federal Reserve will step up the pace of its interes rate rises this year are seen behind the move.
"The Rand is weaker, currently at R12.36/$, alongside other emerging market currencies. This comes as the Dollar approaches 4-month highs, supported by rising US yields (US 10yr currently at 3%). The Rand has now reversed its year-to-date gains against the dollar," says Zaakirah Ismail, an FX strategist at Standard Bank, Africa's largest lender by assets.
Ismail says the Rand and South African bond markets will be susceptible to offshore events from here onward, given a sparse domestic economic data calendar, which could mean both are headed for further losses as many expect the US Dollar to remain on the front foot for the foreseeable future.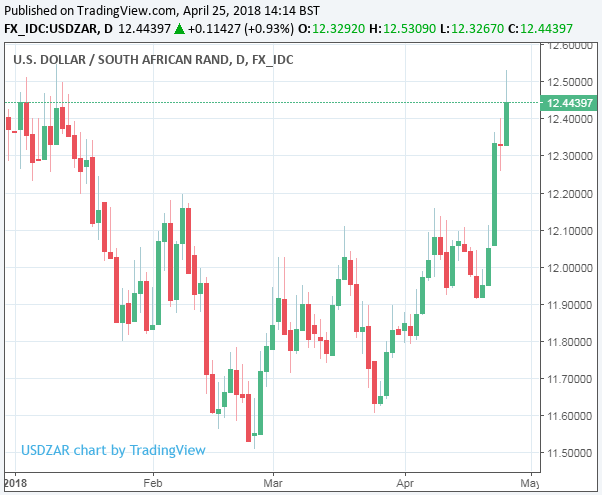 Above: USD/ZAR rate shown at daily intervals.
The USD/ZAR rate was quoted 1.34% higher at 12.49 during the noon session in London Wednesday, denoting a substantially weaker Rand, which has in turn allowed Sterling to push higher.
The Pound-to-Rand exchange rate rate was seen 1.1% higher at 17.42 and is now 4.65% higher so far in 2018.
Above: Pound-to-Rand rate shown at daily intervals.
"The Rand, like many of its EM counterparts, opens the day softer against the US Dollar, as global markets contemplate the likely impact of higher US Treasury yields on risky assets. A breach of USD/ZAR12.40 is not inconceivable as investors shy away from local stocks and bonds," says Nema Ramkhelawan-Bhana, a currency economist at Rand Merchant Bank.
Ramkhelawan-Bhana flags industrial strike action and protests that are set to take place Wednesday as additional reasons to think the Rand could fare poorly this week, because they place the government under pressure to loosen its purse strings at a time when Treasury is struggling to reign in a previously-spiralling budget deficit and international ratings agencies are keeping a close watch on the South African government and its credit rating.
6 arrested as protesters cause chaos in Cape Town, Overberg | @JennaEtheridge https://t.co/FaBIccyybX pic.twitter.com/IwwpxhPsEv

— News24 (@News24) April 25, 2018
Many of South Africa's public sector workers are on strike Wednesday and some may have taken to the streets in protest of the government's handling of the latest round of wage negotiations, which are set to yield pay increases that many unions have described as inadequate.
#NorthWest police says protest action has spread to the small farming town Sannieshof. Several shops were looted. #NorthWestProtests (@iavanpijoos) pic.twitter.com/1aBupMdMX6

— Team News24 (@TeamNews24) April 25, 2018
"The grouping has threatened mass action if the government fails to respond to their list of demands. These include: double-digit salary increases, amendments to housing allowances and the equalisation of wage structures across all spheres of public work. This is no easy feat for a government that is attempting to rein in public finances," says Ramkhelawan-Bhana, referring to a band of unions organising strike action Wednesday.
Public sector pay strikes come just two months after the February budget statement and early into the inaugural term of first-time President Cyril Ramaphosa. February's budget saw the government raise VAT taxes and pledge a range of austerity measures designed to reduce South Africa's budget deficit over coming years.
Beyond the 1% hike in the VAT rate, one of the key measures expected to bring the deficit down was below-inflation adjustments to public sector pay packs. These measures, alongside the resignation of former President Jacob Zuma, was central to Moody's March decision to leave South Africa's local currency investment grade credit rating intact.
"Demands of wage rises of up to 12% are likely to be seen to be excessive in view of tight public finances, in particular as inflation was surprisingly low recently at only 3.8%. With a view to the elections next year the strike and the wage negotiations might prove to be the litmus test for Cyril Ramaphosa," says Elisabeth Andreae, an analyst at Commerzbank. "In our view the rand will remain under downside pressure."
South Africa's Rand had risen by double digit numbers against the Dollar and Pound Sterling between December 2017 and March 2018 as markets became more optimistic that political and fiscal change would enable the country to cling onto its investment grade credit rating and beat a path back toward meaningful economic growth. But analysts began warning as soon as early February the Rand rally would soon give way to renewed weakness.
This is because, with the political transition done and credit rating preserved for the time being, South Africa must now deliver the goods of a lower budget deficit and faster economic growth - which is easier said than done.
Andreae and the Commerzbank FX team forecast the Rand will weaken further before the year is out, closing 2018 at 12.50 against the Dollar, and that it will fall steadily throughout 2019 to 13.30 before that year is done.
Advertisement




Get up to 5% more foreign exchange by using a specialist provider to get closer to the real market rate and avoid the gaping spreads charged by your bank when providing currency. Learn more

here

.