South African Rand's Recovery vs. Euro and Pound Seen Stalling into Year-End
The Rand won a stay of execution in November and, with the winds of political change blowing, newfound stability should prevail in December.
The South African Rand has recovered from its late November jitters and could now trade sideways for a while, but the outlook for early 2018 remains bleak argue ABSA.
Anticipation of a double-downgrade to South Africa's local currency sovereign credit rating drove the currency to fresh lows in November but a stay of execution from one ratings agency, Moody's, has helped it to pick back up in recent weeks.
Standard & Poor's did cut South Africa's local currency rating beneath investment grade. The currency has however since recovered but there are suggestions the recovery might be stalling, particularly against the Euro and Pound.
"The small real body patterns in EUR/ZAR and GBP/ZAR are helping our case for some temporary sideways action into the end of the week," says Judy Padayachee, a technical strategist at ABSA.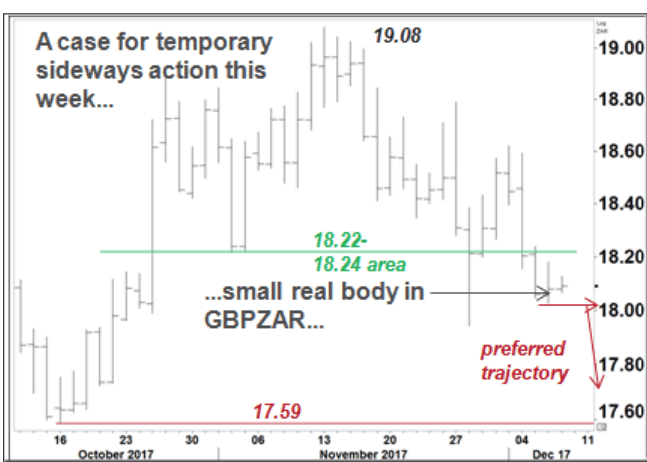 Above images (C) ABSA.
Technical analysis is a study of the underlying structure of a market - via charts - to anticipate future movements in a currency. Charts tend to tell us where levels of supply and demand are likely to lie, which traders in turn use to set their sell and buy orders.
Understanding this psychology hints at where the market might move.
"Our call is for to-and-fro action around the 13.50 level in USDZAR over the next day or two before another attempt is made to reach the 13.00-13.20 area in the new week," adds Padayachee.
That said, any upside for the Rand should see the USD/ZAR rate bottom out around the 13.00 level in December, from which point, the outlook becomes more challenging for the South African currency.
Padayachee and the ABSA team forecast a bearish trend higher toward the 15.00 level will unfold as the 2018 year gets underway.
"Similarly, we are medium term ZAR-bearish against the other majors and would be looking for turnaround signals near 15.65- 15.70/EUR, 17.60-17.65/GBP and 8.50-8.55/JPY over the next two weeks," Padayachee writes in a note to clients Thursday.
Medium term forecasts from Padayachee and the ABSA team are contingent on the Euro-to-Dollar rate topping out somewhere between the 1.2000 and 1.2200 area some time over the coming months.
Get up to 5% more foreign exchange by using a specialist provider by getting closer to the real market rate and avoid the gaping spreads charged by your bank for international payments. Learn more here.
Pivotal December
"A positive turn in local politics remains the main underpin to the Rand's appreciation. Mild headwinds include lower commodity prices and the strengthening US Dollar," says John Cairns, a strategist at Rand Merchant Bank.
December is a pivotal point in the backstory behind the South African Rand and the South African economy as delegates to the African National Congress party conference in December will choose a new party leader to fight the 2019 election - as the incumbent President Jacob Zuma will step down at the end of his term.
"Financial markets recent pricing suggests a slightly positive bias towards political change. We remain constructive on South African assets as the risk-reward is still asymmetric," says John Morris, a strategist at Bank of America Merrill Lynch, who holds a more positive outlook for South Africa.
Voting for a new and reformist leadership is seen as critical by international markets, if confidence in South African politics, national finances and general economic governance is to be improved. Meanwhile, and for some time after, ratings agencies will be watching developments in politics and the economy closely.
"Into 2018, cyclical domestics can still perform well in dollars on a positive ANC election outcome. The ZAR is hinting at our 'higher growth' path, but bonds are pricing in our 'baseline' scenario due to bond selling pressure. This presents an opportunity into bonds and cyclical domestics," says Morriss.
If South Africa fails to chart a more sustainable path for its public finances in the months ahead, the Rand could suffer as the country's credit status officially becomes "junk" and it faces ejection from the Citi World Government Bond Index.
Ejection from the index will mean investment grade credit funds, and many other kinds of investors, will not be able to hold South African government bonds. This is something that could force borrowing costs higher, exacerbate the budget deficit and make it more difficult for the country to raise finance.
The Rand was broadly weaker on Thursday, thanks largely to a stronger Dollar, which led the USD/ZAR pair to rise 0.75% to 13.6359. The Pound-to-South-African-Rand rate rose 0.68% to 18.2470 during the morning session.
Get up to 5% more foreign exchange by using a specialist provider by getting closer to the real market rate and avoid the gaping spreads charged by your bank for international payments. Learn more here.