Rand hits Multi-Year Best Against Pound as Carry Trade Returns with a Vengeance
The South African Rand has traded towards its best levels against the British Pound since 2013 as global investors seek out the country's superior interest rate yield.
The Pound to Rand exchange rate (GBP/ZAR) has this week fallen to its lowest levels since October 2013 having recorded a conversion of 16.0685 in mid-week trade.
Ahead of the weekend the pair is quoted at 17.2722.
Yes, there was a brief spike below this level in October 2016 owing to the Pound's flash-crash event but this was a technical failing of the market as opposed to a more fundamental issue of valuation.
So why has the Rand hit a multi-year high against the Pound in mid-February 2017?
Of course the obvious explanation most observers would be tempted to default to is Brexit, but Brexit would not explain why the UK currency has performed better against both the Euro and US Dollar in 2017.
Indeed, risks surrounding the event have fallen in prominence since Theresa May received Parliamentary approval to proceed with her plan to trigger Article 50 in March. There is simply more certainty surrounding the process which suggests the worst might just be over for Sterling in this regard.
There is something else in play when it comes to GBP/ZAR; and a clue can be found in the outperformance of the Australian Dollar which is also threatening to push Sterling to recent multi-year lows.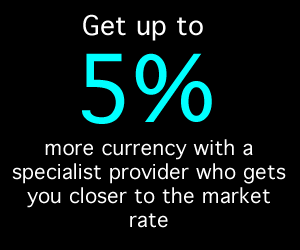 The Return of the Carry Trade
What Australia and South Africa have in common is a high basic interest rate when compared to the United Kingdom.
The basic rate at the Bank of England is 0.25%, at the Reserve Bank of Australia it is 1.5% and at the South African Reserve Bank it is 7.0%.
If you could borrow at 0.25% and earn interest at 7%, would you not do it? It's money for nothing.
Of course that is not strictly true as there are risks that the Rand falls, in which case your investment would be wiped out.
But investors certainly are doing it at present having observed that the risks of the so-called carry-trade have receded in 2017.
"Carry trade investors typically look for higher yielding currencies with low volatility – effectively trying to avoid the currencies where big daily swings can wipe out several weeks/months of yield gains," says Christopher Turner, Global Head of Strategy at ING Wholesale Banking in London.
The Carry-to-Risk ratio is a popular method to assess this.
ING we look at the implied 3m yield on a variety of EM currencies and adjust them by 3m traded volatility – a gauge of expected volatility.
INR, BRL and RUB look the most attractive on this measure currently.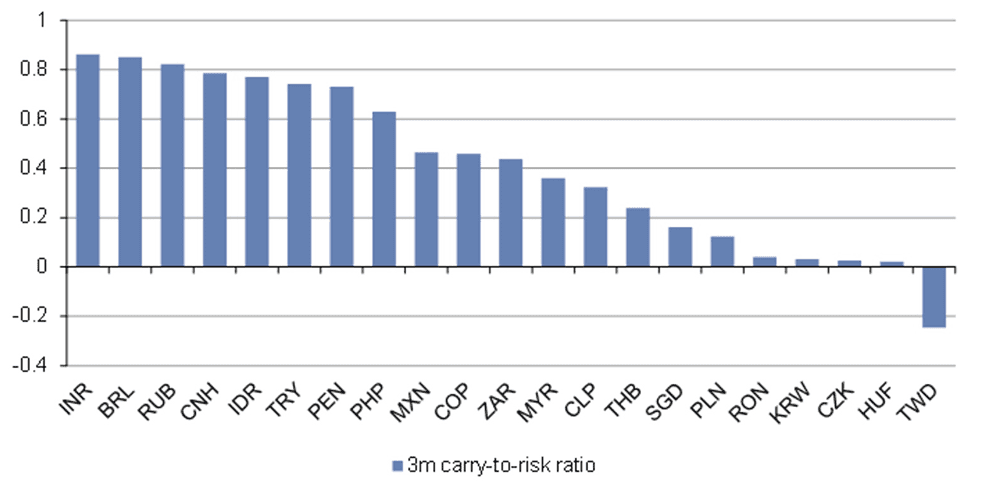 But, an assessment of the risks surrounding ZAR are also favourable, and it is not just against the Pound where the currency is profiting - the Euro, US Dollar and Yen are other candidates as funding currencies for the carry trade owing to the low interest rates on offer.
"The current environment has been favourable for carry currencies;" says Tejas Sathian at UBS in London.
Sathian says US Federal Reserve Chair Yellen's testimony to the US senate this week should help maintain this environment as there is no sense of urgency to hike rates rapidly in a way that would destabilise emerging market currencies.
Investors generally turn to carry at times of rising growth prospects and lower volatility.
That the US is likley to maintain a gradual path of interest rises helps this stability.
Currently global growth forecasts are in the process of being revised higher with the IMG seeing 2017 and 2018 growth at 3.4% and 3.6% versus 3.1% in 2016.
"FX carry trades are starting to perform strongly, driven by expectations of synchronised global growth and a sense that carry can perform during a Fed tightening cycle – as it did over a decade ago. With cash levels still quite high and investors seemingly underweight EM, we would expect selected carry funded equally out of weighted USD, EUR and JPY to continue to perform well," says Turner.