Next Target for the Pound to New Zealand Dollar Rate Looms

The GBP/NZD exchange rate retains a positive bias now that it has overcome the 100-day moving average on the daily charts.
Pound Sterling was an outperformer at the start of the new month thanks to developments concerning Brexit.
The GBP/NZD broke higher to reach 1.7944 on the inter-bank markets amidst a flurry of demand for the UK currency.
It has since retraced to 1.7790 having lost steam late in the session, nevertheless the bias remains positive from here.
Sterling benefited after it was revealed on December 1 that the Government was considering paying the EU for access to its single market in order to ensure the UK economy does not suffer from any restrictions imposed on it once it leaves the club.
The Secretary of State for Leaving the European Union, David Davis, told lawmakers that he wanted to secure the best possible access for goods and services to the European market.
During questions in the House of Commons, Labour MP Wayne David asked if the Brexit secretary would "consider making any contribution in any shape or form for access to the single market".
Davis responded, "the major criterion here is that we get the best possible access for goods and services to the European market. And if that is included in what he is talking about, then of course we would consider it."
The comments put a rocket under the Pound which will benefit from a key layer of uncertainty about the future being removed.
"The remarks could be a sign that the government still might try to avoid what is known as a hard Brexit and instead settle for a more compromising exit," says Thomas Nilsson at SEB. "The advance shows how sensitive the Pound currently is to comments regarding the future relationship the UK will have with the EU."
Latest Pound / New Zealand Dollar Exchange Rates
* Bank rates according to latest IMTI data.
** RationalFX dealing desk quotation.
Pound / New Zealand Dollar Uptrend Strengthens
For GBP/NZD, the outlook now firmly favours Pound Sterling in the near- to medium-term.
We observe the exchange rate breaking above the 100-day moving barrier (the red line below) for the first time since May.
Such a move signals that price pressures are building to the upside and will encourage further buying interest from technical traders who require such confirmations.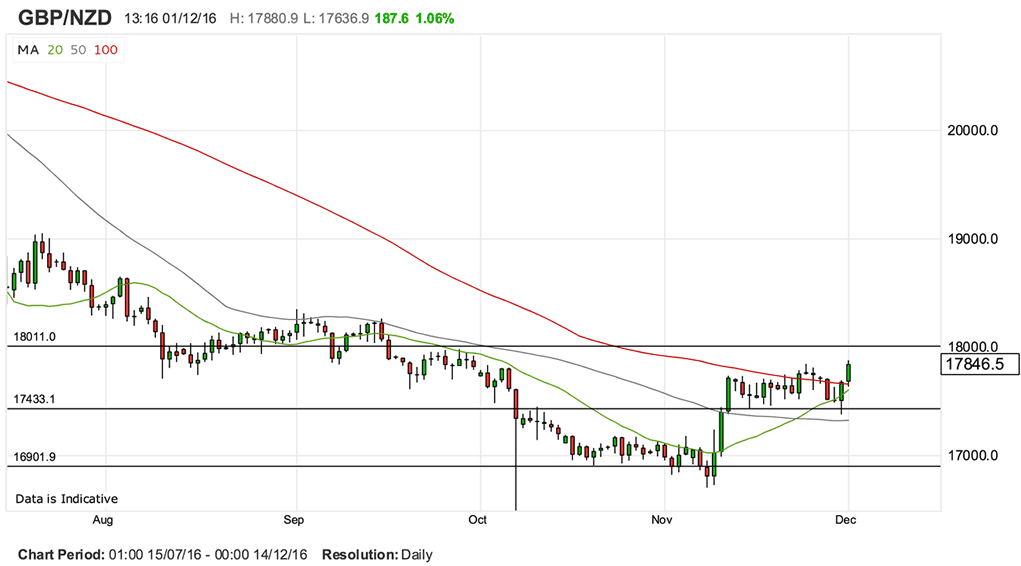 However, we are wary that that 1.80 level looms large in the headlights - we have seen this level provide solid resistance to Sterling in the past.
Back in late September Sterling was unable to break above here on numerous attempts confirming solid offers at this level.
Therefore we would imagine consolidation to set in once here.
But note, this time around GBP/NZD approaches the level with the benefit of positive momentum, signalled by that break of the 100-day moving average.
We reckon chances of an extension beyond here are decent enough.