New Zealand Dollar to be Supported in 2019 say MUFG, see "Little Prospect of a Rate Cut" at RBNZ
Image © Adobe Stock
- NZD advances as WSJ says U.S. & China close to lifting tariffs.
- MUFG says to rise further against USD, fall against GBP, in 2019.
- As RBNZ to defy market pricing by not cutting interest rates at all.
The New Zealand Dollar advanced across the board on Monday and could go on trending gently higher throughout 2019, according to the latest forecasts from analysts at MUFG, who say there's little prospect of a Reserve Bank of New Zealand (RBNZ) rate cut this year or next, a position that puts them at odds with the broader market.
New Zealand's Dollar is up 1.44% against the U.S. greenback but that performance disguises a number of steep ups and downs to have already been seen by the Kiwi currency thus far in the 2019, and is a world away from the losses encountered back in 2018.
Monday's positive price action came after The Wall Street Journal reported that negotiators are close to sealing a deal to end the U.S.-China trade war, claiming that an accord could be signed by Presidents Donald Trump and Xi Jingping before the end of March.
"The NZD and the AUD are benefitting from [Chinese-sourced] headlines which suggested that US/China talks are nearing a deal that would involve the rollback of tariffs," remarks Stephen Gallo, European head of FX strategy at BMO Capital Markets. "A complete rollback of tariffs in the near future would come as a complete shock to us."
Monday's headlines lifted the Kiwi because New Zealand has a substantial trade relationship with China and the latter's economy was hobbled last year by White House tariffs targetting around $250 bn of goods it exports to the U.S. each year. The Journal claimed Monday those tariffs might be removed this month.
With the trade war aside, speculation over the direction of the RBNZ's main interest rate explains most of the other peaks and troughs seen by the Kiwi Dollar exchange rates in recent times, and MUFG says the market's view of the RBNZ outlook is far too pessimistic.
"We view the New Zealand rates market priced with a rate cut probability as overdone and while inflation risks remain muted, the economy is set to continue expanding by 3.0% this year. The RBNZ did lower its rate hike projection modestly in the Monetary Policy Statement in February but absent of an external shock we see little prospect of a rate cut. A modestly stronger NZD throughout this year appears likely," says Derek Halpenny, head of research at MUFG.
Interest rates matter for currencies as expectations for higher interest rates in the future tends to act as a magnet for international capital seeking out superior returns. The New Zealand Dollar has benefited for many years as the country's basic interest rate at the RBNZ has been higher than the rate on offer at other developed market central banks, however with other central banks now raising rates the Kiwi's advantage on the interest rate front has started to wane.
An interest rate cut at the RBNZ would therefore prove to be a negative for the currency.
Above: NZD/USD rate shown at daily intervals.
Halpenny says that recent downgrades by Statistics New Zealand of its earlier estimates for net migration into New Zealand mean that Kiwi wages should be more responsive to each incremental fall in the unemployment rate over the coming quarters.
Kiwi unemployment actually rose by almost 9% during the final quarter of 2018, taking the unemployment rate up to 5.3%, so there are few grounds for thinking that Kiwi wage growth will lead a pick-up in inflation pressures any time soon but MUFG says lower migration will keep RBNZ hopes of meeting its inflation target alive for timebeing.
This, and healthy rates of economic growth in 2019, should be enough for policymakers to feel confident that an interest rate cut will not be necessary. A gradual realisation on the part of the market that Kiwi interest rates will not be cut this year or next should provide the New Zealand Dollar with a boost over the coming months.
That's because the cash rate implied in the overnight-index-swap market for Wednesday 13, November this year was just 1.6% on Monday, suggesting investors currently see a high probability of a rate cut coming before year-end. The RBNZ's current cash rate is 1.75%.
"The labour cost index increased 2.0% on an annual basis in Q4. A downgrade to net immigration over the past four years of 45,000 will reinforce the potential for wages to pick up from here," says Halpenny.
Halpenny and the MUFG team say the NZD/USD rate will likely finish the 2019 year up around 0.71, which is almost 5% above Monday's level of 0.68. However, MUFG forecasts steep losses for the Kiwi relative to Pound Sterling due to an anticipated resolution of the Brexit saga playing out in the UK.
They say the Pound-to-Kiwi rate will hit 2.01 by year-end, which has been rarified territory on the charts ever since the Brexit referendum of June 2016 and would be up from the 1.93 level that prevailed on Monday.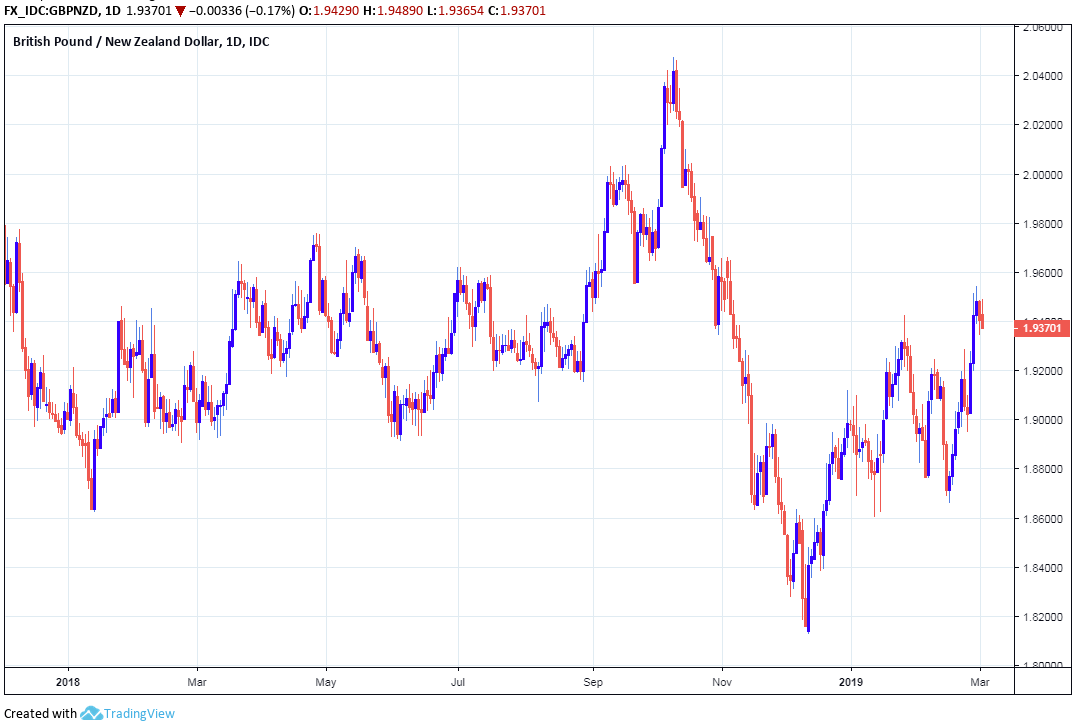 Above: Pound-to-New-Zealand-Dollar rate shown at daily intervals.
Time to move your money? Get 3-5% more currency than your bank would offer by using the services of foreign exchange specialists at RationalFX. A specialist broker can deliver you an exchange rate closer to the real market rate, thereby saving you substantial quantities of currency. Find out more here.

* Advertisement