New Zealand Dollar is Top Dog, but the Pound Can Still Claw Back More Ground over Coming Days
- GBP/NZD falling after better NZD confidence data
- Pull-back likely to fade and uptrend continue
- Break above December 6 highs confirmation level
The Pound-to-New Zealand Dollar exchange rate is trading in the 1.84s, at the time of writing, thanks largely to the broad-based rally in the New Zealand Dollar complex we are witnessing at the time of writing.
The Kiwi Dollar is in charge thanks to a healthy rebound in business confidence reported on December 18 suggesting a brighter 2019 for the domestic economy.
The ANZ business confidence index rose to -24.1 from -37.1, the highest since April, suggesting businesses are finally starting to put behind them the negativity prompted by the installation of the Labor government in October 2017.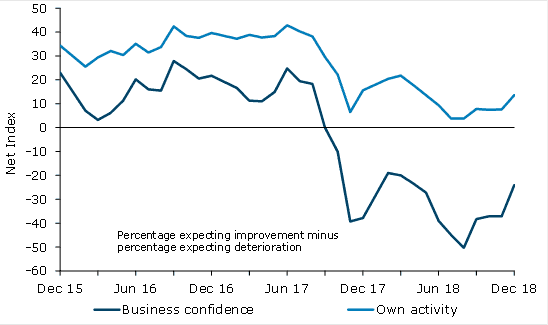 Yet, fear of regulation still remains the second-biggest problem cited by businesses when surveyed.
The important activity outlook index rose to 13.6 from 7.6, a 7 month high.
Business confidence has been a soft spot in the NZD's domestic environment, and news that it is improving is certainly constructive for the New Zealand Dollar longer-term.
"Despite strong activity levels, profitability doesn't seem to be where firms would prefer it to be. Concerns about costs are evident, yet pricing intentions are modest. There is a degree of wariness, but the sky hasn't fallen. Firms on net are now once again intending to employ and invest," says Sharon Zollner, Chief Economist with ANZ.
All eyes now fix on Thursday's GDP data release.
Looking at the GBP/NZD's technical outlook, we note the pair is now pulling-back after recently breaking bullishly above a major trendline.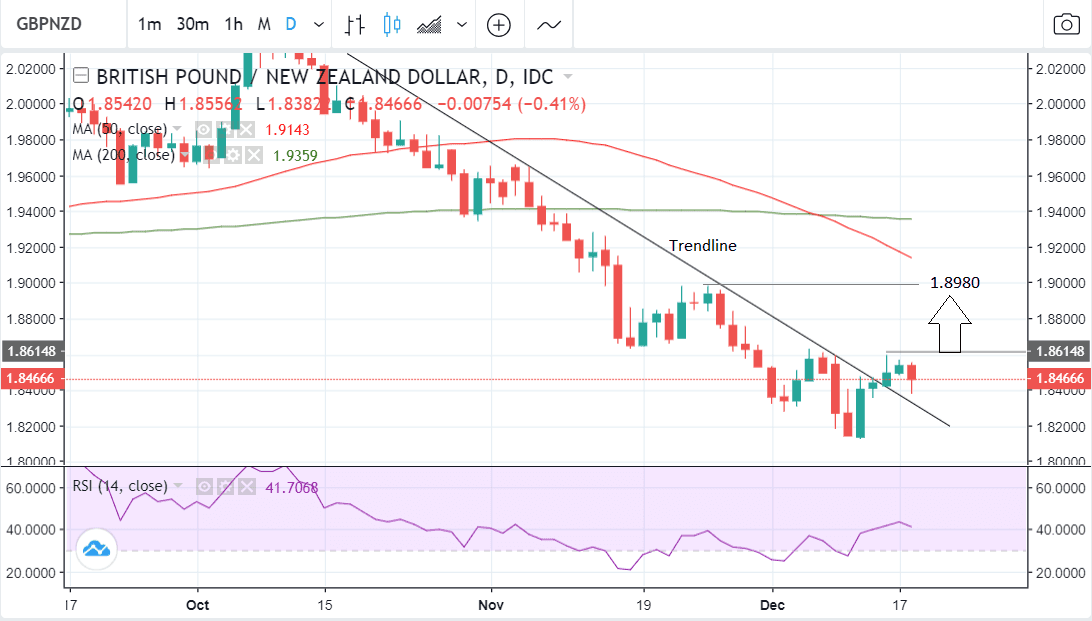 The pair broke above the trendline several days ago and then rose up and almost hit its expected upside target at the November 6 highs - calculated by taking the length of the rally prior to the break and extrapolating it higher.
Despite the target now being met, the odds still favour a continuation of the short-term uptrend, as long as the pair can successfully pierce back above the 1.8634, December 6 high.
The RSI momentum indicator in the lower panel is providing further supporting evidence for a bullish call. The RSI is currently above the level it was at on December 6 when the exchange rate was trading in the 1.86s. This indicates possible 'pent-up' energy could be released in further rallies.
In the very near-term, however, GBP/NZD could continue to pull-back. The correction will probably stop at the trendline, pause, and then thrust higher again. Technical analysts call such pull-backs 'throwbacks', and they offer traders low-risk buying opportunities.
Advertisement




Bank-beating GBP/NZD exchange rates. Get up to 5% more foreign exchange by using a specialist provider to get closer to the real market rate and avoid the gaping spreads charged by your bank when providing currency. Learn more

here