The Pound-to-New-Zealand-Dollar Rate in the Week Ahead: GDP Data to be Decisive for Outlook
Image © Rafael Ben-Ari, Adobe Images
- Wednesday's third-quarter GDP marks Judgement Day for NZD.
- 0.7% growth or higher needed to ward off RBNZ rate cut in 2019.
- GBPNZD to fall if data is strong, but may not capitalise on weakness.
The New Zealand Dollar fell to a December low last week after a slew of dire Chinese economic figures dented investor appetite for so-called risk currencies, and the outlook for the currency could easily deteriorate again this week.
New Zealand's Dollar fell after an earlier technical correction was exacerbated by Friday's poor Chinese economic numbers.
But Sterling's own unique weakness, driven by another farcical development in the Brexit process, saw the Pound-to-Kiwi rate little changed last week.
Above: Pound-to-Kiwi rate shown at hourly intervals.
"The kiwi's star has faded after last week's sell-off and its brief status as strongest G10 currency is likely done for now. NZDUSD posted a sharp technical reversal on Friday in falling well back below the 200-day moving average," says John Hardy, chief FX strategist at Saxo Bank.
Looking ahead the Kiwi has scope to extend losses this week if third-quarter GDP data due at 21:45 on Wednesday fails to reveal a sufficient pick-up in growth. But a simultaneous Federal Reserve (Fed) rate decision is a wild card.
The Reserve Bank of New Zealand (RBNZ) warned in August it will cut interest rates if the growth outlook does not improve during the second half of the year, which means markets will scrutinise this week's number closely.
Consensus is for the economy to have grown by 0.6% during the third-quarter, down from 1% previously, which is beneath the 0.7% growth some analysts have said the RBNZ will want to see.
"Our pick for GDP is a little lower than the RBNZ incorporated in the November MPS (0.7% q/q). Combined with the higher exchange rate and weaker oil prices, this is likely to see the outlook for inflation revised a little lower in the February MPS, based on what we know so far," says Sharon Zollner, chief economist at Australia & New Zealand Banking Group.
Zollner forecasts growth of just 0.5% for the third-quarter, which she says will drag the annual growth rate down by 10 basis points to 2.7% and will place a further question mark over whether Kiwi inflation will ever return to the upper end of the 1%-to-3% inflation target band.
That is not what the RBNZ will have hoped to see. If Zollner is right then the market could easily begin contemplating the odds of the RBNZ cutting rates early in the New Year, which would be sure to send the Kiwi Dollar tumbling back toward the 2018 low of 0.6420 against the U.S. Dollar seen in October.
However, the Federal Reserve interest rate decision due at 19:00 London time Wednesday could see the U.S. central bank signal a 2019 pause in its rate hiking cycle, which would be negative for the U.S. Dollar even if the Fed does lift rates this week. That might provide the Kiwi currency a cushion to rest on as the market digests the third-quarter GDP number.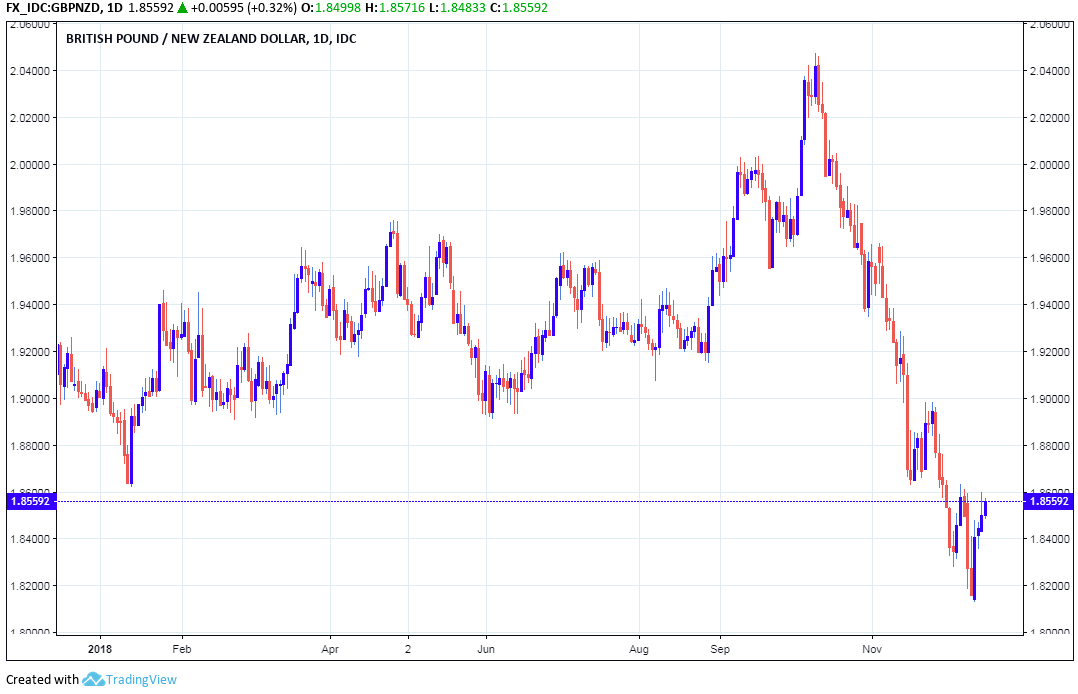 Above: Pound-to-New-Zealand-Dollar rate shown at daily intervals.
The Pound-to-Kiwi rate was 0.47% higher at 1.8554 on Monday but has now fallen by -2.2% for the 2018 year.
The NZD/USD rate was 0.20% higher at 0.6800 and is now down just -3.9% for 2108 after paring an earlier -8% loss.
Above: NZD/USD rate shown at daily intervals.
A stron performance from the economy during the recent quarter could easily force the Pound-to-New-Zealand-Dollar rate lower into year-end.
But regardless of how bad the GDP print might be and irrespective of what the Fed does, analysts say the Pound rate will struggle to capitalise on any losses endured by the Kiwi given continuing uncertainty over the Brexit process.
"October's rally shows no signs of fizzling out (apart from being stretched), and could breach 0.5500. GBP is the worst G10 currency over the past month, a reflection of the Brexit chaos which shows no sign of abating soon," says Imre Speizer, a strategist at Westpac.
Prime Minister Theresa May survived a leadership challenge last week but she still lacks enough support in parliament for her Brexit Withdrawal Agreement to make it onto the statute book.
With parliament's vote on the bill delayed until mid-January, fears of an exit from the EU on World Trade Organization terms could grow further still over coming weeks, weighing on the Pound.
"Either we get a friendly Brexit which would push NZD/GBP to 0.5100 in Q1 2019, or it's hostile and we see 0.5500+," Speizer writes, of the NZD/GBP rate, in a note to clients.
Speizer says the Pound-to-Kiwi rate could fall as low as 1.81 before the end of March 2019 if the UK leaves the EU and defaults to trading with it on World Trade Organization terms. But that it could rise to 1.96 if the Withdrawal Agreement passes through the House of Commons in January.
Advertisement




Bank-beating exchange rates. Get up to 5% more foreign exchange by using a specialist provider to get closer to the real market rate and avoid the gaping spreads charged by your bank when providing currency. Learn more

here