Turkish Lira Steadies on Reports of Detente with Washington but is Still Vulnerable
- Lira recovers after news of diplomatic gesture from Ankara.
- Central bank remains on sidelines amidst chorus of disapproval.
- GBP/TRY peaks above 7.0 on Monday following heavy Lira losses.
- Special measures, capital controls, IMF intervention all threaten Lira.
© Goodpics, Adobe Stock
The Turkish Lira recovered marginally on Tuesday after the previous day's meltdown, leading the Pound-to-Lira rate to pause in the wake of Monday's record highs, which marked the Turkish currency's worst bout of devaluation in modern history.
The pair's pull-back to 6.8458 at the time of writing came after reports diplomats are travelling from Ankara to Washington in order to patch up relations between Turkey and the US.
A diplomatic spat between the two has been one of the underlying causes behind the currency crisis. The Turkish Lira had fallen for 7 consecutive days beforehand and is now down by over 20% in 2018.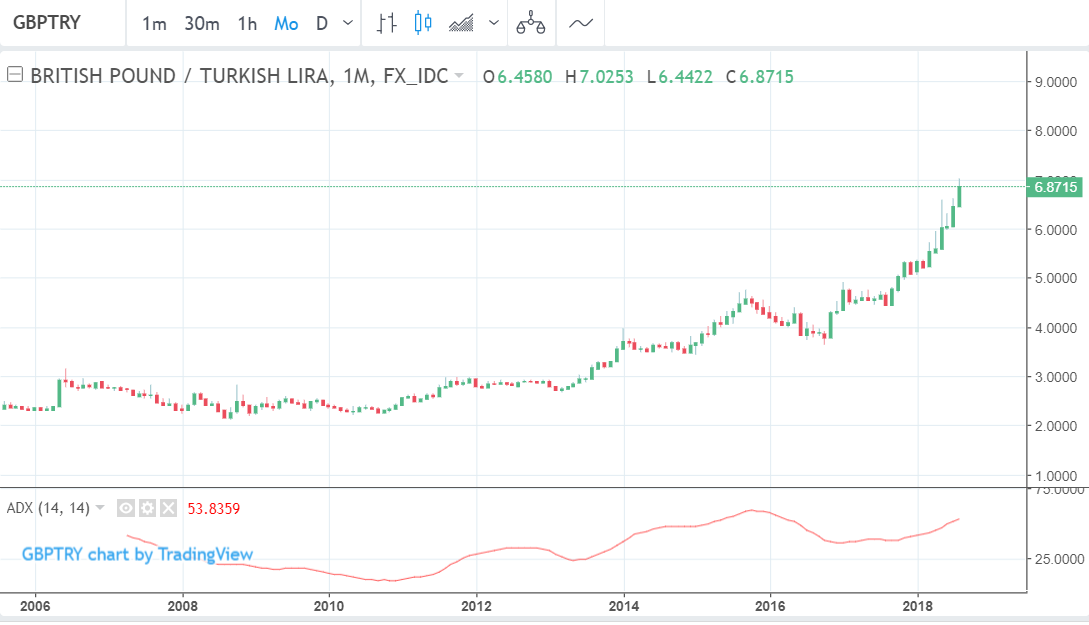 Above: GBP/TRY rate shown at monthly intervals.
Relations between the US and Turkey have worsened ever since Turkey expressed outrage at US support for Kurdish militants fighting against "ISIL" in Syria. Turkey says the militants in question are connected to the Kurdistan Workers Party, or PKK, which is classified as a terrorist group in Washington, Brussels and Ankara.
Most recently, however, it is the detention of US pastor Andrew Brunson that has caused problems - and triggered the latest meltdown in the Lira. Turkey charged Brunson with colluding with terrorists following a failed coup attempt in July 2016. The pastor claims he is innocent.
US officials have called for his release and imposed sanctions on two Turkish ministers thought to have played a role in his detention. President Trump has also spoke out on Pastor Brunson's behalf.
Pastor Andrew Brunson, a fine gentleman and Christian leader in the United States, is on trial and being persecuted in Turkey for no reason. They call him a Spy, but I am more a Spy than he is. Hopefully he will be allowed to come home to his beautiful family where he belongs!

— Donald J. Trump (@realDonaldTrump) April 18, 2018
On Monday the Lira underwent a fresh bout of selling after the news that the central bank (CBRT) relaxed reserve rules in order to boost Turkish banks' Dollar liquidity, in an effort to support the banking system through the currency crisis. Markets saw the move as insufficient and confirmation the CBRT's hands are being tied by president Erdogan.
Erdogan has consistently pressured the CBRT to keep interest rates low, in order promote growth, despite a breakneck rise of inflation that requires higher rates in order to be brought under control. Higher interest rates would also counter the decline of the Lira by encouraging greater inflows of capital into Turkey.
Although the Lira recouped some losses Tuesday morning, it gave back much of its gains in response to speculation the country may eventually need to impose capital controls, or reach out to the International Monetary Fund for help.
The introduction of capital controls is seen as a last resort strategy used by nations who are experiencing capital flight. They would enable the government to limit or even block the movement of capital out of the country.
"Desperate measures are in the air in Turkey: trading rooms are awash with talk of a bailout by the International Monetary Fund and potential capital controls," write Constantine Courcoulas, Onur Ant, and Tugce Ozsoy, correspondents for Bloomberg News.
The spiralling Lira is causing major problems for the Turkish economy, which relies heavily on foreign loans to balance its deficit. As the Lira weakens those loans become more expensive to service and lenders may become more reluctant to extend further credit.
As a result Turkish government bonds have fallen over 38% in value since the start of the year, even more now than those of Argentina.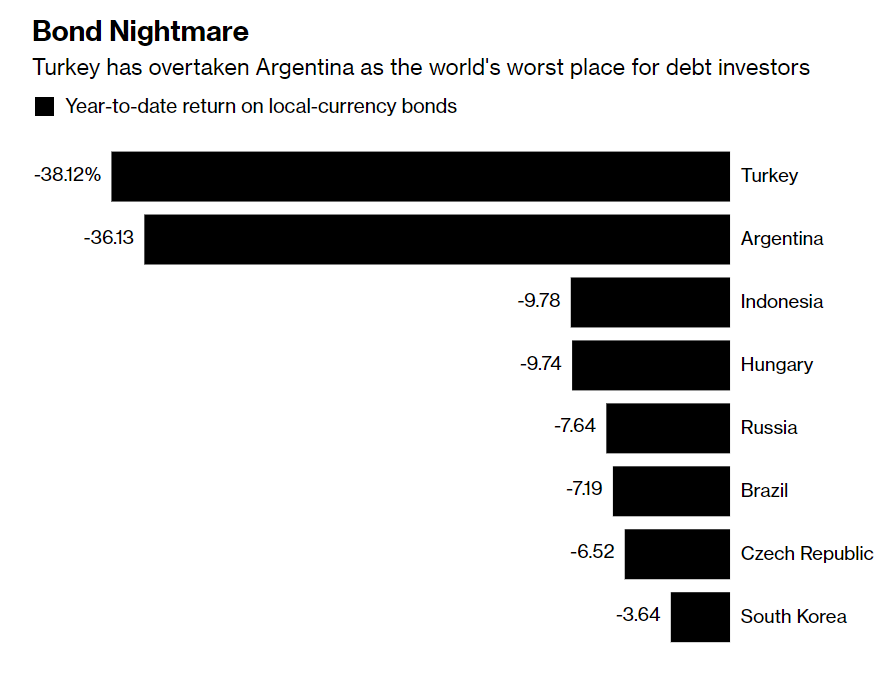 Above: Turkish bond return relative to those of other emerging markets.
"I think the US has Turkey over a barrel here, and Turkey needs to respond. Mr Erdogan has to swallow his pride and make friends again with the US," says John Hardy, head of FX Strategy at Saxo Bank. "Otherwise we are heading towards either a default or capital controls which can be very damaging for a very long time."
The Turkish currency and the economy are in a downwards spiral and unless the CBRT raises interest rates quickly to stem the slide the situation could end in a default or the imposition of special measures by the IMF.
"The window is rapidly closing here. Dwindling net reserves that can be mobilised to stem the flow.. I think the climax point is here for the Lira and it is 'either or' scenarios within the next perhaps - and this is a guess not a prediction - within the next 10-days trading window," adds Hardy, in an interview with Bloomberg News. "The idea that an economy exposed to foreign debt does not have to hike interest rates to stem the nature of this crisis is misguided and his (Erdogan's) response has been poor on all fronts, in increasing foreign confidence."
Advertisement
Get up to 5% more foreign exchange by using a specialist provider to get closer to the real market rate and avoid the gaping spreads charged by your bank when providing currency. Learn more

here
Featured Content
Mortgage Direct - a Spanish mortgage broker specialising in the provision of mortgages for expats - have confirmed they have secured their Spanish license.