Pound Sterling Forecasts at Most Optimistic Since EU Brexit Referendum Shows New Poll
- Majority of economists bullish on GBP/USD prospects
- GBP/EUR seen confined to longer-term range
- Poll comes as traders are seen to be most bullish on Sterling since July 2014
Image © Goroden Kkoff, Adobe Stock
A poll of forecasts for the British Pound made by institutional analysts shows expectations for the currency are at their highest since the June 2016 vote to leave the European Union amidst broadening agreement that the UK currency can continue to climb higher.
The latest Reuters poll on Sterling projections found the improvement comes "partly as a result of optimism driven by progress in divorce talks and expectations of another interest rate rise next month."
Over 50 foreign exchange strategists took part in the poll.
However, the improved projections in the Pound-to-Dollar exchange rate are said to be largely as a result of expectations for the Dollar to keep heading lower, something it has been doing since the start of 2017, with more pressure expected amidst the growing US-China trade spat.
Trade tensions escalated on Friday, April 6 as Donald Trump sought to place an additional $100BN worth of tariffs on Chinese goods - a reciprocation to China's reciprocation to the first tranche of tariffs levied by Trump.
Despite the Dollar appearing to be in the diving seat, the analyst community are nevertheless more optimistic on Sterling's prospects in light of recent performance and clearing of Brexit uncertainty and this is the 10th consecutive monthly Reuters poll where the 12-month forecast was revised up.
The latest survey shows the forecast for the GBP/USD exchange rate is 1.44 in one years time from now.
The one month forecast shows GBP/USD at 1.40 and in six months at 1.42, all stronger than predicted in March, according to the April 3-5 poll.
"We think the appreciation of the Pound since October has some room to run. Indeed, our expectation of [economic] growth of 2% or so this year, compared to the notably gloomy consensus forecast of about 1.5%, points to an appreciation of sterling ahead," says Jonathan Loynes, chief economist at Capital Economics who is expecting GBP/USD to rise to 1.45 by end-2018.
Seven contributors had forecasts of 1.50 or higher, the most since before the referendum.
"Sterling found firmer footing following the announcement that the terms of a transition deal have been agreed. In our view, the pound is likely to move higher in the months ahead, supported by a relatively stable outlook for the economy together with a firmer tone and tighter monetary policy from the BoE. We believe that sterling can trade as high as 1.48 against the USD in 12 months," says Dean Turner, an Economist with UBS AG.
With regards to the Pound-to-Euro exchange rate, the Pound is expected to ultimately retain a sideways orientated path and be at 1.1360 in a year's time.
"The only sensible conclusion to draw is that the pair is being pulled in opposing directions in an environment in which participants have relatively low conviction on the medium-term outlook," says Gajan Mahadevan, a quantitative strategist at Lloyds Bank. (More details of Lloyds' views can be found here).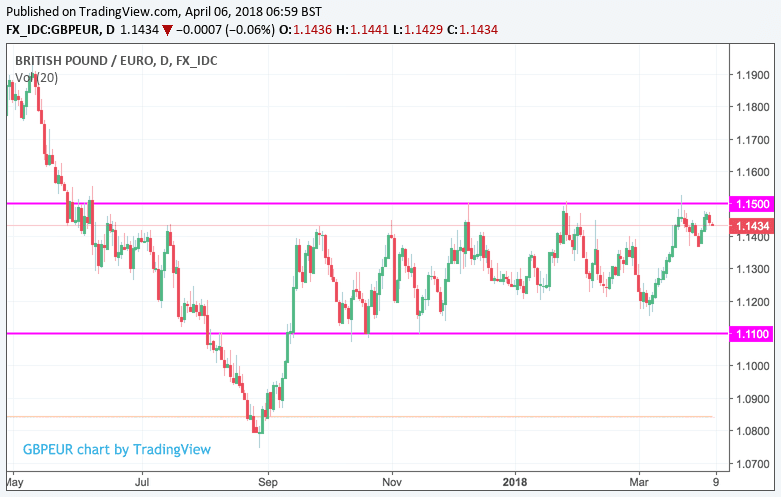 But, the problem with saying the Euro and Pound will be more-or-less at the same place in one year from now is that a Brexit deal will have finally been settled by this time, and it is this deal that will trigger a directional move in Sterling-Euro we are told.
"I look at FX, and if you look at Euro-Sterling it's done absolutely nothing, it's a crushing ball, so yeah, we talk about it but FX is saying show me the money, show me a deal," says David Bloom, HSBC's head of foreign exchange research.
Bloom says the market is likely to remain caught around current levels until such a time as some real news on Brexit is made forthcoming. "The UK is renegotiating its position with the EU, let's look at Sterling against the Euro and if you look at that it's as dull as dishwater," says Bloom, "we're waiting for something to happen".
Advertisement


Get up to 5% more foreign exchange by using a specialist provider to get closer to the real market rate and avoid the gaping spreads charged by your bank when providing currency. Learn more here.
Traders Betting on a Stronger Pound
The Reuters poll comes as bets in favour of Sterling rose to a multi-year high last week with the latest level of net long position not seen since July 2014, according to Commodity Futures Trading Commission data.
The most recent data from the CFTC - the largest report of its kind and the best insight into how market participants are betting - shows traders have added exposure to the British Pound with the view that it was likely to extend higher.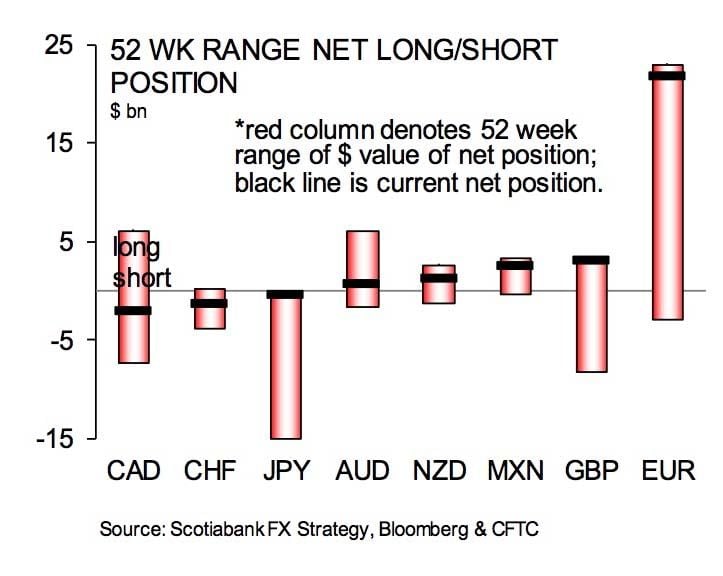 The CFTC's latest Commitments of Traders report shows the value of contracts that are "long" on the Pound stand at $3.0bn. Being "long" is trader parlance for betting on a rise in a particular asset. Data shows there is now a 34k net long position, which represents a fresh multi-year high at levels last seen in July 2014.
"Longs jumped nearly 50% last week to 34,176 contracts, highest since July 2014, highlighting bullish sentiment," says Kenneth Broux with Société Générale. Back in 2014 the Pound charged higher against both the Euro and Dollar, with the Pound-to-Euro exchange rate hitting an high at 1.2873 and the Pound-to-Dollar exchange rate peaking at 1.7191.
Advertisement


Get up to 5% more foreign exchange by using a specialist provider to get closer to the real market rate and avoid the gaping spreads charged by your bank when providing currency. Learn more here.
Featured Content
Mortgage Direct - a Spanish mortgage broker specialising in the provision of mortgages for expats - have confirmed they have secured their Spanish license.