Deutsche Bank Turning More Optimistic on Pound Sterling, Hints at Upgrade in GBP vs. EUR Rate for 2018
Theresa May has brokered an agreement that moves Brexit negotiations onto the question of a transitional period and trade leaving analysts to reassess the likely impact on the British Pound.
With a tacit agreement that "sufficient progress" has been made opening the way to the next phase of Brexit talks, the Pound is expected to enjoy a renaissance in the new year when progress to phase II is officially ratified suggests a new analysis on the currency from global currency dealing giant Deutsche Bank.
"We see some structural upside for GBP if a transitional deal emerges early next year along with a re-rating of the growth outlook," says Deutsche Bank Analyst Oliver Harvey.
Until then, however, there remains too much political uncertainty both from rebels in Theresa May's own party attempting to scupper the negotiation process and from getting all 27 EU members to ratify the deal, and this leads to Harvey advocating traders should close their Sterling long positions ('long' meaning bets it will go up) and wait until January before deciding what to do next.
"We, therefore, take a profit on our short EUR/GBP recommendation and will revisit the sterling outlook at the January Blueprint," says Harvey.
Deutsche Bank strategists had been advocating traders take advantage of the Euro's expected strength against Sterling in the current climate of Brexit-inspired uncertainty.
The progress seen in recent talks leads them to believe the case for expecting further Euro strength has waned. Indeed, the Euro has fallen to fresh 5-month lows against the Pound in the wake of agreement between Brussels and London and is quoted at 0.8749 at the time of writing.
Next Phase..
The first step of the next phase of talks will be to agree a transitional agreement keeping the UK as a de facto member of the EU for a further two years up until 2021.
European Council President Donald Tusk told reports in Brussels on Friday morning that the U.K. and E.U. must now immediately move on to issues of transition, for the sake of businesses on both sides of the channel.
Tusk proposes the UK will respect the whole of EU law including new law, respect monetary commitments and all related obligations.
If a transition deal is indeed approved early next year it should allow the Bank of England (BOE) some more amplitude in raising interest rates, which would in turn support Sterling.
"On the policy front, the market would likely price more from the Bank of England, not least as Governor Carney said that a re-calibration of monetary policy would be warranted once an agreement was reached," says Harvey.
Yet one major problem which could prevent a more aggressive 're-calibration' is qualms about slowing growth.
"This reflects the UK's relative growth performance against the rest of the G10 (see chart below), where it has dropped from leader of the pack to near the bottom," says Deutsche.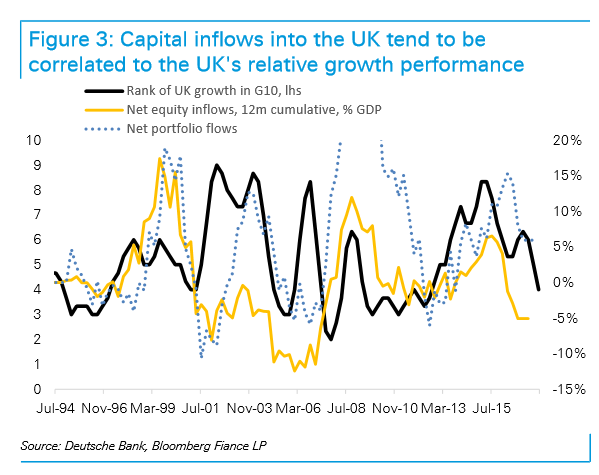 A further potential impediment is whether the EU will unconditionally agree to a two-year transitional agreement or whether its cooperation will be subject to the expected status of the eventual relationship.
"The EU27 will provide Barnier a mandate to conduct talks over transition. The question is to what extent an early agreement is possible (at the latest, the UK needs this by end-March), and how contingent any agreement is made on the outcome of talks on a future relationship. This could be tricky. Information from next week's Council will need to be scrutinized closely," says Harvey.
So all in all, despite a positive outlook for Sterling in the New Year, Deutsche remain cautious.
Get up to 5% more foreign exchange by using a specialist provider by getting closer to the real market rate and avoid the gaping spreads charged by your bank for international payments. Learn more

here

.
Featured Content
Mortgage Direct - a Spanish mortgage broker specialising in the provision of mortgages for expats - have confirmed they have secured their Spanish license.