Deal in the Bag: Pound Sterling Breaks Higher as Deal is Confirmed Over Breakfast in Brussels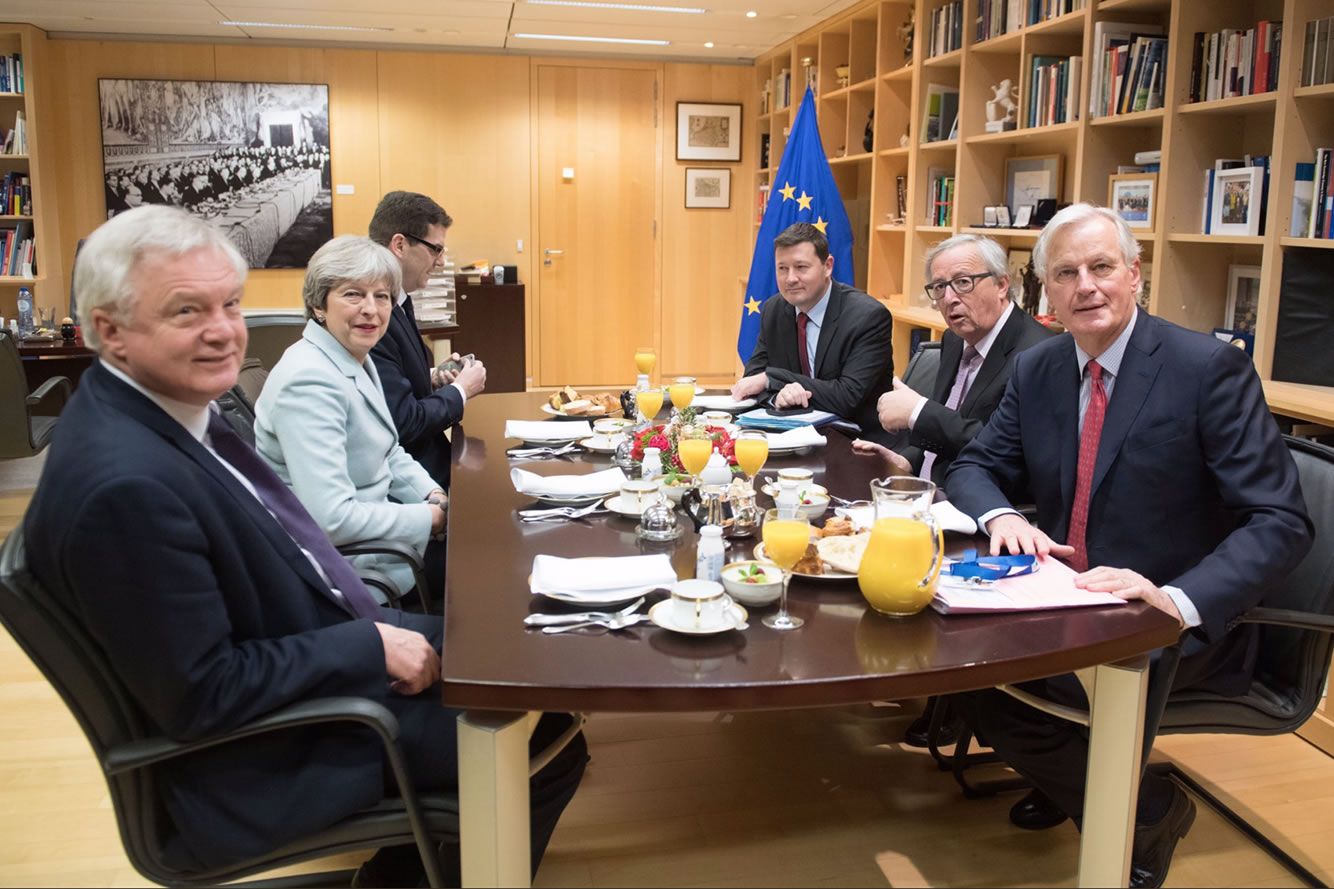 Above: Prime Minister May and David Davis are meeting with the European Commission's Jean-Claude Juncker and chief EU Brexit negotiator Michel Barnier for a working Brexit.
GBP advanced to fresh highs against a host of major currencies as a deal between the E.U. and U.K. over the first phase of Brexit negotiations has this morning been confirmed.
U.K. Prime Minister Theresa May has worked the phones through the night and this morning it has been announced that a deal on the first round of Brexit negotiations has been reached.
Anticipation of a deal grew overnight and it is therefore on the night of Thursday, December 7 when we saw Sterling jump sharply against all major global currencies.
Confirmation of a deal comes following an early morning flight by May and Secretary of State for Exiting the European Union David Davis to Brussels where a working breakfast was held with European Commission President Jean-Claude Juncker and Chief EU Negotiator Michel Barnier.
At a press conference following the breakfast, the Prime Minister said the latest Brexit deal was a "significant improvement" which had required "give and take" on both sides.
May added it included a financial settlement which was "fair to the British taxpayer" and a guarantee that there will be "no hard border" between Northern Ireland and the Republic, preserving the "constitutional and economic integrity of the United Kingdom".
The full report containing details of the agreement can be found here. You can watch the press briefing here:
#Brexit: we have now made the breakthrough we needed. President @JunckerEU and British Prime Minister @theresa_may talk to the media from our headquarters in Brussels. WATCH: https://t.co/Um0AJ1Vat1

— European Commission (@EU_Commission) December 8, 2017
"Deal Confirmed! Ireland supports Brexit negotiations moving to Phase 2 now that we have secured assurances for all on the island of Ireland - fully protecting GFA, peace process, all-Island economy and ensuring that there can be no hard border on the Island of Ireland post Brexit," says Simon Coveney, Deputy Prime Minister of Ireland.
"Finally! At last, there is real progress on Brexit. The EPPGroup will look closely at the agreement and continue to defend the rights of EU citizens and the interests of Ireland," says Manfred Weber, a close ally of German Chancellor Angela Merkel and Chair of the EPP Group in the European Parliament.
However, the lion's share of Sterling's gains appear to have come overnight when reports that May was making a push for agreement with her Northern Irish DUP partners and the Irish Republic hit the airwaves.
In typical currency market fashion we are seeing a "sell the fact" reaction in the Pound-to-Dollar exchange rate on confirmation a deal has been done: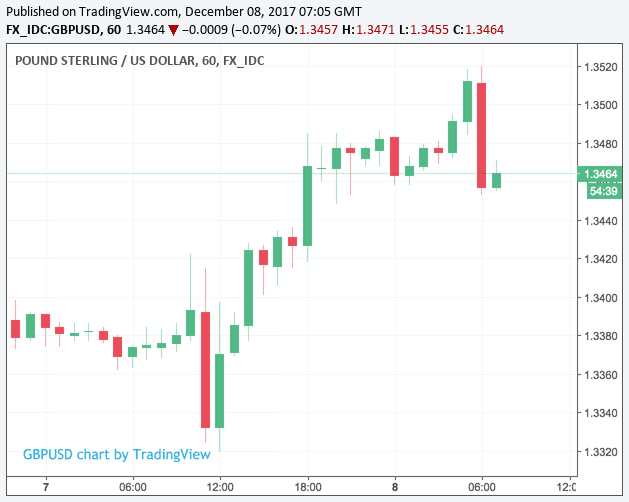 Above: Sterling rises against the Dollar through the night as the U.K. and E.U. work for a deal only to be sold on the deal's announcement.
"A Brexit breakthrough pushes GBP onto the 1.35 handle. Many in the market looking for this and selling out longs. The divorce bill & EU citizens rights were deemed as agreed anyway. Conspicuous in its absence is anything tangible on Northern Ireland demands and of course the European Court of Justice. Not a surprise frankly to see the Pound sell off," says Neil Jones at Mizuho Bank Ltd.
While Sterling has suffered a touch of profit-taking we would caution that many analysts believe further gains are possible now that a deal has been agreed.
"We anticipate more upside in GBP when it is clear phase one negotiations are completed and Brexit talks move to phase two," says Richard Grace with CBA in Sydney on the news, "our view is GBP/USD will lift to 1.3700."
At the time of writing, the Pound-to-Dollar exchange rate is quoted at 1.3468 having gone as high as 1.3519 earlier in the day.
The Pound-to-Euro exchange rate is at 1.1476 having gone as high as 1.1507 earlier which represents a breakout of the top of the recent sideways range:
Get up to 5% more foreign exchange by using a specialist provider by getting closer to the real market rate and avoid the gaping spreads charged by your bank for international payments. Learn more here.
A Positive Development for Sterling
Getting the DUP and Irish government to agree on the wording of a written guarantee by the U.K. that no hard border would be erected on Irish soil has proven to be the key sticking point for negotiations.
However both sides came to an agreement which unlocked talks and this is what the new wording looks like:
"The UK will maintain full alignment with those rules of the Internal Market and the Customs Union which, now or in the future, support North-South cooperation, the all island economy and the protection of the 1998 Agreement."
For Sterling, the agreement is a positive development as it represents the stripping away of yet another layer of uncertainty clouding the U.K. outlook. It also means the prospect of sealing first a transition deal and then a trade deal in 2018 becomes more likely.
"We think there will be a solution which will pave the way for EU leaders to initiate stage two in talks when they meet next week (14-15 December)," says Richard Falkenhäll at SEB.
Should this be the case, SEB's estimated Brexit risk premium suggests it would be followed by a generally stronger British Pound.
SEB target at least 0.85 in EUR/GBP on a solution that would break current deadlock in Brexit talks. This gives a GBP/EUR exchange rate of 1.1764.
However, we must be wary that while progress has been made, there is a long road to travel and the stop/start character of talks that have kept markets nervous on Sterling is likely to remain a feature of 2018.
"At their summit next week the EU heads of government are thus likely to give the go-ahead for the next round of the negotiations. Sterling is likely to benefit from this news today. However, the next contentious issue on the Brexit question is no doubt not far off. It is therefore too early for the GBP bulls to breathe a sigh of relief," says Thu Lan Nguyen at Commerzbank.

Tusk: Time to Move on to Transition Period
Above: Donald Tusk, President of the European Council. (C) European Council.
Following the appearance of May and Juncker before the press, focus turned to the European Council's Donald Tusk whose turn it was to speak to the media.
Tusk says the U.K. and E.U. must now immediately move on to issues of transition, for the sake of businesses on both sides of the channel.
Tusk proposes the UK will respect the whole of EU law including new law, respect monetary commitments and all related obligations.
This is a tight set of conditions and no doubt those in the hard-Brexit camp will not be happy.
However, businesses are clear on the matter - they want a transitional deal, whatever shape it comes in and progress on this matter is without doubt good for Sterling as it clears away uncertainty.
"Now that firms and households will likely expect that a soft Brexit has become more likely, the global upturn can now begin to rub off on the UK more next year," says Kallum Pickering, Senior UK Economist at Berenberg.
The progress today supports Berenberg's above-consensus near-term growth calls for the UK of 1.8% in 2018 and 1.9% in 2019 (Bloomberg consensus 8 Dec – 1.4% in 2018 and 1.6% in 2019).
"Higher business and household confidence from the lower risk of a hard Brexit should underpin stronger gains in long-lived consumption and investment," says Pickering.
Concerning the currency, "a Brexit transition deal is the antidote for GBP's uncertainty-driven weakness; markets are underestimating the cyclical economic benefits this would bring," says Viraj Patel, Foreign Exchange Strategist with ING Bank.
Get up to 5% more foreign exchange by using a specialist provider by getting closer to the real market rate and avoid the gaping spreads charged by your bank for international payments. Learn more here.