Pound Sterling Surges as E.U. + U.K. Make Late Night Push for Brexit Breakthrough
Above: Theresa May, Jean-Claude Juncker are pushing for a breakthrough in Brexit negotiations. (C) European Commission.
Pound Sterling is seen racing higher amidst reports that the U.K., Ireland and the E.U. are working through the night to try and reach a breakthrough on Brexit negotiations with an announcement possible on Friday morning.
Sterling was seen higher right across the board after an E.U. spokesman confirmed all parties were hard at work.
Chief EU Commission Spokesperson Margaritis Schinas confirmed that European Commission President Jean-Claude Juncker has been in touch with both Irish Taoiseach Leo Varadkar and U.K. Prime Minister Theresa May and confirms "we are making progress".
However, the sides are "not yet fully there" but "talks are continuing throughout the night."
Tantalisingly, an "early morning meeting is possible" with the press.
Could a breakthrough be imminent? Currency traders are taking a bet that this is the case.
Indeed, "tonight more than ever, stay tuned, gsms on," says Schinas.
.@JunckerEU was on the phone with Taoiseach Leo Varadkar and then with @theresa_may. We are making progress but not yet fully there. Talks are continuing throughout the night. Early morning meeting possible with press/point thereafter. Tonight more than ever, stay tuned, gsms on.

— Margaritis Schinas (@MargSchinas) December 7, 2017
The news saw the Pound-to-Euro exchange rate on the brink of break out of a multi-month range having been quoted at 1.1430 at the time of writing.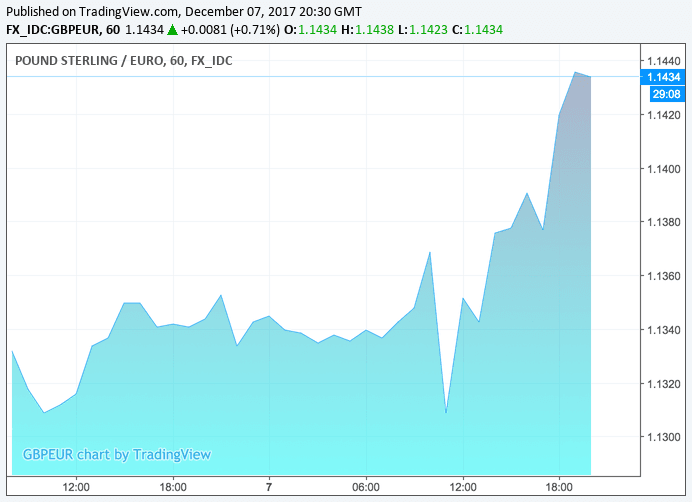 The Pound-to-Dollar exchange rate was seen at 1.3463.
"I just don't see either side saying it's all fallen apart & back to the drawing board," says Neil Jones at Mizuho Bank in London, "the bottom line is Brexit breakthrough is to send the Pound higher."
Furthermore, media reports overnight confirm May had "edged closer to a deal with the Democratic Unionist party over the Irish border," ahead of a deadline laid down by the E.U. for Sunday night.
The reason for the Sunday night deadline was cited as being the need for E.U. sherpas to set the agenda for the Thursday/Friday meeting of E.U. leaders at which the way forward on Brexit would be discussed.
The Guardian reports the prime minister "is ready to jump on a plane to Brussels for discussions as soon as new wording had been approved by the DUP, amid growing anxiety about securing a deal in time for next week's European Council."
Donald Tusk, the president of the European council, and the European commission president, Jean-Claude Juncker, had on Thursday night cleared their schedules for a late meal with May.
"We anticipate more upside in GBP when it is clear phase one negotiations are completed and Brexit talks move to phase two," says Richard Grace with CBA in Sydney on the news, "our view is GBP/USD will lift to 1.3700."
Get up to 5% more foreign exchange by using a specialist provider by getting closer to the real market rate and avoid the gaping spreads charged by your bank for international payments. Learn more here.
Spanish house prices are on the increase with the price of both new-build and existing stock rising by 2.6% quarter-on-quarter in the second-quarter 2018 and a leading Spanish bank say they expect the upward trend in Spanish real estate to continue into 2019.