UK Government Borrowing Posts Welcome Fall but Budget Giveaways Seen as Unlikely
UK government borrowing fell further than was expected in September, according to Office for National Statistics (ONS) data, with HM Treasury demand for credit at its lowest September level for a decade.
Government borrowing came in at £5.3 billion, up a fraction on the previous month, but down £700 million on the same period one year ago. Economists had forecast government borrowing of £5.7 billion.
In the financial year-to-date the government has borrowed 2.5bn less than it needed to at the same time in 2016. This is also the lowest year-to-date borrowing since 2007.
The result means the government is probably on track to beat forecasts made by the Office of Budgetary Responsibility (OBR) for total borrowing in the current financial year.
Friday's figures helped to push the Pound higher against the G10 basket, albeit that Brexit developments were the more dominant driver of price action. The Pound-to-Euro rate was quoted 0.53% higher at 1.1156 around noon Friday while the Pound-to-Dollar rate gained 0.18% to 1.3175.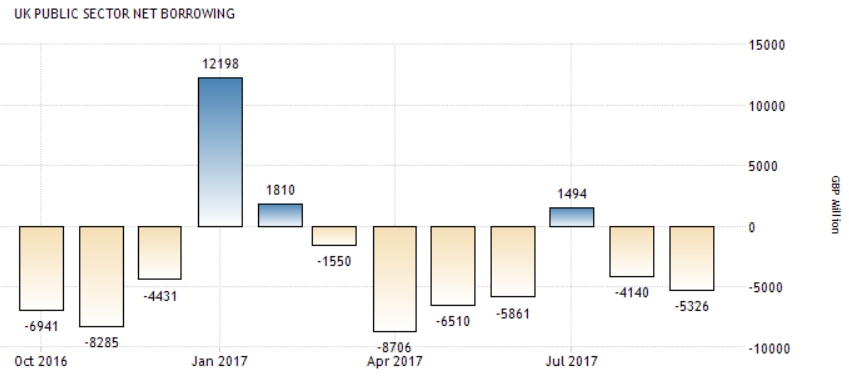 Capital Economics, Senior UK Economist, Paul Hollingsworth, said the figures would bring some "welcome good news" to the Chancellor.
"Cumulative borrowing for the first half of the fiscal year is 7.2% lower than last year, compared to the 13% rise in borrowing that the OBR expected over the fiscal year as a whole," says Hollingsworth.
This would lead to a substantially lower borrowing figure if continued over the remainder of the year.
"Combined with recent downward revisions to last year's figures, this means that if borrowing maintains its trend for the rest of this fiscal year, borrowing would come in about £16bn below the OBR's forecast," Hollingsworth adds.
The proviso that the OBR did specify in their estimates, that the deficit would be backloaded into the second half of the financial year, suggests a spike in borrowing is possible over the next six months.
This could mean the Chancellor may not, in fact, have quite so much to give away in his Autumn budget statement on November 22.
Get up to 5% more foreign exchange by using a specialist provider by getting closer to the real market rate and avoid the gaping spreads charged by your bank for international payments. Learn more here.