Reality Check: Pound Sterling is Actually Being Incredibly Boring
The tabloids have picked up on Pound Sterling in a big way in 2017.
Some of the more illustrious names in this sector now deliver a daily dose of headlines that go along the lines of "Pound to Euro Exchange Rate PLUNGES as…" or "Pound to Dollar Exchange Rate SOARS as…"
The very next article sees the words PLUNGES and SOARS swapped around. Moves of 0.04% have never been made to look so exciting.
The reality however, is the UK currency is actually behaving in quite a benign fashion.
Analysis on the percentage change in GBP/USD since 2015 shows price movement has been -0.47% for May and -0.15% so far for June.
"These are the smallest monthly price moves since May 2015," says Kathleen Brooks at City Index. "This suggests that throughout the UK election campaign and during the inconclusive result, the Pound was incredibly stable when looked at on a weekly and monthly basis."
The Pound has been range-bound in recent weeks, and was unable to make headway above the key 1.30 resistance level vs. the US Dollar.
And against the Euro the stability is similar - we have seen three consecutive weekly closes within a 40 pip range.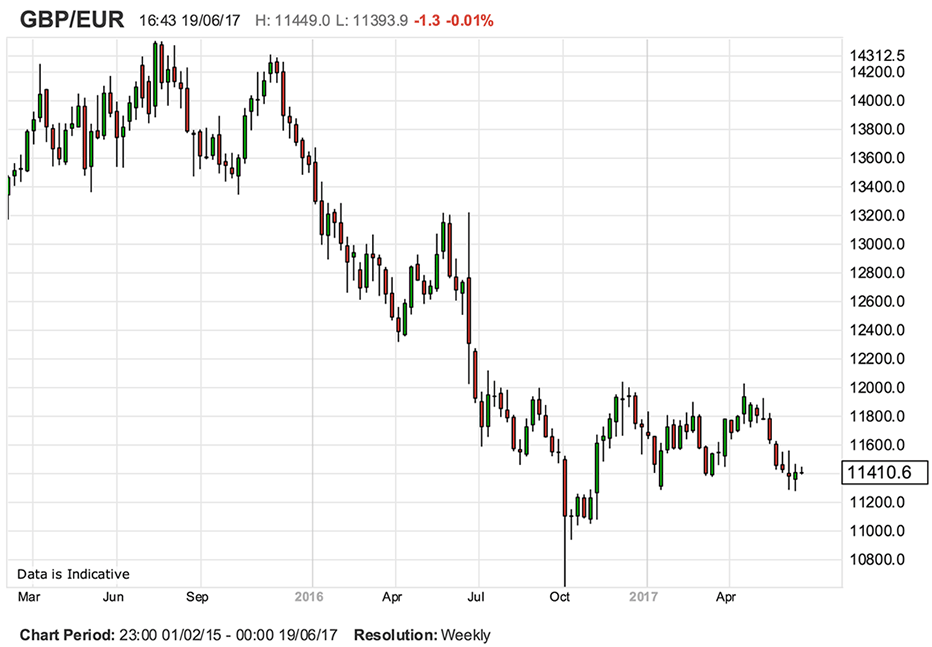 Looking at the longer-term we note GBP/EUR is stuck within a familiar range - since November it has occupied ground between ~1.14 and ~1.20.
The trend on the short and long-term charts looks sideways to us at the moment.
That is not to say the Pound won't move in the future.
Often, periods of consolidation such as that which we are witnessing at present, tend to give way to bigger and more sustained trends.
My hunch is that the next big move will be up.
Countless analysts have observed the British Pound to be undervalued, even if undervaluation in itself is no reason to respect a recovery.
But with Brexit talks underway we expect the markets will ultimately welcome clarity as businesses are able to start planning again, regardless of the details.
If cool-heads prevail the Pound will likely rally.