Hammond, Inflation Data Help British Pound hit Fresh Multi-Day Best Against Euro and Dollar
The British Pound hit a multi-day high against the Euro and Dollar supported by market-friendly comments made by the UK's Chancellor and better-than-forecast jobs market data.
Inflation in September 2016 up to 1% on an annualised basis
The ONS reports that the headline unemployment rate was steady in August at 4.9%
The UK currency recorded one of its best daily performances against the Euro and Dollar since July on Tuesday the 18th of October.
These gains have been held through the mid-week session with the potential potholes that came in the form of employment data and the appearance of Chancellor Philip Hammond's testimony before the Treasury Select Committee being sucessfully negotiated.
Hammond confirmed his Brexit-Lite credentials when he told lawmakers that, "we hope to reach an agreement with the EU that assures reciprocal rights for EU citizens in UK and UK citizens in EU".
This suggests that the issue of immigration in Brexit negotiations may not be the 'red line' that many feared it was.
The cornerstone of unfettered access to the single market is freedom of movement of EU citizens and suggestions that the UK would compromise such access over immigration hurt the Pound earlier in October.
Hammond also confirmed to lawmakers that the Bank of England will remain independent while no conclusion has yet been reached on the exact Brexit deal that will be sought by the UK government.
The Chancellor sought to downplay recent reports of a split with his senior colleagues in government but acknowledged there are different opinions in the cabinet.
"Hammond's comments supports the GBP recovery," says Kathleen Brooks at City Index, "although the pound has fallen back from its intra-daily highs vs. the USD at 1.2332, Hammond's comments seem to support GBPUSD around the 1.23 level."
Brooks believes that, on balance, his comments that nothing is set in stone regarding Brexit, is more market-friendly than the hard-Brexit rhetoric that has come from Number 10 in recent weeks:
"Although Hammond is not giving anything away at this stage of his testimony, it gives the markets a glimmer of hope that the UK may not target a "hard" brexit. His opening comments did mention that the current government will bring down net migration to the UK, however, he hasn't linked this to throwing out access to the EU single market or customs union."
Latest Pound/Euro Exchange Rates
* Bank rates according to latest IMTI data.
** RationalFX dealing desk quotation.
Pound Held Aloft by Employment Data - But Does Data Really Count at the Moment?
The ONS reports that the headline unemployment rate was steady in August at 4.9% however there was a surprise in that the claimant count rose by 0.7K - a reading of 3K was expected.
Further, average earnings with bonuses included rose 2.3% while the previous month's number was revised higher to 2.4%.
This is a solid outcome for an economy so blighted by uncertainty and should provide the UK Chancellor with some confidence going into his mid-term budget review in November.
From a Sterling perspective we would look for more consolidation but remain wary of news headlines concerning Brexit which have consistently proved to be the more important diver of the currency of late.
We are also cognisant of the fact that this bounce higher in the Pound could still merely be a short-covering rally.
We warned at the start of this week that the market was over-stretched in its desire to bet against Sterling and some rebalancing would be needed.
"The fact that the GBP is not weakening today is perhaps due more to short-covering," says Shaun Osborne at Scotiabank. "Sterling must wonder what is going on – this is the first session since late September that spot has set even a marginally higher high versus the previous session's peak."
Inflation: An Impending Headache for Sterling
The UK currency has shown an unreliable response to data of late and we remain nervous on the currency's prospects going forward.
When the news broke that UK annual CPI inflation hit the 1% mark in September Sterling's reaction was to actually fall in defiance of the usual expectation that increasing inflation is a positive for currencies: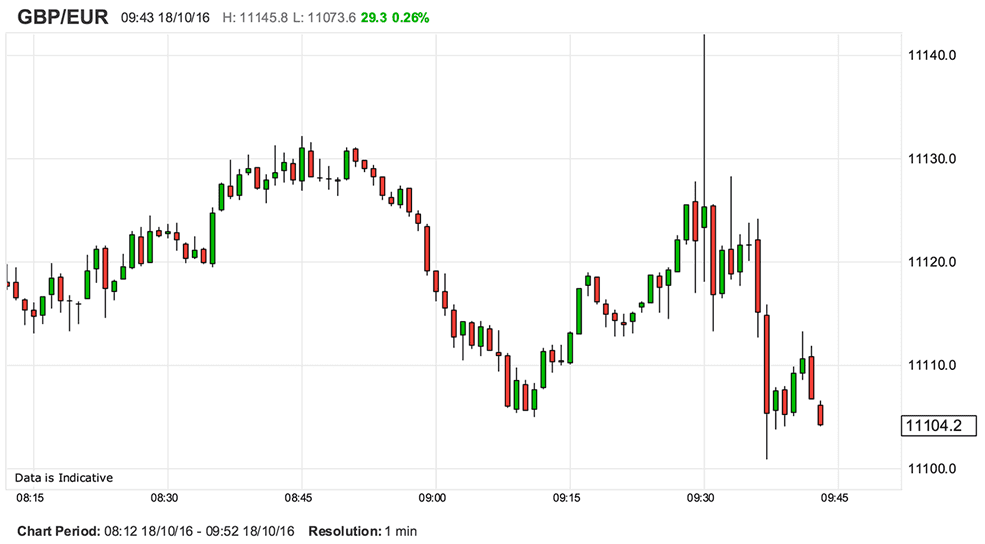 Then, an hour later, it bounced: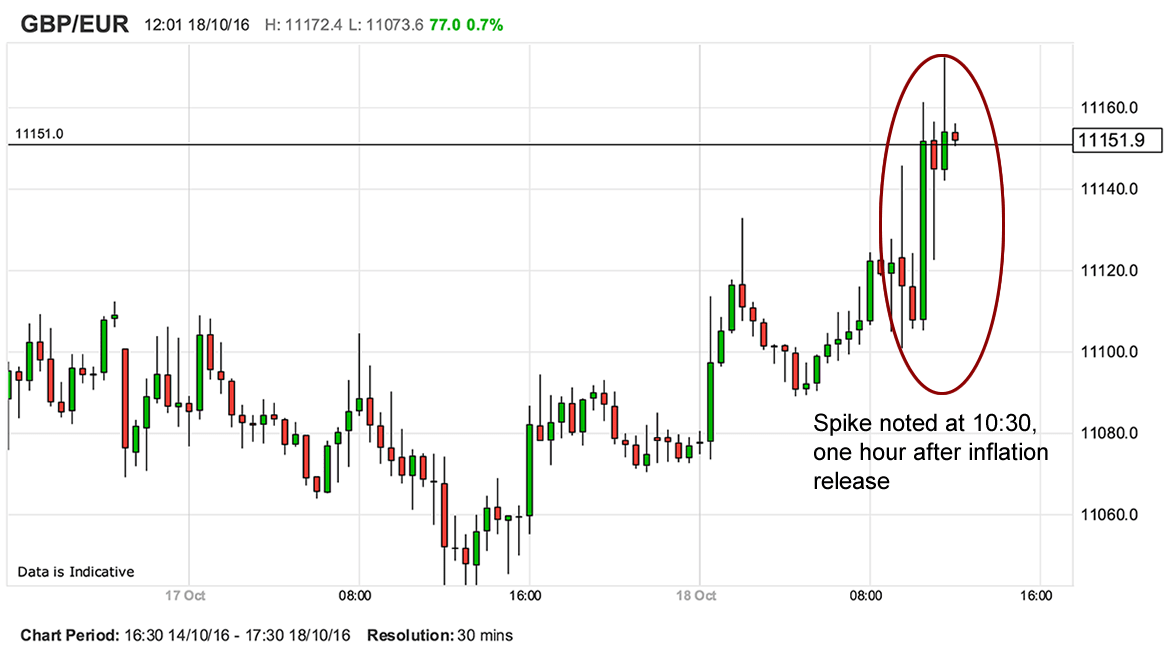 "The Pound really has no idea what to do with that inflation data – which shows just what a complicated picture it is right now for forex markets," notes Neil Wilson, Market Analyst at ETX Capital.
Typically central banks would be expected to raise interest rates in an attempt to curb rising inflation.
Rising interest rates in turn attract currency inflows which are positive for the recipient currency.
But, there are reasons to believe that, if anything, the inflation data is actually negative for Sterling - it is time to throw away what you thought you knew about the Pound's relationship with inflation argues one analyst.
Adam Cole at RBC Capital Markets argues rising inflation will become increasingly negative news for GBP - "the opposite to the typical impact of positive inflation surprises on G10 currencies recently".
RBC warn CPI inflation could hit the 2% target in Q1 of 2017.
"With the BoE likely to look through a transitory acceleration in inflation, the main effect will be to squeeze households' real income as prices rise more quickly than wages, crimping consumer spending," says Cole.
Latest Pound / US Dollar Exchange Rates
* Bank rates according to latest IMTI data.
** RationalFX dealing desk quotation.
Indeed, a number of Bank of England policy makers have said they are willing to look through rising inflation in order to ensure any negative impacts of Brexit are minimised.
"Recent comments by Governor Mark Carney and Deputy Governor Ben Broadbent have indicated that they are willing to tolerate an overshoot of the target in order to focus on stabilising the economy in the short run. Accordingly, the latest figures do not rule out the possibility of another cut in interest rates in November," says Paul Hollingsworth at Capital Economics.
With Marmitegate casting a light on the potential impact of a softer Sterling on rising food prices, it was however surprising to see the ONS report that the largest downward pull on inflation in September 2016 comes from prices for food and nonalcoholic beverages.
Upward pressures come from a variety of categories, most notably restaurant and hotel bills. Transport prices provided a downward pressure during 2015 and early 2016 but this has eased during 2016 and they now have an upward effect.
"This latest rise, however, is just the tip of the inflationary iceberg which is coming our way. Since the beginning of September, Sterling has fallen a further 8 percent or so against the Euro and the Dollar. This will continue to push up inflation in the months ahead. A stronger oil price will add further to price rises for energy and transport," says Andrew Sentance at PwC.