Outlook for British Pound v Euro and US Dollar: Inflation and Employment Data to Drive Exchange Rates

Pound Sterling starts the coming week from a position of weakness but should two major data releases beat expectations expect the currency to test its recent best levels against the Euro and Dollar.
British Pound to Euro exchange rate today: 1.1813, one month best rate: 1.1999
Euro to Pound Sterling exchange rate today: 0.8468, one month best rate: 0.8498
The Pound to Dollar exchange rate today: 1.3268, one month best rate: 1.3445
GBP under-performed its rivals during the week ending September 9th but the currency can rediscover its recent good form should UK data deliver some positive surprises over the course of the coming week.
Sterling was the second-worst performing currency in the G10 complex for the week ending 9th September, only the Canadian Dollar fared worse.
The recent three week August-September rally stalled as the data calendar dried up - the rally was driven first and foremost by a run of better-than-forecast data that quelled worries over the negative impact the Brexit vote would deliver.
Most analysts are having to revise upwards their forecasts for the UK economy in the third quarter of 2016 in light of the data.
This has in turn tempered expectations for further quantitative easing and interest rate cut announcements at the Bank of England with fresh stimulus being announced in November looking increasingly remote.
The Bank meets on Thursday for their September meeting, but this will be a non-event with the next 'live' meeting being in November.
Be under no doubt though that the Bank will be watching data from which to base their November decision.
"Carney warned that all elements of stimulus could be increased. Monetary policy committee members Forbes confirmed there could be a case for additional easing in the future and Cunliffe said he'd vote for a cut if demand is weaker than thought. So while recent data is putting the central bank's mind at ease, they stand ready to act if the economy U-turns," says Kathy Lien, Director at BK Asset Management in New York.
The rally came off the boil over the course of the last week largely owing to external drivers and a drying up of the UK data calendar we believe.
The Euro shot higher in anticipation of the ECB opting to keep policy levers unmoved; a call that proved correct.
The US Dollar meanwhile benefited from a move higher in US yields and increased risk aversion on global markets. When markets are running scared, the Dollar tends to benefit.
This left Sterling with nowhere to go but lower.
Latest Pound/Euro Exchange Rates
* Bank rates according to latest IMTI data.
** RationalFX dealing desk quotation.
UK Inflation and Employment Data in Focus, GBP Downside Seen as Limited
With regards to the week ahead eyes turn to the release of UK inflation data due for release on Tuesday.
With inflation expectations rising, Tuesday's figures are likely to show that CPI and producer price inflation have continued to rise.
Inflation is forecast to have risen to 0.7% in August, up from 0.6% in July.
Rising oil prices and a weaker British Pound will have conspired to have pushed prices higher.
Should we see a beat of the 0.7% forecast then we could well expect Sterling to move higher as rising inflation will put pressure on the Bank of England to stand back from cutting rates and increasing quantitative easing.
In fact, should inflation accelerate beyond the Bank's forecasts, we could well soon start talking about interest rate rises once more. This would certainly be a positive for Sterling.
Then labour market and wage data are due for release mid-week.
Average earnings in July are expected to have increased 2.1% while the claimant count is expected to have risen by 1.5K.
With some leading indicators suggesting the UK job market is more robust than previously estimated, there are risks that markets are positioned to pessimistically on Sterling.
Therefore, look for upside surprises to the data, and the British Pound.
"We will pay particularly close attention to the August jobless claims release on Wednesday. Although we would expect weak data to weigh on the GBP, the extent of GBP short positioning already in place and the lack of negative post-Brexit developments so far should limit the down side in GBP/USD," says Stephen Gallo at BMO Capital.
With regards to the GBP/EUR exchange rate, we continue to watch for the support level at 1.1795 to ensure weakness is limited.
As noted here, 1.1795 is where the 50 day moving average is located - this is an important technical level on the daily charts that traders often base their decisions around.
Over recent days it appears the moving average has provided support for GBP with the currency finding buying interest on meeting the level.
If this continues to be the case over coming days then a test of the month's best exchange rate at 1.1999 remains viable.
CFTC Data Shows Traders Continue to Bet Against Sterling
The latest insights into where traders expect the foreign exchange markets to move shows the British Pound is still being bet against heavily.
The primary public source for such positioning data by currency and side is provided via the CFTC's Commitment of Traders data for the IMM.
According to the most recent CoT (for the close of Tuesday 6-Sep), the biggest currency position in notional terms is the short side of EUR, which is worth USD 17.0bn.
"It is normal for EURUSD to have the most activity and biggest positions, so we like to scale it by comparing the positions in each currency side to their perspective maximums," says BMO Capital's Greg Anderson.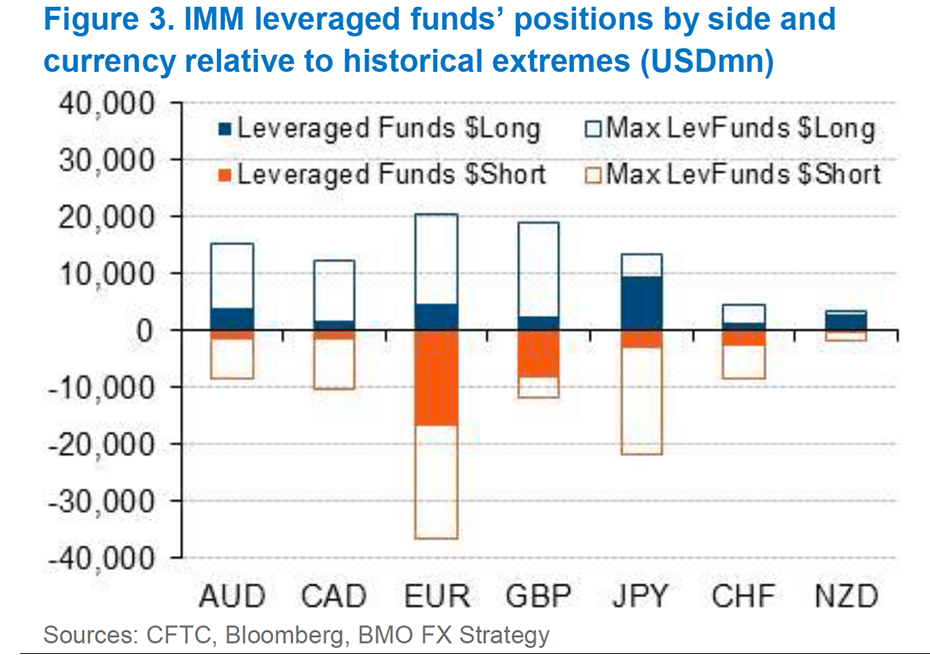 By BMO's metric, the present EUR short is not that big at just 46% of its historical record.
The GBP short is a bigger position by this metric at 70% of its max.
However, the long side of NZD, at 88%, is the biggest FX position by the percent-of-maximum metric.