The Pound / Euro Rate Eyes 1.20 on Short-Covering Move Triggered by Better-than-Forecast Construction PMI

Pound Sterling (GBP) remains near recent highs against the Euro and US Dollar with a looming Bank of England policy event likely to contain moves to familiar ranges.
The Pound retains a surprisingly resillient character on the day members of the Bank of England's leading decision-making body huddle to decide on the future path of UK interest rates and quantitative easing.
With markets expecting a cocktail of policy measures to be announced when the meeting ends on Thursday 4th, one would think the GBP should be trading negative, or flat at best.
But, we would say that the 1% rally witnessed over the past 24 hours - which took the GBP/USD to its best rate of exchange in over two weeks - is indeed symptomatic of traders reducing exposure to the Pound.
Markets are heavily bias against the Pound, with short GBP/USD & short GBP/EUR being a favoured expression of betting against Sterling.
Recall that CFTC data on Friday showed record speculative net GBP shorts, suggesting ample room for a squeeze on positioning in the event of the BoE disappointing expectations.
Therefore, if traders were to exit the market and take profit on this trade, it would entail buying back Sterling, something that creates a short-covering rally.
As more traders exit the market, the exchange rate is bid higher ensuring a fresh bout of Sterling strength that can quickly force more traders to exit the market as their protective stop-loss orders further down the tracks are triggered.
It is, essentially, a wildfire effect that is not necessarily indicative of a fundamental shift in fortunes.
Nevertheless, we can see GBP is looking firm:
The Pound to Euro exchange rate is today at 1.1911, the best retail rate is seen around 1.1802
The Euro to Pound exchange rate is today at 0.8432, the best retail rate is seen towards 0.8320
The Pound to Dollar exchange rate is today at 1.3306, the best retail rate is seen towards 1.3186
(Get quoted on best retail rates here.)
Most analysts agree that the trigger to the short-covering rally was the better-than-forecast Construction PMI, released on the morning of the 2nd of August.
The reading of 45.9 was a beat on market forecasts for a reading of 43.8.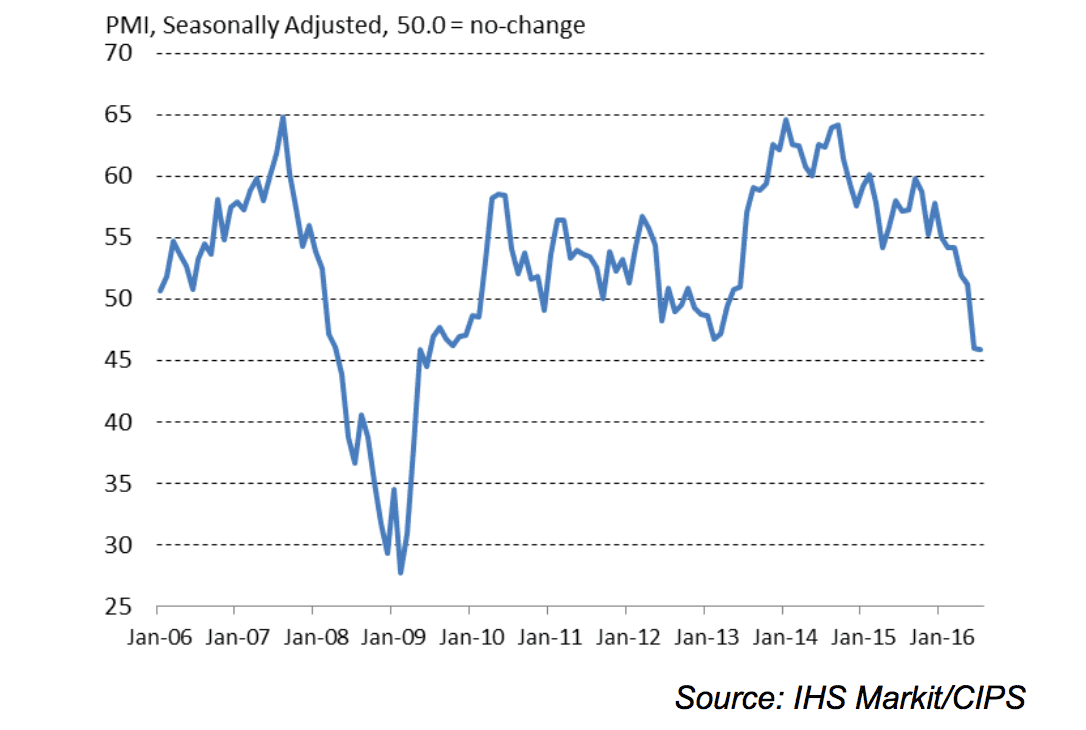 Construction companies noted that weaker order books continued to act as a brake on business activity in July.
Reflecting this, latest data signalled an overall reduction in new work for the third month running, but the rate of decline eased since June and was close to that seen in early-2013.
However, GBP was bid higher as traders realised the data pointed to the post-referendum shock potentially fading and, "suggests that sentiment in the construction sector fell quickly and sharply, but then steadied from there," note TD Securities in response to the release.
"Anecdotally, this is supported by the earnings reports from some UK homebuilders, who haven't seemed to materially changed their outlooks in the wake of Brexit," continues the note.
Furthermore, insufficient new work to replace completed projects resulted in a decline in employment numbers for the first time since May 2013.
While the falling exchange rate was seen as a potential positive to the manufacturing sector, which would benefit from an increase in exports, the same could not be said for the construction sector.
"Exchange rate depreciation resulted in sharper input cost inflation and there are concerns that additional supplier price rises for imported materials could be around the corner," says Tim Moore, Senior Economist at Markit.
Latest Pound/Euro Exchange Rates
* Bank rates according to latest IMTI data.
** RationalFX dealing desk quotation.
However, Moore reflects that it's not all bad news, at least insofar as the decline in construction output was little-changed from June's seven-year low.
There were also some reports that demand patterns had been more resilient than expected given the uncertain business outlook.
Hope of further stabilisation has come with the newly appointed government, with the new Prime Minister and Chancellor Philip Hammond strongly indicating that they will continue to invest in major infrastructure projects to support the economy.
"It is certainly more important now than ever that projects such as HS2 and the Northern Powerhouse remain a top priority to support construction and a strong united economy for the long term," says Mark Robinson, Chief Executive at Scape Group. "I count myself among those who believe that construction will bounce back from these more testing times."
Robinson believes the industry will return to growth both in terms of activity and efficiency, and will continue on an upward trajectory once economic and social conditions have stabilised.
NIESR: 50% Chance of Recession
With the chance of an UK recession being widely cited in the wake of the UK's Brexit referendum, we note the odds of such an event occuring have fallen back somewhat; an observation that has further boosted the Pound.
The National Institute of Economic and Social Research (NIESR) said the chance of recession in the wake of the Brexit vote has diminished.
GDP is expected to grow by 1.7 per cent in 2016, slowing to just 1% in 2017. GDP is likely to decline by 0.2% in the third quarter of this year and there is a risk of a further deterioration.
A second consecutive quarter of GDP decline would be required for the UK to enter a technical recession.
"Another doom and gloom prediction we can strike off the list along with emergency budgets and massive tax rises," says David Johnson at Halo Financial.
Inflation is forecast to increase significantly, peaking at just over 3 per cent at the end of 2017. The MPC is expected to 'look through' this temporary rise and ease monetary policy substantially in the coming months.
British Pound / Dollar Rate to Stay Neutral Ahead of Thursday's BoE
A strong rally in GBP/USD on August 2nd took GBP/USD above resistance around $1.3300 to a two week high.
"However, how far can this sterling rally go with the prospect of a Bank of England rate cut looming large? asks technical strategist Richard Perry at Hantec Markets. "On a near term basis the bounce is an encouraging move but needs to be backed up with a confirmation candle today."
However, GBP appears to have weakened in the US session on August 3rd, suggesting Sterling will likely struggle from here.
Perry cautions that the momentum in the recovery from the $1.2796 low has drained away and the indicators are struggling at best now.
The RSI and MACD lines are barely registering in the recovery whilst the Stochastics (the most sensitive of the three momentum indicators) have now started to fall away again.
"There has now been alternate bull and bear candles for the past 8 completed sessions, the latest of which was yesterday's negative retracement move. The hourly chart shows the key resistance increasing around $1.3300 with the old pivot around $1.3160 taking on an increasingly important near term support," says Perry.
Hourly momentum is showing little but a range play with the moving averages flattening with Perry saying the key support remains around $1.3060.
Euro / Pound Rate to Maintain Upward Momentum
The Euro is meanwhile forecast to maintain its positive tone against the Pound over coming days, despite the sharp falls registered on the 2nd of August.
That said, upward momentum is seen fading, likely in anticipation of the August 4th Bank of England policy meeting.
Indeed, "yesterday's rally – resulting from GBP weakness in the aftermath of the poor UK manufacturing PMI – was capped at Fibonacci and congestion resistance at 0.8480-0.8500," note Lloyds Bank in a currency market briefing to clients.
(For those wanting to figure out the GBP into EUR levels, divide 1 by the EUR/GBP given. For example, 0.8480 EUR/GBP: 1/0.8480 = a GBP to EUR rate of 1.1792.)
Short-term technical studies suggest that further sideways trading is most likely.
"A break of outlined initial resistance could initiate a gradual rally towards recent range highs at 0.8627. Intra-day, support should be found at 0.8420-0.8390, followed by 0.8360/40. Important Fib and congestion support lies below there at 0.8250/00," note Lloyds.