British Pound to US Dollar Forecast: GBP/USD Down to 1.25 in Coming Weeks
The Bank of England (BOE) rate meeting on Thursday and Non-Farm Payrolls are the twin highlights for the GBP to USD conversion in the week ahead.
"We look for continued GBP under performance as long-end (10 year spreads) test towards '00 extremes." - Jeremy Stretch, CIBC Markets.
We are seeing some decent strength in the Pound to Dollar exchange rate (GBP/USD), a mere two days ahead of the much-anticipated Bank of England policy meeting.
The gains come amidst signs that the initial post-referendum shock to economic confidence may be reaching a trough with signs of stabilisation being evident in the latest Construction PMI release.
The data has allowed the heavily sold GBP to gain on the back of what appears to be a short-squeeze.
This is essentially a technical counter-trend move that occurs when markets are betting too heavily in one direction.
With this in mind we would expect upside strength in GBP/USD to remain limited.
From a technical perspective, the pair remains in a slightly down sloping sideways range, with has risen slightly in recent days: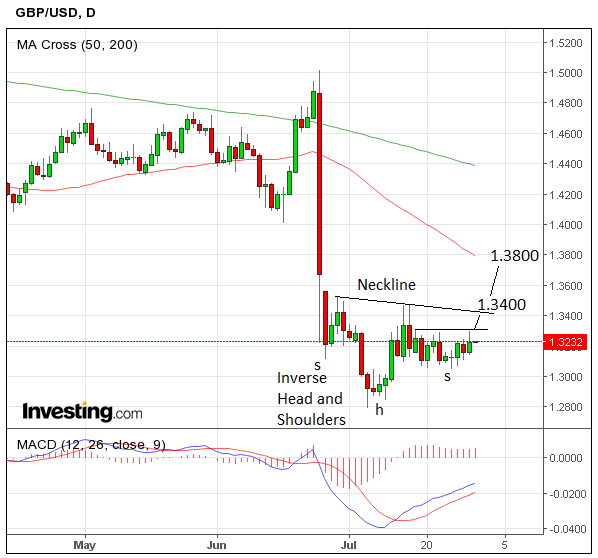 The current consolidative period is probably the precursor to a move up to the 1.34-35 region.
A more bullish assessment of the technical outlook suggests the pair may have formed an inverse head and shoulders at the lows, which, if it managed to break above the sloping neckline at about 1.3450 would herald a move up to the 1.38 region.
Latest Pound / US Dollar Exchange Rates
* Bank rates according to latest IMTI data.
** RationalFX dealing desk quotation.
GBP/USD at 1.25 in Coming Weeks: CIBC
Is there a risk that sentiment against the British Pound has become too negative, and betting against the currency has become a crowded trade?
In the short-term this could indeed be the case warns Jeremy Stretch, an analyst with CIBC Markets in London.
With net GBP shorts having extending to all-time highs into the end of July the scale of negativity as regards the UK outlook has been amply demonstrated.
The July PMI readings imply that Q3 GDP could be set to decline up to 0.4%, analysis by CIBC shows.
On this basis we should expect something rather closer to stagnation rather than outright recession, which is what markets appear to be betting on. Are they too negative?
"Hence we would argue near term UK downside needs to be kept in relative context. As a consequence the risks of a GBP short squeeze are certainly non-negligible," says Stretch.
A short-squeeze occurs when markets are heavily biased against a currency to the extent that a mere push in the other direction forces traders to exit their bets, resulting in a rapid counter-move in the exchange rate.
Yet, such an event would be short-lived argues CIBC.
"Unless BoE GDP assumptions, contained within the QIR, are materially more robust than assumed and Governor Carney more upbeat on the rate outlook than anticipated GBP downside appears set to persist through Q3. Indeed we would be unsurprised should Carney hold out the prospect of additional action, should it be necessary," says Stretch.
CIBC Markets maintain a bias towards a test of 1.25 GBP/USD in upcoming weeks.
"We look for continued GBP under performance as long-end (10 year spreads) test towards '00 extremes, this comes as the prospect of additional BoE bond purchases help contain UK nominal yields," says Stretch.
GBP/USD Could Moves Sideways Into Bank of England Meet Up
Driving the decline in Sterling was a worse-than-forecast Manufacturing PMI reading from Markit and the CIPS.
Markets latched onto the reading of 48.2, which was worse than the 49.1 expected, as a sign that the Bank of England would be justified in cutting interest rates this week.
Indeed, the manufacturing sector has suffered its sharpest slippage since 2013 amidst signs that the shock provided by the Brexit vote is having a real impact on activity.
"Though these falls were not as marked as those seen during the Great Recession in 2007-2008, the drop was harsher than expected. The overall index was at its lowest since February 2013 and lower
than reported by the recent flash PMI, which measured the effect of continuing uncertainty and the immediate impact of the EU referendum on the UK economy," says David Noble of the CIPS.
Looking ahead, those with an interest in the GBP/USD pair could however be in for a period of consolidative trading over the next three days with markets anticipating some form of action from the BoE at their policy event scheduled for Thursday.
Currently most analysts expect between a 0.25% and 0.50% cut to the base lending rate, which currently stands at 0.50%.
Many also expect an increase in quantitative easing, which involves the BOE in buying bonds from banks to provide them with more liquidity to lend to borrowers in the real economy.
Estimates range from 50bn more to 75bn as suggested by economists at Capital Economics.
Broker TD Securities say that the exchange rate has only absorbed a rate cut of 0.25% but that if there is an increase in asset purchases it will come as a surprise and push sterling down.
"This week the BoE finally unveils its long-awaited stimulus package, and we're looking for a 25bps rate cut, £50bn of QE, and an expansion of FLS or something similar to help preserve financial institution profitability. The rate cut is fully priced in, but we don't think that FX or rates markets have fully priced the amount of QE that we're looking for, especially coming all at once alongside the rate cut."
We feel that a big risk could be found in the Bank doing nothing, or doing the bare minimum.
This is a possibility, as argued by some analysts.
If the Bank were to err on the side of caution, and keep its powder dry until solid post-referendum data is released, then we could well see the July recovery extend into August.
The US Dollar remains under pressure as well, however, following the bleak Q2 GDP data on Friday which fell well below expectations.
Kaplan Confirms US Rate Hike Likely, All Eyes Turn to Employment Report
The U.S. dollar moved higher against most major currencies despite a weaker than expected ISM manufacturing index and surprise drop in construction spending.
Investors bought Dollars on comments from Fed President Kaplan who said a September hike "is very much on the table" if data supports it.
Kathy Lien at BK Asset Management believes that in the run-up to the labour market data on Friday, the USD should remain bid:
"While Kaplan is not a voting member of the FOMC this year, his views reinforce the less dovish sentiment of U.S. policymakers.
"Last week's second quarter GDP numbers hit the dollar hard and drew everyone's attention away from the slightly more optimistic FOMC statement.
"This week, with non-farm payrolls due on Friday, the relative hawkishness of Fed policy should help keep the dollar bid in the first few days of trade."
Over the weekend, FOMC voter Dudley said, "it is premature to rule out further monetary policy tightening this year."
USD was the worst-performing currency in the G10 space for the week ending 29 July.
Q1 GDP data had been poor, but normally Q2 makes up for this - at least that was the case in previous years.
However, whilst there was a rise, it was below forecast and below average, suggesting growth for the whole year could be subdued.
Non-Farm Payrolls on Friday could make up for this to some extend if it is above expectations, as May was.
The dollar saw little upside last week following the Fed's rate meeting, despite the fact the central bank appeared to see downside risks "diminished".
Market based expectations of whether the Fed will raise interest rates by the end of the year remain stuck at around the 50% mark.