Fade Pound Sterling Strength, Target 1.38-1.40 Range in Pound / Dollar
"We think this rebound in sentiment toward cable may be reaching its peak," - Ned Rumpeltin at TD Securities.
Markets have been accused of getting ahead of themselves in their thirst for all pairs GBP according to new analysis of the foreign exchange markets less than a month out from the June 23rd referendum on EU membership.
Sterling has been on a recovery path against the dollar and euro since late February with markets racing to close the gap between where GBP traded in comparison to the fair value level as defined by the ever-reliable difference between interest rates.
By way of example, look at the gap between GBP/USD and the difference between relative US and UK interest rates: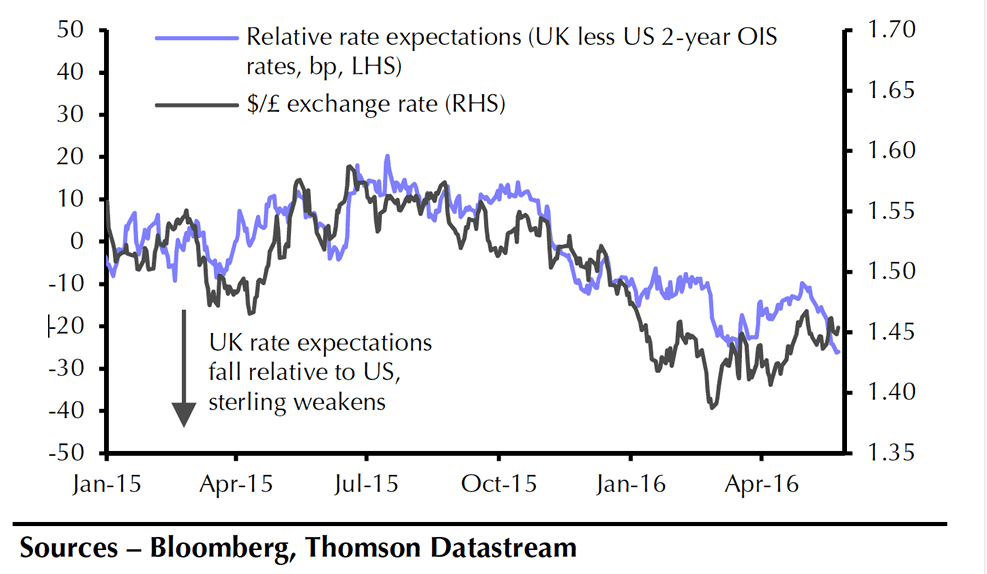 The gap has closed, and it could actually now be argued that sterling is overvalued when compared to its American peer.
Markets have bought sterling as they adjust expectations for the outcome of the referendum based on recent polls that suggest the Remain vote is gaining traction.
Betting markets are now pointing to a greater than 80% probability of the UK remaining in the EU, up from an average around 67% two weeks ago.
Stay Cautious
Those expecting yet higher exchange rates are however urged to approach GBP with caution as, "it is premature, in our view, to think that the UK is out of the woods," says Ned Rumpeltin, an analyst with TD Securities in London.
We have now seen four polls released this week, with only one showing a Remain win, two a dead-heat, and one showing a Leave majority.
"With the recent deterioration in polls and a month still to go before the event, we believe the market's recent surge in optimism looks premature and remains vulnerable to an unwind," says Rumpeltin who points out that we've been here before.
Latest Pound / US Dollar Exchange Rates
* Bank rates according to latest IMTI data.
** RationalFX dealing desk quotation.
During the third week of April, we also observed a similar spike in expectations for a Remain win.
But like in late-April, we saw last week a higher share of telephone polls (vs. online polls) in the headlines akin to the dynamics in late-April.
TD Securities continue to argue that this matters because the telephone polls have consistently favoured a Remain win by about ten percentage points.
Online polls, in contrast, tend to be more carefully balanced and some have frequently pointed to a Leave win.
Indeed, using the most recent six surveys as a "poll of polls", or sentiment measure, the perceived surge in support last week was due to an increase in the frequency of telephone poll results, rather than an outright shift in sentiment towards a Remain win.
Peak Optimism = Peak Pound
Concerning the outlook, how can we expect the debate to evolve?
Rumpeltin believes that with the undecided element still averaging more than 10% of respondents in recent polls, there is a limit to how much further betting odds can extend toward a Remain outcome.
Indeed, Ladbrokes has announced that flows into Leave bets had increased substantially. "While this can be easily dismissed as the actions of punters looking for a longshot, the parallel to a technically overbought market does not look like a big stretch to us," says Rumpeltin.
This suggests that the pendulum of opinion may have swung too far to the Remain side at this stage of the campaign.
Risks, naturally, most likely lie the other direction suggest TD Securities.
The Pound Sterling has More than Brexit to Worry About
While a move in sentiment regarding the referendum could certainly reverse the GBP's newfound fortune, we have heard from a number of sources that the fundamental economic backdrop has deteriorated to the extent that sterling will be unable to command the prices it did towards the end of 2015.
In short, the British pound has potentially rallied beyond levels that could be considered appropriate when based on underlying economic drivers.
The UK economy has decelerated and various measure of data surprises have entered into negative territory since mid-April.
TD Securities believe the economy's underperformance will likely continue throughout Q2 as uncertainty over the outcome weighs on consumption, investment, and hiring decisions.
Analysts at Capital Economics meanwhile argue that such an assessment on the UK economy is potentially overblown:
"Some of the non-Brexit factors pushing down growth recently – such as the financial market jitters earlier this year – have now abated and so should also pave the way for a rebound.
"What's more, we think that concerns that the recent economic slowdown is due to the economy's more fundamental weaknesses are overblown. Neither do we think that the economic recovery is hitting the buffers due to capacity constraints. So we still think that the recovery would get back on track fairly quickly after the referendum vote."
Analysts remain concerned that with inflation pressures still low, wage growth still lacklustre, and the growth handoff from Q2 still highly uncertain, the economy may not quite have bounced back enough to support such a move at that point.
This is likely to become a key constraint for the currency.
"Even without the referendum risks on the immediate horizon, sterling's underlying fundamental picture is soft," says Rumpeltin, "this keeps our focus on GBP weakness for the foreseeable future regardless of the vote's outcome."
Fade the Rally
Sterling's macro fundamentals remain weak, keeping the focus on downside risks for GBP.
"Interest rate differentials are pointing to a weaker currency ahead, particularly with the Fed back in play," says TD Securities' Rumpeltin.
This is a point agreed upon by Capital Economics. "While we expect the MPC to raise interest rates a little faster than investors anticipate, we think that the US Fed will hike even more quickly relative to expectations," says Vicky Redwood at Capital Economics.
Capital Economics have said that a relief-inspired rally in GBP could well take the GBP/USD to 1.50, however, ultimately the exchange rate will turn lower again.
TD Securities are meanwhile advocating a negative trade on GBP at current levels:
"We think current levels offer an attractive entry point to fade the rally in cable. We think spot will trade down to the 1.38-1.40 range ahead of the referendum while 1.4770 should provide solid resistance. That argues for placing stops slightly above as a clear move higher points to increasing risks of a larger advance."