Pound / Euro Rockets on Latest EU Polling Data

The GBP has cracked through an important barrier against the EUR on the back of news the Remain camp is pulling ahead in the EU referendum campaign.
Signs that the Remain vote will win the day continue to shepherd the British pound back to levels it would be expected to trade at were the vote not happening at all.
This rally back to fair value has been aided over the past few hours by strong labour and wages data as well as the clearing out of sell orders, particularly in the all-important GBP/EUR market.
The latest Ipsos MORI poll for the Evening Standard shows the biggest lead in the past three months for this series with 55 per cent for staying in and 37 per cent for leaving the EU.
According to the poll this is mainly due to a marked shift among Conservative supporters, arguably a fertile pool for the Leave campaign.
Latest Pound/Euro Exchange Rates
* Bank rates according to latest IMTI data.
** RationalFX dealing desk quotation.
The move higher in GBP/EUR is notable as we have been saying for some time the 100 day moving average would prove a tough nut to crack owing to the substantial selling interest that typically greets advances in the GBP at this level.
But, the strength on the back of the poll suggests enough momentum has been supplied to sweep sell orders (buy orders in EUR/GBP) out of the way.
When the 100 day MA was last successfully breached, in October 2015, the rally took the exchange rate from 1.3860 through to 1.4250.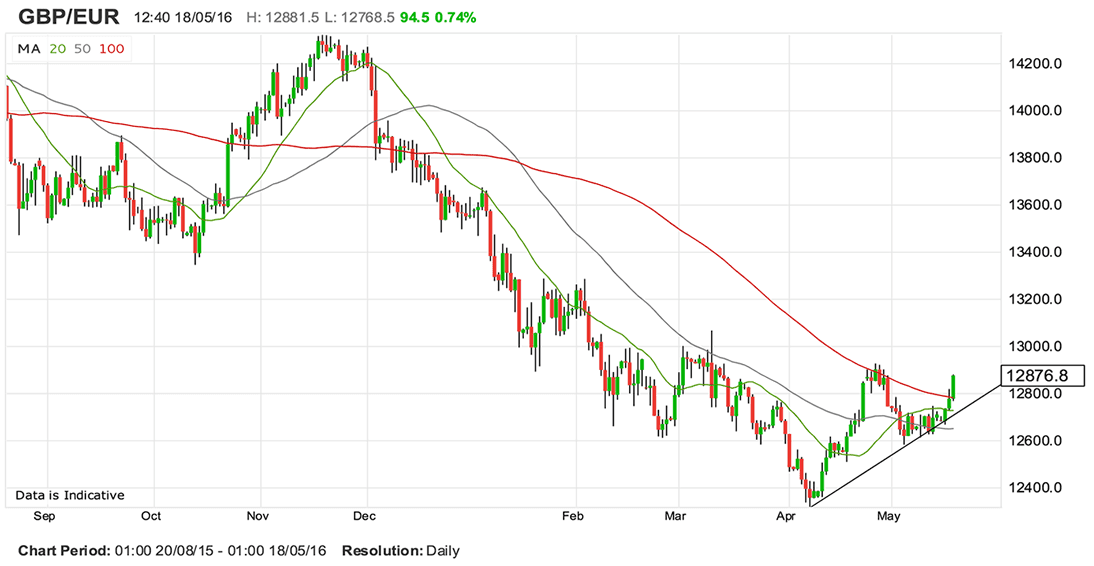 It was at this peak that Brexit fear started to creep into the market and the pound diverged from its 'fair value' levels.
Could we be about to witness a rally of similar magnitude? Or will the exchange rate capitulate as it did in late April?
We watch today's close for further guidance, as a break will only be considered valid if it closes above 1.2782.