Pound Pressured as PMI Figures Herald the Start of a Delayed Recession
Image © Adobe Images
The British Pound fell after PMI data showed the UK economy slowed faster than expected in January in an outcome that contrasted unfavourably with surprisingly strong Eurozone figures.
The UK Services PMI for January read at 48, well below the 49.7 economists had forecast and below the 49.9 printed previously.
A reading below 50 indicates the UK economy's largest and most important sector had contracted and points to a soft start to the year.
Manufacturing also contracted with a PMI of 46.7 being reported.
The Composite PMI - which gives an indication of the broader economy's performance - read at 47.8, down on December's 49 and below analyst forecasts for 49.1.
The miss in expectations prompted a fall in Sterling which was counted lower against most major peers. "Sterling down today on worse than expected PMIs. Should rise back against the dollar, however, but less than the euro," says Asmara Jamaleh, an economist at Intesa Sanpaolo.
---
---
The PMI figures confirm the UK economy might finally be succumbing to a recession, having apparently avoided such an outcome in the final quarter of 2023.
Markets bet that the deterioration in the survey data could prompt the Bank of England to raise interest rates by 25 basis points on February 02, which would be less than the 50bp hike markets were expecting at the start of this week.
The repricing lower in Bank of England expectations will have a predictable downward drag on the Pound.
"January data highlighted a sustained downturn in UK private sector business activity. Although only modest, the overall rate of decline accelerated to its fastest for two years," says S&P Global, the compiler of the PMI report.
The Pound to Euro exchange rate fell 0.40% in the immediate wake of the data being released to hit 1.1340. The decline takes bank account transfer rates to approximately 1.11, cash and holiday money rates at competitive providers to around 1.1240 and quotes at competitive money transfer providers to around 1.13.
The Pound to Dollar exchange rate fell back to 1.2345, having been as high as 1.24 ahead of the data release. Bank transfer rates are at approximately 1.2060, cash and holiday money rates at competitive providers are at around 1.22 and competitive money transfer providers at around 1.2270.
---
Above: GBP/EUR at 15-minute intervals showing a sharp reaction to the PMI data. Consider setting a free FX rate alert here to better time your payment requirements.
---
The report adds service providers experienced a marked loss of momentum since December, with survey respondents citing higher interest rates and low consumer confidence as key factors that held back business activity.
Squeezed household incomes and falling business investment were noted as drivers behind the declines in activity.
Businesses said wage pressures were a primary factor leading to rising business expenses, but this was offset by lower fuel bills, commodity prices and shipping costs.
The Bank of England is raising interest rates to try and cool domestically generated inflation, a prime driver of which is typically wage increases. It is particularly keen to ensure a wage-to-price spiral does not develop, where wages are increased which in turn raises inflation.
The PMI survey suggests this might be starting to happen, with S&P Global saying:
"Average prices charged by private sector companies increased sharply in January, driven by historically strong inflationary pressures and efforts to pass on rising staff wages."
---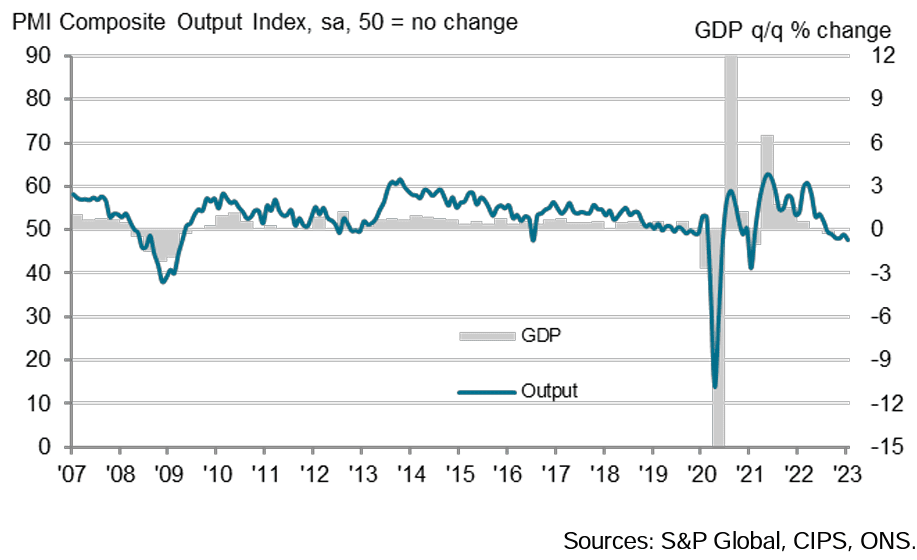 Above: The PMI data points to the start of a recession.
---
Despite the downbeat headlines, the same report found business expectations for the year ahead improved considerably in January. This index has rebounded in each month following the low point seen in October 2022.
For the Pound, the figures will reignite bearish bets against the currency which is seen by a number of economists and market participants as being hampered by an underperforming economy.
Indeed, the UK data stands in sharp contrast to that of the Eurozone where December's PMI recorded growth.
The Eurozone Services PMI was consistent with growth at 50.7 in January, up from December's 49.8. Manufacturing read at 48.8, up from 47.8, and the Composite PMI read at 50.2, marking an improvement on 49.3.
"The chance is rising that the Eurozone could avoid recession altogether. Today's PMI data supports this view," says Salomon Fiedler, an economist at Berenberg.
"In contrast to the Eurozone... the UK will likely suffer a harsher recession than mainland Europe," adds Fiedler.
The divergence in the Eurozone and UK's economic fortunes could keep the Pound-Euro exchange rate under pressure for the foreseeable future.