Pound in Strong Recovery: Pivot to Softer Brexit Likely Key Driver, Bank of England Downgrades UK Growth
From left to right: Ms Theresa MAY, UK Prime Minister; Mr Donald TUSK, President of the European Council. Copyright: European Union.
- EU and UK agree to further Brexit negotiations.
- Brexit Secretary Barclay said to meet Barnier Monday
- Bank of England downgrade growth forecasts.
- Pound-to-Euro exchange rate @ 1.1417, up 0.4%

- Pound-to-Dollar exchange rate @ 1.2965, up 0.3%

The British Pound posted a strong recovery through the Thursday session, overturning a poor start to the day after markets sensed a distinct pivot towards a softer Brexit by the UK on the horizon.
The Pound fell after the Bank of England announced that it is downgrading growth forecasts for the UK economy, but losses proved short-lived as markets keep one eye focussed on Brussels where it has been announced further Brexit negotiations between the EU and UK will take place while the prospect of Labour voting for a Brexit deal became more likely after the party softened its red lines and indicated it would work with the government to achieve a deal.
Negotiations between the UK and EU on the Brexit deal will be reopened following a meeting between European Commission President Jean-Claude Juncker and UK Prime Minister Theresa May.
Following talks, described as robust but constructive, both parties agreed to hold talks "as to whether a way through can be found that would gain the broadest possible support in the UK Parliament and respect the guidelines agreed by the European Council."
May and Juncker will meet again before the end of February to take stock of these discussions.
That May was able to get negotiations underway once more will be seen as a win for the Prime Minister who won't be heading back to London empty handed.
May's spokesperson has confirmed Brexit Secretary Stephen Barclay will discuss alternative arrangements to the backstop with the EU's lead Brexit negotiator Michel Barnier on Monday.
After his meeting with May, European Council President Donald Tusk said there was still no breakthrough in sight, but talks will continue.
May is in Brussels with the view of seeking substantial changes to the Irish backstop contained within the Withdrawal Agreement of the Brexit deal after the UK parliament earlier this month passed a resolution requiring May to seek such changes.
Indications from the European Union suggest they will give further guarantees that the use of the backstop will be time limited, but at this stage it is unknown as to whether such guarantees will come with legal force. We know some more ardent 'Brexiteers' in the UK parliament want the backstop removed completely from the Withdrawal Agreement if they are to back the deal. We also know some MPs who voted against the deal in January will be happy to have a legal guarantee that the backstop will be time limited ensuring it cannot endure indefinitely.
To us it looks like May won't be able to win over the votes of the more ardent Brexit purists, rather she will be hoping to win over a good swathe of opponents to the deal from her own party and a chunk of Labour party MPs.
Following his meeting with May, the European Parliament's Brexit coordinator Guy Verhofstadt welcomed news that the leadership of the Labour Party appears to be softening their stance on helping pass a Brexit deal.
Verhofstadt was referring to a letter sent by Labour leader Jeremy Corbyn to the Prime Minister suggesting Labour MPs would vote through a Brexit deal given May agrees to a number of conditions, most notably one that ultimately commits the UK to joining a customs union.
Verohfstadt's support for the compromise betray's the EU's strategy: they will not give May the concessions required to get a deal through parliament on the back of Brexiteer votes. Rather, they are seeking a closer relationship via a customs union that can be delivered on the back of a Labour-Conservative cross-party vote.
We are therefore seeing what we believe to be a pivot towards a 'softer' Brexit.
Whatever your position on Brexit, the important takeaway here is that for the Pound what ultimately matters is the passing of a deal - any deal - before March 29. Therefore, developments today are on balance positive from a currency perspective in our view.
Time to move your money? Get 3-5% more currency than your bank would offer by using the services of foreign exchange specialists at RationalFX. A specialist broker can deliver you an exchange rate closer to the real market rate, thereby saving you substantial quantities of currency. Find out more here.

* Advertisement
Bank of England Cut Growth Forecasts
Image © IRStone, Adobe Stock
The Bank of England maintained interest rates at 0.75% today and the Monetary Policy Committee (MPC) repeated the line "an ongoing tightening of monetary policy over the forecast period, at a gradual pace and to a limited extent, would be appropriate".
Markets however picked up on the new forecasts contained in the Bank's Inflation Report which "strongly suggest that the MPC thinks rates may not need to rise as far as it thought a few months ago," says Paul Dales, Chief UK Economist with Capital Economics. This lead to a knee-jerk fall in the Pound.
The Bank downgraded 2019 GDP forecasts from 1.7% to 1.2%, on the basis of "softer activity abroad and the greater effects from Brexit uncertainties at home".
Growth in 2020 was revised down from 1.7% to 1.5%.
"There's plenty of short-term negativity in the Bank of England's latest predictions, but there is still the subtlest of hints that they'd still like to tighten policy further if they can. That says to us that a 2019 rate hike shouldn't be ruled out just yet, although as ever it all depends on Brexit," says James Smith, Developed Markets Economist with ING Bank in London.
The forecast for CPI inflation in two years' time was nudged down from 2.12% to 2.07%. The Bank's inflation forecasts are based on the markets' expectation that rates will have been increased by just 0.25% by the end of 2020 - raising interest rates tends to have a dampening effect on inflation. This suggests to Dale the MPC thinks perhaps two 0.25% hikes would be required to hit the inflation target, which would be fewer than it implied in November.
The Pound sunk as the market adjusted expectations for further interest rate rises lower. The rule-of-thumb for currencies is that heightened expectations for higher interest rates in the future are a positive for a currency, while the opposite is true when markets see fewer rate rises in the future.
The Pound fell in response to the downgrades to growth, as would be typically expected, however weakness appears limited in nature.
"GBP has retraced most of the knee-jerk weakness since the decision. We see little opportunity to get involved however, with downside constrained given that cable has come a decent distance already in recent days from above 1.32. We look to 1.2800/30 to offer crucial support with 1.30 as resistance," says Mazen Issa, Senior FX Strategist with TD Securities.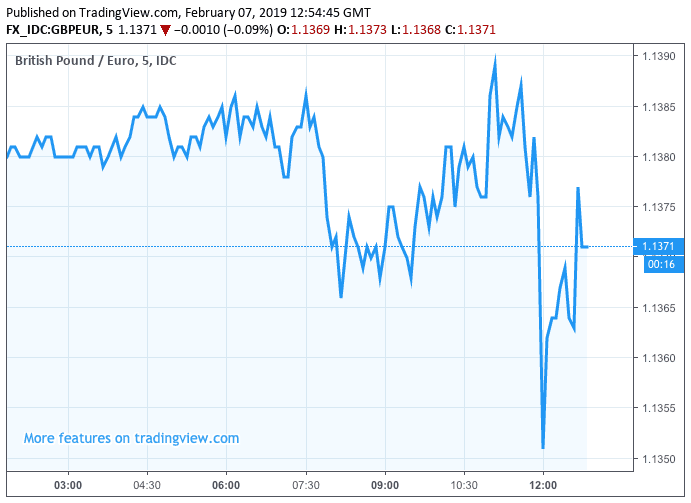 Above: Sterling fell against the Euro at 12:00 GMT when the Bank of England released its latest Inflation Report. However, the losses have been trimmed as events in Brussels suggest to markets the Brexit impasse will ultimately be resolved.
The Bank's forecasts and expectations for interest rates ultimately rely on the expectation that a Brexit deal will be struck between the EU and UK and the forecasts therefore rely on the current Brexit impasse being resolved before March 29.
"Most paths now lead to an extension of the article 50 negotiating period, but if (and it's still a big if) the government can secure a cross-party consensus for a particular deal – for instance one that commits to a permanent customs union – then this may well be followed up with a Bank of England rate hike relatively swiftly," says ING's Smith.
"If there's a no deal then, despite the MPC's suggestions, we think interest rates would be cut. But if there's a deal in the next 3-6 months, we suspect that the rebound in GDP growth would be stronger than the MPC expects, perhaps resulting in growth of 1.5% this year and 2.2% next year," says Dale at Capital Economics.
Captial Economics forecast UK interest rates will rise four times by the end of 2020, to 1.75% and the Pound-Dollar Rate to rise from 1.29 to 1.40.
Time to move your money? Get 3-5% more currency than your bank would offer by using the services of foreign exchange specialists at RationalFX. A specialist broker can deliver you an exchange rate closer to the real market rate, thereby saving you substantial quantities of currency. Find out more here.

* Advertisement