Pound Sterling "Very Cheap": Morgan Stanley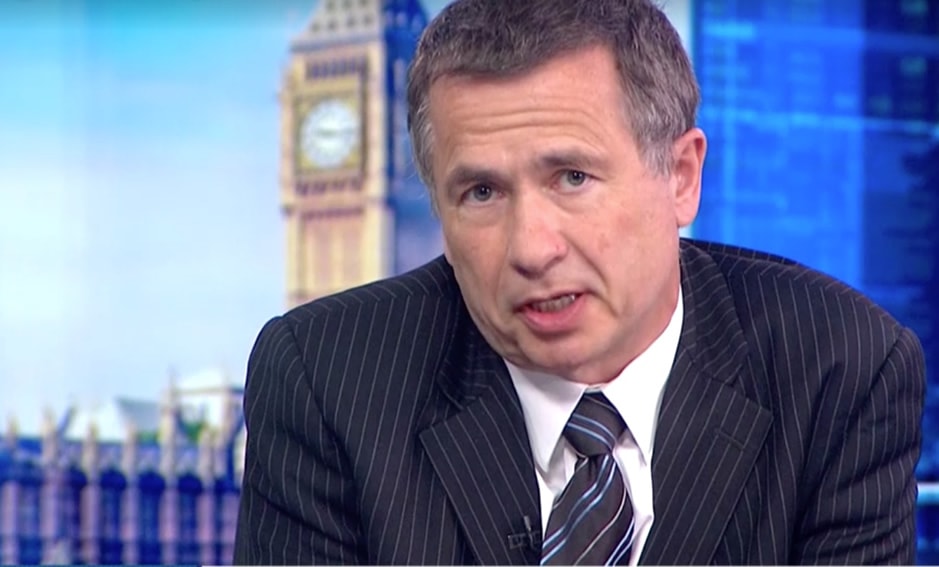 Above: Morgan Stanley's Hans Redeker, image (C) Pound Sterling Live, Bloomberg News.
- 'No-deal' highly unlikely and Pound to rise
- Sterling cheap by historical and valuation standards
- UK equity markets reflect the Pound's undervaluation
The British Pound is cheap by historical standards and the low probability of a 'no-deal' Brexit means the currency is likely to rise in the future, says Morgan Stanley.
"The probability of a hard Brexit has declined," says Hans Redeker, head of FX research at Morgan Stanley. "We also have to take into account where Sterling is in respect of valuation."
The current valuation, as reflected by analysts consensus forecasts, is for GBP/USD to be trading in the mid-1.30s, about five to six cents higher than its current level in the 1.28/9s.
The response of the Pound to the currency flash crash on January 3 was indicative of a lack of bearish intent because although Sterling was driven to low levels by "fast money" it was "not sustainable" says Redeker.
"That tells you that many are not involved in this currency; people wanted to have better clarity, but it also meant there was very little to liquidate," he adds.
Whilst there is still a chance of a 'no-deal' Brexit it is very small: "Are we not moving in Parliament to a much more constructive environment? We also have to consider that in Parliament there is no majority for a Brexit without a deal." Says the strategist.
The starting level of a currency is another key determinant for forecasting where it will go next - if starting from a low base it is more biased to rise; if from a high level it is biased to fall.
One sign of how cheap the Pound really is can be seen in UK stock market valuation metrics, says Redeker.
The FTSE 100 share index has always traditionally been sensitive to fluctuations in the Pound because of the high proportion of multinational companies in the index. Many listed UK companies generate substantial revenue overseas and so when the Pound is weak it increases the value of their profits, effectively giving their bottom line a free boost.
The Pound's weakness is reflected in the relatively high dividend yield for UK companies at the moment. The dividend yield is the ratio between the annual dividend paid to shareholders and the share price. This is currently above 4% in the UK, which is considered strong and suggests the British stocks offer good value.
This suggests the Pound actually offers a buffer of protection for UK stocks.
"It (Sterling) is very cheap. When you look at the equity market you have a dividend yield north of 4 (%) and when you look at the yield differential of G10 and Sterling, you see Sterling stands out here, and that actually means it offers protection, and, therefore, I think the consensus of analysts is right but the market is not positioned according to that consensus." Says Redeker speaking to Francine Lacqua on Bloomberg News.
Time to move your money? Get 3-5% more currency than your bank would offer by using the services of foreign exchange specialists at RationalFX. A specialist broker can deliver you an exchange rate closer to the real market rate, thereby saving you substantial quantities of currency. Find out more here.

* Advertisement
Featured Content
Mortgage Direct - a Spanish mortgage broker specialising in the provision of mortgages for expats - have confirmed they have secured their Spanish license.