Pound Recovers vs. Euro and Dollar as Barnier Signals Brexit Treaty "Almost Ready"
© European Union , 2018 / Source: EC - Audiovisual Service / Photo: Mauro Bottaro
- Pound Sterling holds above 1.14 vs. Euro

- Barnier says a Brexit deal "largely defined"
- May said to be aiming for Brexit deal by mid-week
- "Next 48 hours shaping up to be among biggest days in Brexit history"

The British Pound is seen reversing losses suffered against the Euro at this week's open, giving rise to hopes that a full-blown fire-sale of the currency has been avoided and a medium-term recovery sequence remains in place.
According to the Financial Times, the E.U.'s Chief Negotiator Michel Barnier has said a Brexit treaty "is almost ready".
Barnier is also quoted as saying:
"Even though this weekend negotiators worked tirelessley to reach an agreement as of this moment, this agreement is still not reached. As in any negotiation, the final stretch is always the most difficult.
"On the basis of our common efforts, the parameters of a possible agreement are verly largely defined, On the British side, the cabinet will meet Tuesday to examine these parameters. We are at an extremely sensitive moment. The smallest public comment from my side could be exploited by those who want the negotiations to fail."
The Pound-Dollar exchange rate closed higher by 48 pips in the hour following the report, this is the biggest one-hour gain since November 01.
The move sparked a surge in volumes, also the most of any hour since November 01, according to Refinitiv data.
Against the Euro, buyers are seen defending Sterling against the psychologically significant 1.14 level with headlines suggesting U.K. Prime Minister Theresa May is still aiming for a November Brexit deal proving supportive.
When Barnier's comments were put to Prime Minister May's office, a spokesman said the reports "should be treated with scepticism".
"I've talked about taking things with a pinch of salt before. That applies here. I'd apply a bucket of salt to this one. Negotiations are ongoing," the spokesman told Reuters.
Yet, time is running out and there are mere hours to go before a deadline is passed that jettisons the prospect of a November Brexit deal being reached.
It is widely believed that unless a deal is reached by Wednesday, there will not be time to organise an E.U. summit in November.
"Talks are ongoing," a spokesman for May said. "I believe they were negotiating until 2.45am last night and they are negotiating again today."
This is an important moment for Pound Sterling.
"If we do not see any significant progress in November – we could well see a big Sterling move down," warns Ali Malik, an analyst with FairFX.
Judging by Sterling's desire to hold above 1.14 against the Euro markets appear to be holding out that a deal can be done and, crucially, that deal looks like something that can be pushed through parliament.
The Pound-to-Euro exchange rate is quoted at 1.1422 having been as low as 1.1397 earlier in the day. According to consensus forecasts, the currency is now below where it should end the year.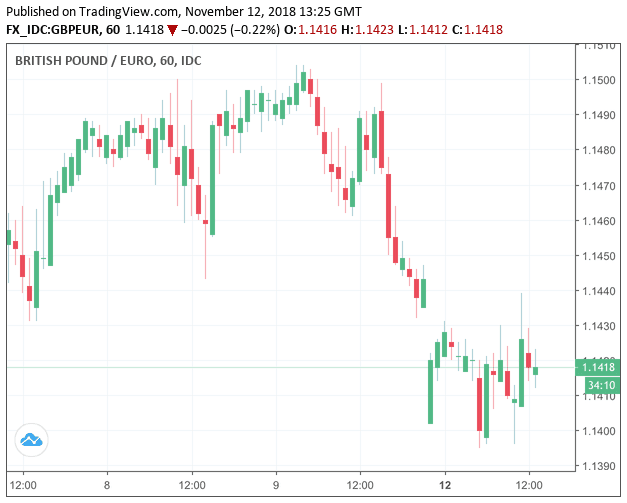 "Headlines on Brexit will intensify, but short of a material sign that negotiations are progressing (or that we are heading towards a 'no deal'), they are unlikely to trigger a decisive directional shift in Sterling," says Daniel Been, Head of FX Research with ANZ Bank.
ITV's Political Editor Robert Peston says the next few days will be absolutely critical for the outcome of Brexit negotiations, and the outlook for Sterling:
"The next 48 hours shaping up to be among biggest days in Brexit history. Either we get a deal, in which case there will be 500 pages of Withdrawal Agreement and a five-page Outline Political Declaration on the future of UK's relationship with EU to digest and assess. Or talks fail to clear impasse, in which eventuality there will be no November EU council to ratify the deal and it will be full steam ahead to preparation for a no-deal Brexit. Oof. Knife-edge."
Analysts at UBS are meanwhile warning clients to expect GBP/EUR to fall back towards the bottom of its long-term range.
"We think that GBP/EUR could fall to 1.11 and GBP/USD to 1.22 in the next one to two months, when politicians will let the Brexit clock wind down to increase pressure on the other side to give in. In the risk case of a cliff-edge Brexit, sterling could weaken at least another 5% beyond our forecast," says Daniel Trum, a strategist at UBS in London.
Advertisement




Bank-beating GBP/EUR exchange rates: Get up to 5% more foreign exchange by using a specialist provider to get closer to the real market rate and avoid the gaping spreads charged by your bank when providing currency. Learn more

here
Pound Sterling suffered a torrid start to the new week as Brexit headlines prompt traders to become more cautious on the prospects of the E.U. and U.K. agreeing a Brexit deal before the end of the year.
The currency is in the red, by quite some margin, against all major competitors as the optimism seen over recent weeks starts to wash away.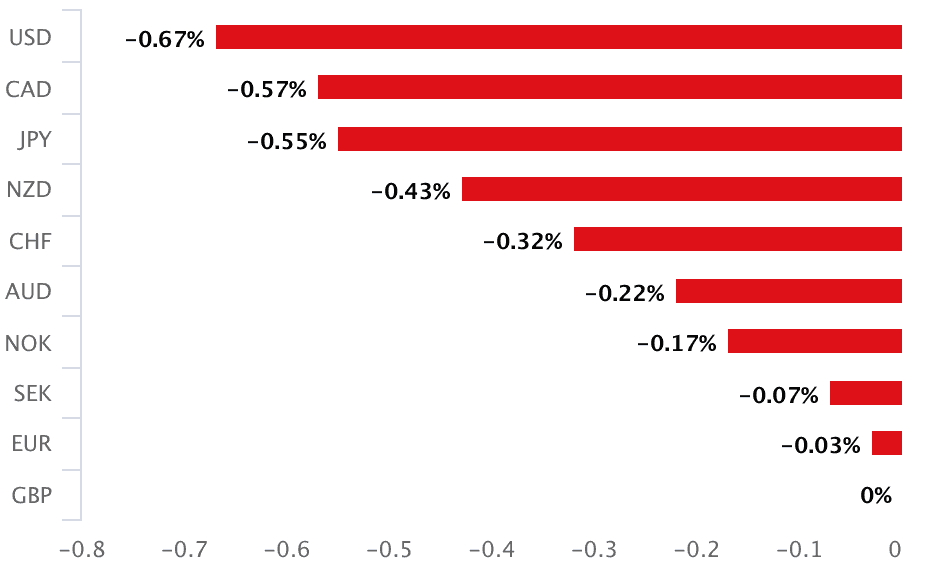 Above: The Pound's performance on Monday, November 12.
In our week ahead forecast we warned Sterling would likely come under pressure against the likes of the Euro and U.S. Dollar and this call appears spot-on.
We believed markets would hone in on one headline in particular.
"Theresa May's Brexit deal crashes as E.U. 'turns off life support'" reports the Sunday Times.
"This weekend senior E.U. officials sent shockwaves through No. 10 by rejecting May's plan, sparking fears that negotiations have broken down days before 'no-deal' preparations costing billions need to be implemented," says Caroline Wheeler, Deputy Political Editor at the Sunday Times.
May's plan proposes that to avoid a hard border on the island of Ireland through an all-U.K. customs union which would come into force in the event of the two sides failing to reach a trade agreement that guaranteed the Irish border remains frictionless.
But, her plans also appear to require an independent third-party mechanism that would allow the U.K. to end this backstop; something that Brussels appear to have rejected.
Instead Brussels will insist the European Court of Justice (ECJ) oversees any process where one side of the agreement seeks to terminate the backstop agreement. Brexiteers in the U.K. fear the backstop plan is a ploy to keep the U.K. under the gaze of Brussels lawmakers indefinitely.
The current backstop plans, "would lock the U.K. into a relationship with the E.U. which the U.K. could not escape except with the E.U.'s permission," says Stewart Jackson, formerly the Special Advisor & Chief of Staff to David Davis when he was the U.K.'s Brexit chief.
Jackson explains May's preferred position is for an arbitration process to allow the U.K. to leave the backstop relationship. It would be "modelled on Ukraine's humiliating deal with the E.U. under which the arbitration panel is obliged to refer issues of E.U. law to the ECJ and is bound by its decision," says Jackson.
However, this model, "would be contrary to all international practice if the ECJ were to be involved in this way in an arbitration which governed whether or not the U.K. was permitted to leave the backstop and regain control of our own laws and our external trade policy. It would also add to the delays of an arbitration," adds Jackson. "A backstop which the UK can only leave if we satisfy a review mechanism risks dropping the U.K. into a legal black hole for probably a number of years and quite possibly for longer."
Markets are wary that any deal May brings home will not be able to get through parliament with opponents on both the Remain and Leave side of the argument in her own party apparently ready to reject such a deal.
This weariness is expressed via a softer Pound.
Advertisement




Bank-beating GBP/EUR exchange rates: Get up to 5% more foreign exchange by using a specialist provider to get closer to the real market rate and avoid the gaping spreads charged by your bank when providing currency. Learn more

here