Lloyds: British Pound can Advance on Euro and Dollar "Brexit Willing"
Image © Andrey Popov, Adobe Stock
- Pound can rise further on easing Brexit risks
- GBP/USD has best chances of rising further

- GBP/EUR could bump into heavy resistance around current levels
Technical strategists with U.K. high-street lender Lloyds Bank reckon the Pound can eke out further gains against the Euro and U.S. Dollar in the current environment ensuring Sterling's recent good run can extend.
However, there are of course caveats and investors are urged to watch a series of important levels that must be crossed in order to provide confirmation.
Against the Euro, the gains are contingent on an incredibly stubborn range being broken.
EUR/GBP is currently falling to a key make-or-break floor at around 0.8700 which translates into the Pound-to-Euro exchange rate rising to a ceiling at 1.1496.
At the time of writing the Pound-Euro exchange rate is quoted at 5-month highs at 1.1488 which puts it right at this key resistance point; we are wary that selling pressures might grow on Sterling and push it back into its long-running range.
Indeed, our latest view on the GBP/EUR exchange rate is that the Pound is trading at rarified hights against the Euro and the preferred view is to expect a retracement in the currency back towards 1.1250.
"The cross remains under pressure but getting close to the medium-term range support region running from 0.8700 to 0.8620," says Robin Wilkin, global cross-asset strategist at Lloyds Bank, referencing that 1.1496 level in GBP/EUR.
The Pound and Euro have tracked sideways over recent months and it is no wonder Wilkin is looking for the Euro to potentially find buying interest at the bottom of its range.
"Caution is therefore warranted at these levels, as the risks are for a move back towards the 0.9000-0.9100 range highs," says Rob Wilkin a foreign exchange strategist with Lloyds Bank.
These are the range lows around 1.1118-1.1031 in GBP/EUR terms.
However, where there are risks, there are also opportunities and a breaking of any stubborn resistance point can open the gateway to a surge.
It would take a clean break in GBP/EUR above 1.1600 to trigger a more bullish trend suggest Lloyds, this would then set targets at 1.1997-1.2103 and then 1.2618, welcome levels for those looking to buy Euros.
We can meanwhile report that consensus estimates for GBP/EUR over the 3, 6 and 12 month timelines have been raised and recommend downloading the November exchange rate forecast report from Horizon Currency to see where over 50 of the world's leading investment banks and financial institutions are expecting GBP/EUR to trade through 2019.
Advertisement




Bank-beating GBP exchange rates: Get up to 5% more foreign exchange by using a specialist provider to get closer to the real market rate and avoid the gaping spreads charged by your bank when providing currency. Learn more

here
Gains Above 1.33 vs. the Dollar, "Brexit Willing"
Concerning the Pound-to-Dollar rate, Lloyds see the pair grinding towards an interim target above 1.33, saying "pullbacks are expected to be limited as the market works its way" higher.
The Pound is still nursing a loss of 0.77% against the U.S. Dollar over the past month but is seen to be rapidly closing this deficit thanks to a gain of 0.95% seen over the course of the past week.
Lloyds eventually see the 1.3320 interim high in GBP/USD as giving way with bulls pushing the exchange rate up to their eventual target in the 1.35-1.37 zone.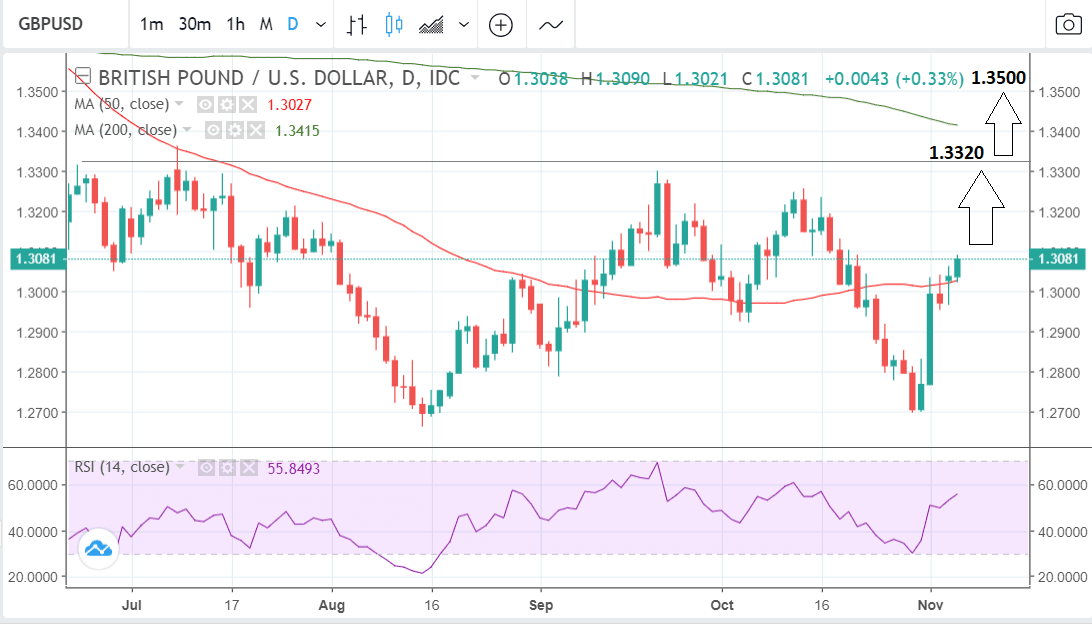 The bullish forecast is conditional on more progress being made towards a Brexit deal.
"Our underlying technical outlook – Brexit willing – is for an eventual push through 1.3320, opening 1.35-1.37," says Wilkin.
The pair has just broken above the 50-day moving average (MA) at 1.3027, a key level for the pair and a very bullish indicator for the outlook. This further enhances their bullish forecast.
Sterling has risen following news the E.U. has made concessions on allowing the U.K. to adopt a U.K.-wide customs union in the event of a backstop being triggered at the end of the two-year transition period. The backstop is aimed at ensuring no hard border is placed on the island of Ireland in the event of no satisfactory trade agreement being reached that.
The U.K.-wide backstop seems to solve the problem of keeping the Irish border open - previously a major sticking point in negotiations between the U.K. and E.U.
However, the risk is that the U.K. is locked into E.U. rules indefinitely and it appears that the last point of contention will be the ability to exit any backstop. Progress could be made if both sides accept a third-party administered mechanism that would allow the parties to exit the backstop.
J.P. Morgan Back 2-4% Gains in Sterling
The call for further gains by Lloyds come as analysts at J.P. Morgan reckon all indications are the U.K. and the E.U. are closer to an agreement than perceived by markets, and economists now think it increasingly likely that a deal will be finalised by the December 13-14 council meeting.
In addition, economists at the bank's Canary Wharf-based European headquarters eye recent news reports indicating a favourable outcome for the U.K. in relation to financial services that mean British banks could get access to the E.U. after Brexit.
"Given these developments, we recommend tactical GBP longs vs. EUR this week," says Meera Chandan, a strategist with J.P. Morgan in London. A 'long' on the Pound is trader talk for buying the Pound and selling the Euro.
The call by J.P. Morgan comes amidst reports U.K. cabinet ministers are told to be at the ready for an unscheduled meeting in coming days in order to be briefed on the shape of the Brexit Withdrawal Agreement the E.U. and U.K. are ready to sign up to.
The BBC's Laura Kuenssberg says ministers were told at a cabinet meeting held on November 06 to "be ready for another Cabinet meeting, maybe even at end of this week, because there might be enough movement by then to push button on a deal."
Sterling was bid on the news. The Pound-to-Euro exchange rate traded to 5-month highs at 1.1487 while the Pound-to-Dollar exchange rate recovered to a multi-week best at 1.3134.
And, there could be further gains to come.
"We are now moving into the next phase of negotiations which would be somewhat GBP-positive in the near term, we expect 2-4% of upside on the crosses," says Chandan.
Advertisement




Bank-beating GBP exchange rates: Get up to 5% more foreign exchange by using a specialist provider to get closer to the real market rate and avoid the gaping spreads charged by your bank when providing currency. Learn more

here