Pound-to-Euro Exchange Rate Rally: "Caution Warranted"
Image © Goroden Kkoff, Adobe Stock
- Pound hits six-month highs but could be at its limit

- Heavy selling interest seen in 1.15-1.16 region

- Fears Brexit optimism is misplaced
- Prospect of GBP/EUR retracement increases
The British Pound has retreated from a six-month high ahead of the weekend in line with our forecasts made 24 hours earlier for such a scenario to play out.
The Pound-to-Euro exchange rate struck a fresh six-month high on November 08 when 1 GBP bought 1.1504 EUR on the inter-bank market following a streak of seven successive days of advances.
While momentum is positive we are nervous on the immediate outlook and are wary that the pair risks becoming overbought and would suggest a period of consolidation is due.
The reason for the nerves are based purely on technical observations.
If we look at the below we get a clear story: Sterling does not feel comfortable above 1.15 and it can often fade back down into its long-term range in the approach to 1.15.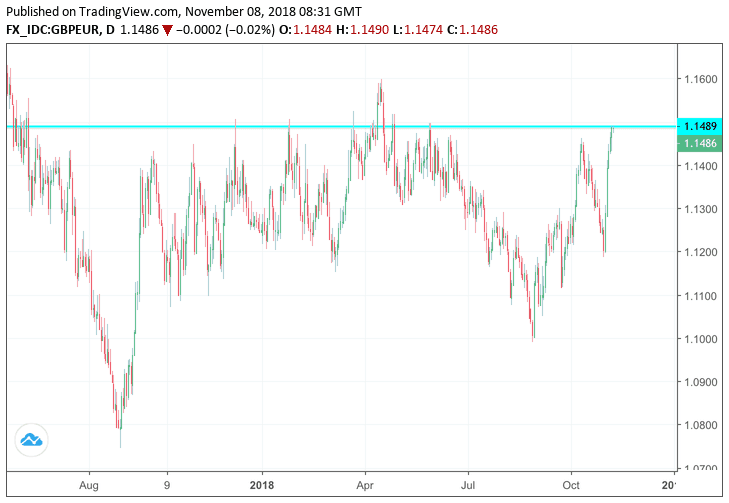 We are therefore likely to see at least part of the market bail on Sterling around these levels. Many trading strategies rely heavily on technical analysis when making considerations as to when to buy and sell currencies; and these levels will be on the radar.
Robin Wilkin, a strategist with Lloyds Bank notes the exchange rate is now testing medium-term range resistance running from 1.150 to 1.16.
"Caution is therefore still warranted at these levels," says Wilkin, warning the risks are for a move back towards the 1.11 range lows.
The call fits in with the consensus forecasts of up to 50 of the world's leading investment banks. Horizon Currency have compiled a document detailing where these forecasts lie, it is avilable here for those interested in the 'wisdom of the crowds'.
Any move lower could however require a trigger and we would expect that trigger to come in the form of a bad piece of news regarding Brexit news; the Pound has rallied over recent days and weeks amidst unrelenting optimism that a deal will be struck before year-end.
Markets appear to be pricing in a deal being struck this month.
"Home straight for the Brexit negotiations? Allegedly May's government will hold an-other cabinet meeting today or tomorrow for cabinet to approve the proposals May has already negotiated with Brussels," says Antje Praefcke, a foreign exchange analyst at Commerzbank. "If the cabinet agrees to May's deal an EU summit could potentially be held before the end of November."
Yet, we are all too aware that negotiations never run smoothly and will typically go to the wire.
'The wire' in this case being the December meeting of European leaders when the final chance for a deal to be signed can take place.
Could markets be too optimistic in expecting the deal to be sealed this November?
It's impossible to call the next moves of the political classes, but from a currency angle we are certain that the Pound looks ripe for a setback on any bad news.
"I urge caution: there is still resistance within the cabinet. I am so fed up with hearing some amazing news about breakthroughs in the negotiations almost every day, either amongst the fractured British politicians or with the EU, that are then denied shortly afterwards," says Praefcke.
We doubt any setback to the Pound will be deep at this stage as only a full-blown breakdown in talks will materially hurt the currency.
Rather a retracement of recent gains should be expected, in which case we would expect the Pound-to-Euro exchange rate to gravitate to its longer-term fulcrum at 1.1250.
Advertisement




Bank-beating GBP/EUR exchange rates: Get up to 5% more foreign exchange by using a specialist provider to get closer to the real market rate and avoid the gaping spreads charged by your bank when providing currency. Learn more

here