Pound Sterling Whipsaws on 'Secret' Brexit Deal Rumour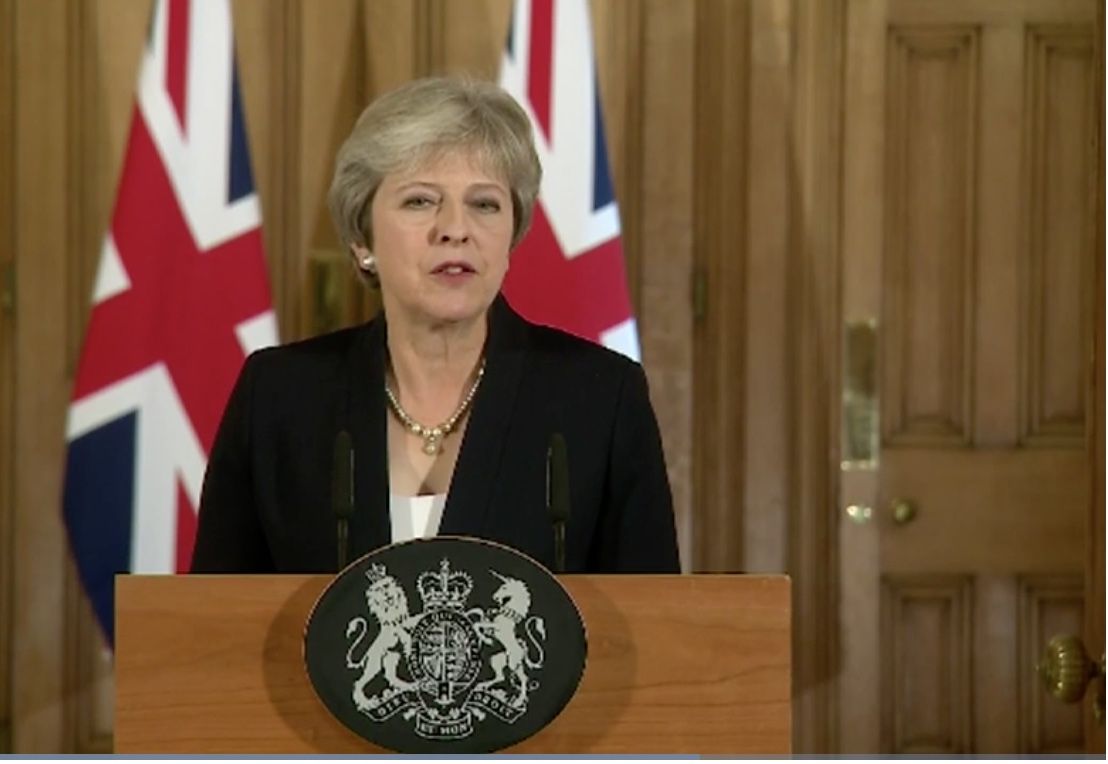 Above: U.K. Prime Minister Theresa May. May is reported to have secured a 'secret' Brexit deal. Image (C) Pound Sterling Live.
- May has apparently secured a 'secret' deal

- But, Number 10 officially denies report
- Expect Sterling to yo-yo amidst rumours and denials
Pound Sterling shot higher at the start of the week to record two-week highs against the U.S. Dollar and three-week highs against the Euro before the advance was ultimately faded as markets bemoan a lack of official guidance on the state of Brexit talks.
The spike higher came as markets responded to a report carried in the Sunday Times on the weekend that Prime Minister Theresa May had a 'secret' Brexit deal that could win the backing of parliament.
Highlights of the report include:
Preparations for a final deal are far more advanced than previously disclosed and will lead to a document of 50 pages or more when it is published as opposed to a vague five-page plan many expect
Parts of report "could have been written by Jacob Rees-Mogg", the leader of the hardline Eurosceptics.
A private confirmation from E.U. to May that a U.K.-wide customs backstop plan to solve the Irish border question is possible
A political deal on a "future economic partnership" (FEP) with the European Union that will allow Britain to keep open the prospect of a free trade deal resembling that enjoyed by Canada.
Pound Sterling recorded a fresh two-week high vs. the Dollar at 1.3061 and three-week highs vs. the Euro at 1.1449 in early trade amidst fresh signs that the U.K. and E.U. were heading towards a Brexit deal in coming days.
"GBP/USD will continue to be headline‑driven on Brexit politics. GBP/USD will appreciate further over the next 24 hours, in our view," says Joseph Capurso, a strategist with Commonwealth Bank of Australia.
Yet, Prime Minister May's office officially denied the key details of the report but did add negotiations were 95% complete.
The Pound has since retraced its earlier gains and the Pound-to-Euro exchange rate is seen hovering at 1.1425 while the Pound-to-Dollar exchange rate is quoted at 1.3015.
However, the reality is no official announcements detailing progress have been made of late and until this changes gains in Sterling will ultimately remain limited, particularly as the key exchange rates head towards the top of their medium-term ranges where strong technical selling interest is likely to be found.
"It is sensible not to react to the constant toing and froing on the political front but to wait for the final outcome while being prepared as well as possible for the different scenarios. Sterling traders should see this as an example and not jump onto the bandwagon of any news flow regarding Brexit," says Antje Praefcke, analyst with Commerzbank in Luxembourg.
Negotiations are taking place at a frantic pace, driven by the U.K. government's belief that if a deal is not secured by November a 'no deal' Brexit becomes probable as the prospect of squeezing any Brexit legislation through parliament narrows.
"We don't want 'no deal'. But because of the parliamentary timetable it becomes very hard to avoid if talks continue past this month" a senior member of the government tells Robert Peston, ITV's Politics Editor. "And that is why negotiation have massively shifted up a gear, with officials working through the night".
According to Peston, the important dates are Tuesday, November 06, when the prime minister briefs her cabinet on the likely shape of a deal, and Monday, November 12, which is the probable cut-off day for organising an emergency Brexit council of E.U. leaders.
The Pound staged its biggest rally in 18 months on November 01 when it raced to 1.3000 against the U.S. Dollar, thanks to the combination of a 'hawkish' Bank of England policy event on November 01 that suggested interest rates are likely to rise again in 2019, and on renewed optimism for a Brexit deal in the near future.
The optimism continued into the weekend amidst reports that the E.U. are offering an all-U.K. customs solution that would ensure no customs border with Northern Ireland.
Sentiment has certainly improved and markets are cautiously optimistic a deal will be done, but only official confirmation of such progress will see traders lighting the fireworks underneath Sterling.
"Until there is unequivocal confirmation that that the UK will avoid a hard Brexit next year, the outlook for the Pound will remain decidedly grey," says Jane Foley, a foreign exchange strategist with Rabobank in London.
Rabobank forecast EUR/GBP will trade around 0.86 at the start of Brexit, this gives a Pound-to-Euro exchange rate of 1.1628.
"This assumes that a deal will be done and passed by the UK parliament, though plenty of uncertainty is still likely to be kicked beyond the Brexit start data," says Foley.
On the event of a hard Brexit, we see risk that EUR/GBP will head towards parity.
Advertisement




Bank-beating GBP exchange rates: Get up to 5% more foreign exchange by using a specialist provider to get closer to the real market rate and avoid the gaping spreads charged by your bank when providing currency. Learn more

here